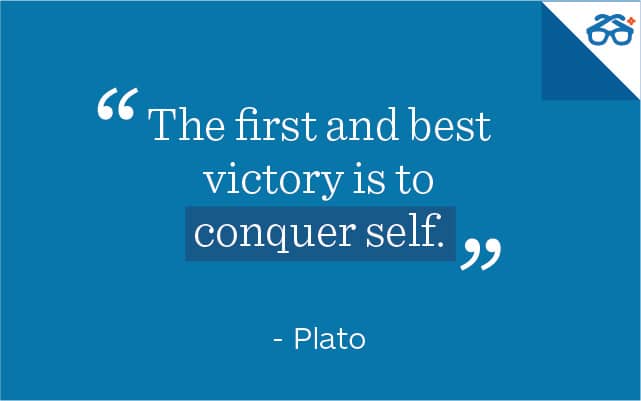 "The first and best victory is to conquer self." – Plato
As a kid, I always dreamt of what it would be like to be free from the rule of my parents. Even though my parents were super chill, it was their job to provide a supervised environment in which I could learn and grow, and that meant establishing boundaries. As I got older and more knowledgeable, my parents would slowly trust me with more freedoms. But in the back of my mind, I was always incredibly curious about what things would be like when I could leave that supervised environment and enjoy a freedom not previously known.
I remember vividly that day I moved out to go to college. My parents dropped me off, and I realized I probably needed to go shopping. I had never shopped entirely for myself. So with this new freedom I bought six boxes of name-brand cereal, a gallon of milk and a 12-pack of Mountain Dew. I was out of my parent's house, and I no longer had to subject my advanced palate to the garbage off-brand cereal they bought. And bonus, there was no one around to tell me I couldn't enjoy a cold Mountain Dew with a bowl of cereal for breakfast, lunch and dinner. I was as free as an AOL Online disk at Walmart in 1997. Things were great.
I believe testing the limits of our freedoms is natural. It's why we stay out till 3am even when we know we have work at 8. Or why we convince ourselves that we deserve a nap after work even though we haven't been to the gym in a week, or two, or ten…. They say you can't have your cake and eat it too, but how do you REALLY know unless you try?
The Importance of Self-Discipline
While it's fine to test the limits of our freedom, we need to realize that we can never get everything we want if we don't become our own parents. I guess you could call that having self discipline. There is real power in using our freedom to put constraints on ourselves.
"Self-discipline is a form of freedom. Freedom from laziness and lethargy, freedom from the expectations and demands of others, freedom from weakness and fear—and doubt."
– Harvey Dorfman
Sure, you can stay out till 3am every night—there's no one telling you not to—but if you're trying to land a promotion at work, is that really the best use of your freedom? Give yourself a bedtime, and give an early morning routine a try.
Self-discipline is so hard to establish because it goes against the very nature of our society today. Everywhere you go the cries of the lazy and ignorant are cheering for you to be lazy and ignorant with them. It makes them feel better about their own laziness if everyone else is ignoring their own personal potential too. Every day we are thrown on the front lines of a battle to give in to the natural temptations of instant gratification. Sleeping in feels MUCH better than dragging ourselves out of bed and into the gym… or that's what our body will tell us as we lie in bed. So how do we fix that?
Becoming More Disciplined
Sure, we can talk about becoming more self-disciplined until we're blue in the face, but how do we actually do it? Here are three tips to help you as you strive to become more self-disciplined.
1. Establish A Goal
A goal will give you an idea of what kind of constraints you need to put on your life. It will make it easier to set those constraints because you understand what the outcome will be from your efforts. If you don't have a clearly defined goal, you will find it extremely hard to break out of your bad habits.
2. Commit to Action
I am a firm believer in the things that can be accomplished when we commit to something. It's like all the rules change when you decide for yourself that you are going to commit. No one can do this for you. This is something you have to come to by yourself. If you're having trouble committing, reevaluate your goals and make sure they really reflect what you want in life. If they don't, you'll have a lot of trouble committing to them.
3. Practice Positive Self-Talk
The mind controls what the body does. When you're feeling low and ready to call it quits, give yourself a quick pep talk. Positive affirmations are basically one-line pep talks. Thousands of successful people have daily affirmations that get them pumped and ready to take on the world. If it helps, write down a few of your own affirmations and memorize them so you can remind yourself what you are working for when things get tough.
If you start with these three things, you'll be well on your way to living a better, more accomplished life. For example, I set a goal to be healthier, so I no longer use my freedom to eat cereal with a cold Mountain Dew three times a day. Even though it was fun and exciting to begin with, my health is more important than a temporary pleasure. And though I still struggle to be a good parent to myself in other areas, no one is perfect. There's no shame in taking it one thing at a time.
What are your tricks for being more self-disciplined? Tweet them to me at @bradensthompson, and follow me on Degreed here. Click the button below to get credit for reading this article.