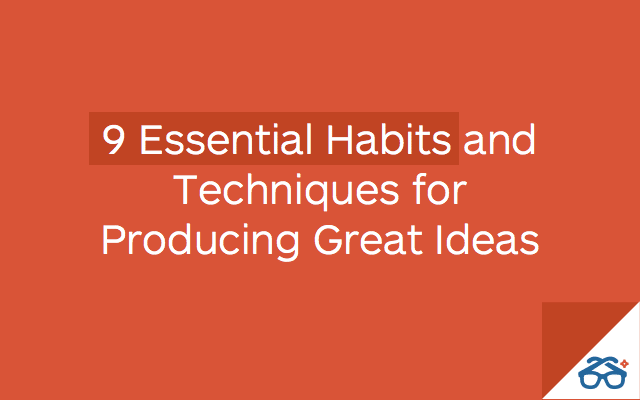 The future belongs to those who can generate the best ideas. Plain and simple.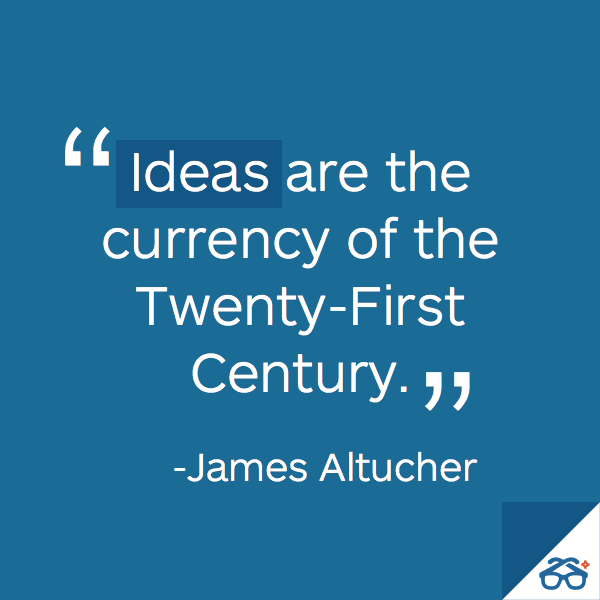 In a highly competitive world where employment is unstable and currencies are declining, unexpected events can quickly derail our dreams and drain our bank accounts.
Because money can always run out. Ideas, on the other hand, are limitless. If we ever find that our backs are up against the wall, those of us who are able to come up with new ideas will be the ones who bounce back strong.
But there's no reason to wait for a crisis. The ability to generate ideas will always create opportunities to build wealth and find success, by freeing us from our total reliance on others' (often bad) ideas, and by allowing us to also help others break free. If we want to be the kind of innovators who consistently produce great ideas, we need to start today by embracing a new mindset and approach that weaves the process of idea creation into our everyday lives. The good news is that this process is often a fun and exhilarating experience.
The days of waiting around for some mythical "Aha!" moment are over. Now's the time to reach out and switch on your own lightbulb. Here are some habits and techniques to get you started.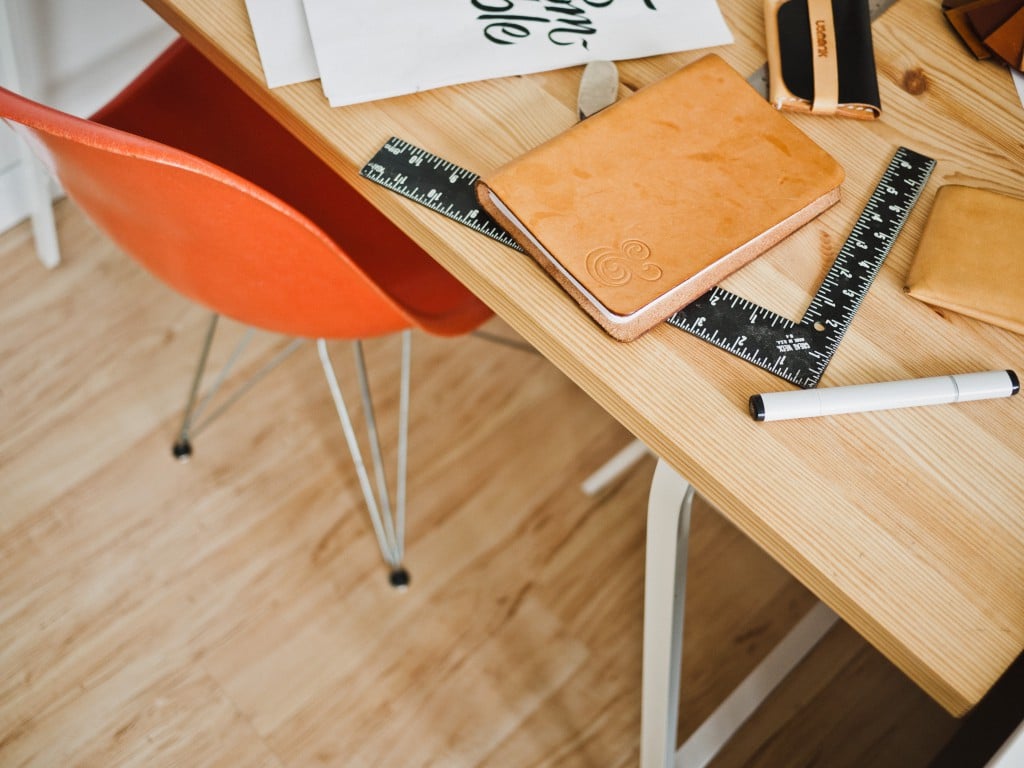 Habits
● Read deeply and widely. Branch out and study subjects you're not familiar with. Engage with all the different forms of media and always take time to reflect on the information you're absorbing. You'll need a lot of raw data to work with if you're trying to generate exceptional ideas.
● Look for patterns and trends. Learn to connect the dots. Hone your ability to see the relationships between elements. Steve Jobs put it best in an interview with Wired Magazine when he said that "Creativity is just connecting things. When you ask creative people how they did something, they feel a little guilty because they didn't really do it, they just saw something…they were able to connect experiences they've had and synthesize new things."
● Ask more questions. Challenge more assumptions. Be the person who asks "what if" over and over. Sometimes we're so focused on getting answers that we forget to ask the most worthwhile questions. Best-selling author Warren Berger explains the power of innovative questioning in his book A More Beautiful Question, and lays out a system to help us develop more productive inquiries. Check out this podcast interview for a brief overview of Berger's ideas.
● Embed yourself in an environment (or create one) that's conducive to creative thinking. Work and spend time with others that allow you to test out your thoughts, to think out loud without judgment. Constant worry about how others will receive your ideas stifles creativity. Build a network of friends and colleagues who understand that the incubation process for birthing great ideas requires patience, encouragement, and critical feedback. Science writer Steven Johnson brilliantly describes what an idea-inducing environment looks like in this famous hand-drawn animated video: Where Do Ideas Come From?
● Write down all of your ideas! Don't let a single one slip through the cracks. Carry a notepad everywhere you go, or use an app on your phone to record ideas whenever they arise (I'm hooked on Simplenote and Mindly). Be sure to document all of the persistent problems or needs that you encounter, because many of your best ideas will come from trying to resolve your own concerns. Also keep an idea journal, paper or digital, where you can track your ideas and practice the techniques below.
Techniques
● Study unexpected successes. Analyze businesses that achieved against all odds; trends that popped up out of nowhere and took the world by storm; high-demand products no one predicted would sell; sports teams that proved all the critics wrong. Identify the fundamental ideas and conditions that led to these successes, and then see how they can be applied to your own ideas and environment. Here's a list of unexpected success stories you can start analyzing right away.
● Master metaphorical thinking. Learn how to use comparisons to express ideas and solve problems. Metaphors directly link unrelated things by evoking vivid images that help us see from a different perspective. Think about some metaphors we're all familiar with: Time is money, Domino Effect, Lame Duck. These are well-known because they do such a great job of framing something unfamiliar in a way that expands conceptual understanding and inspires creative problem-solving.
● Use singular brainstorming sessions to generate more original ideas. This means formulating ideas on your own before bringing them to a group, which will help you avoid the pitfalls that often come with group brainstorming, such as idea plagiarism and fixation, personality conflicts, and anchoring biases, among others. For more effective group sessions, try Brainwriting instead.
● Use the right brainstorming tool. With literally hundreds to choose from, finding the tool that best suits your goal is important. For instance, if your objective is to find peripheral ideas surrounding a central idea, you might consider using mind maps. If you need to come up with a lot of "outside the box" ideas as rapidly as possible, you should try a few lateral thinking techniques. If you want a basic, tried and true method that can be applied to anything, you can go old-school and implement James Webb Young's 5-Step Technique (developed in 1939 but still remarkably effective).
Whenever I am trying to formulate ideas to improve an existing service or product, I like to use the SCAMPER tool to make sure I leave no stone unturned. When I'm looking for solutions to a hard-to-solve problem and feel stuck in narrow way of viewing the issue, I employ the Reverse Brainstorming technique.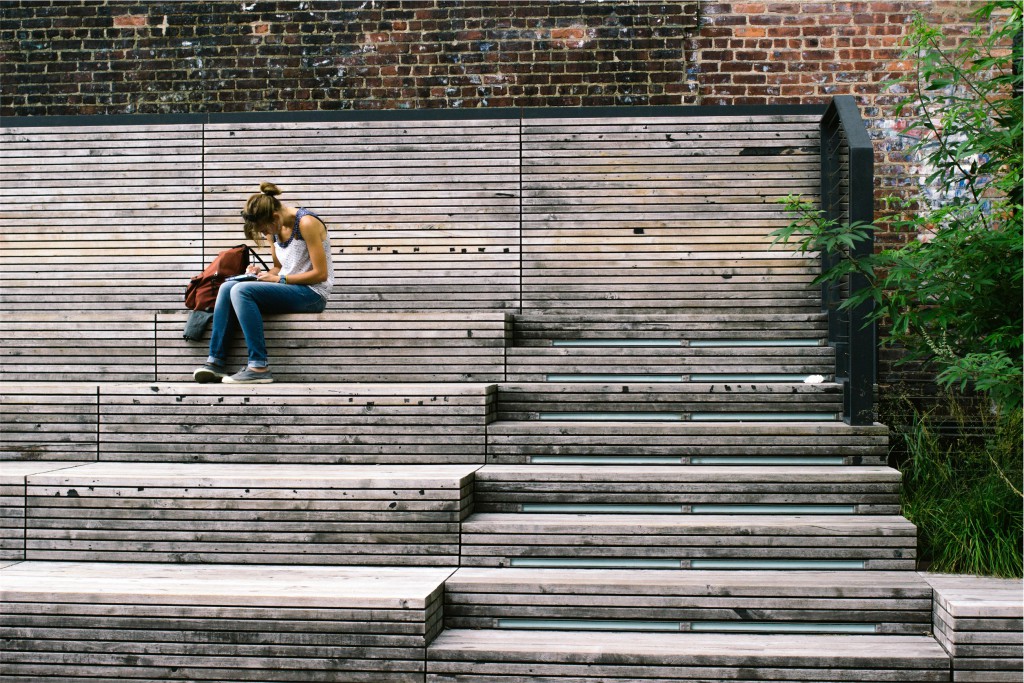 My advice is to start off experimenting with as many methods as you can. Eventually you'll develop a knack for choosing the most fruitful approach.
For more brainstorming techniques, tools and tips, here are more lists and guides:
○ 14 Brainstorming and Idea-Generating Techniques That Work (this list comes with a useful set of worksheets you can use).
○ James Altucher's Ultimate Guide for Becoming an Idea Machine
○ 18 Best Idea Generation Techniques
○ 13 Unusual Brainstorming Methods that Work
○ 38 Tools for Getting More Ideas
○ How the most creative business people generate ideas
○ Where the World's Most Innovative Companies Get Their Ideas
○ Idea Generation Techniques among Creative Professionals (list begins on pg. 5)
○ Ultimate Brainstorming (comes with a free workbook)
○ Mindtools Brainstorming Toolkits
○ Idea Generation Techniques booklet