"Why don't you cure leukemia?"
As a hematologist, this was the charge given to Emil Freireich when he arrived at the National Cancer Institute in 1955. He focused his work on children with acute lymphoblastic leukemia (ALL).
Children with ALL suffer from severe bleeding. In the children's leukemia ward it would get so bad that kids couldn't eat because their mouths and noses were bleeding so badly. Freireich elaborated on the grim reality of the situation in a 2013 interview.
"These children literally bled to death. They drown in their own blood. Now they're 4-10 years old, they don't know what the hell is going on. It's really horrible. …at that time leukemia diagnosis were death certificates. Median lifespan was about 6-8 weeks and 100% of them were dead in 8 months."
Freireich focused first on the problem of bleeding. He knew if he could at least stop the children from bleeding, he could give all his attention to finding a cure for the disease. When he believed he had an explanation and a remedy for the bleeding, he took it to his superiors. Freireich was told the idea wouldn't work. He stood firm in his belief and decided to go against the better judgments of many of his superiors.
It worked. The children stopped bleeding.
Up until this time, chemotherapy had really only been done using a single chemical at a time. However, those chemicals were never strong enough to overcome the leukemia on their own. Freireich knew there had to be a better solution.
But if using one toxic chemical didn't work, who in their right mind would ever think to use more than one—especially on children? No one. That's why the children and their families needed someone who would try something "insane."
Freireich had a theory that leukemia could be cured with the same method used in the treatment of tuberculosis—administering multiple drugs simultaneously. The problem was that the cytotoxins used for chemotherapy were harsher. There was more risk with possible side effects. Many leading hematologists, including the world's expert in hematology, thought the humane thing to do was to forego treatment and create a comfortable environment for the children to meet their end. Why do anything to prolong or increase a child's suffering?
Freireich didn't feel the same way. He was going to fight for his kids. The children were going to die anyway. Why not try and help? He chose to discuss his theories openly with the parents of the children he was treating. The parents were in favor of him at least trying for a cure. With a green light from the parents, he began his trials.
Using a combination chemotherapy regimen with three different drugs administered simultaneously—each with a unique purpose—Freireich began to see improvement. But the kids were still dying. It wasn't until he added a fourth drug to the mix that he found himself on the brink of a cure. The first child he tried his four-combination chemotherapy on was pushed to the brink of death. She suffered immensely from the treatment. She eventually recovered from the effects of the chemotherapy, but later died of an infection.
Freireich went back to the drawing board and made adjustments to the chemical doses. Remarkably, in the very next trial, he got it right. Freireich had cured a child of acute lymphoblastic leukemia.
"Today, a childhood diagnoses of acute lymphoblastic leukemia has a 95% chance of attaining remission."
Freireich doesn't deny that concocting a super drug by combining four toxic drugs was insane. He had to make objective decisions that meant possibly killing his patients, because he knew that making those decisions was the only way a cure would ever be found—if one even existed.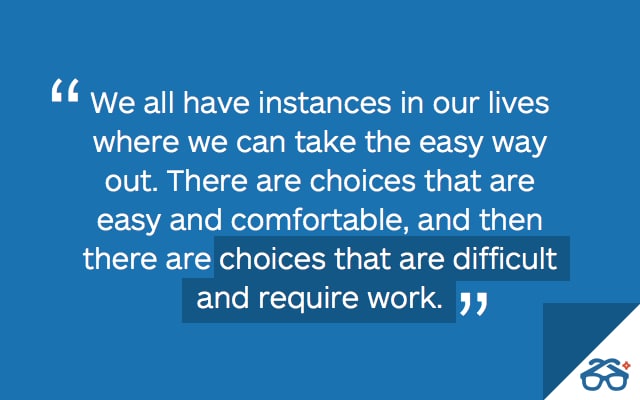 We all have instances in our lives where we can take the easy way out. There are choices that are easy and comfortable, and then there are choices that are difficult and require work.
"…our formulation of the ethics of research was the same as the ethics of getting out of a [sinking] boat, I mean, you just did what you could do…there weren't any options."
I invite you to evaluate your life right now. Are there sinking boats you should be getting out of? It's certainly easier to sink with the boat than it is to swim for safety. Don't let the ease of doing nothing stop you from swimming. Make the decision to do what you can do and get at it.
In addition, like Freireichs' combination chemotherapy, each little thing we do to improve our lives adds up. If we make enough little decisions to live better, we'll eventually find success.