In the 1980's Michael Santos started trafficking cocaine, which eventually resulted in a 45 year prison sentence. Michael experienced an intense change in mentality and earned a bachelor's degree, a master's degree, wrote 2 books longhand, married his wife, and earned six figures on the stock market- all behind bars.  Click here to read Part I of this 2 Part Series "No Excuses:  How Michael Santos Created Success in Prison".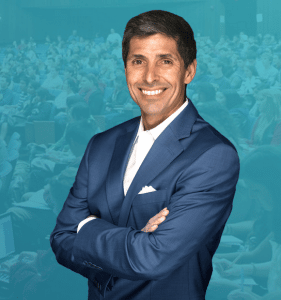 Michael Santos was released from prison in 2012 after serving 26 years. He has an extraordinary outlook on life and an insatiable desire to make himself and others better. I had the opportunity to do an interview with him, one of the first things he said was "Be the change you want to see in the world!" Michael's enthusiasm for life is infectious. There is much to value in his advice.
Can you describe your transition from the criminal mentality to using your prison sentence to learn and grow? Was it an instant change of thought or more of a slow transition?
When I was 21 years old I saw Scarface and it really influenced me. I wanted to get into that. I eventually got arrested [for dealing cocaine] when I was 23. I knew I was facing a very long sentence—possibly life without parole. My case didn't involve any violence, but because of the war on drugs people were getting long sentences. After I was convicted, but before I was sentenced, I read the story of Socrates. Socrates was in jail, and he had an opportunity to escape. But he didn't take it. He chose death. That story had a profound effect on me. It made me think about what I could do to make the most of my time in prison. It was an instantaneous change after I read that story. I began to think about what steps I could take to reconcile with society.
What was it that led you to pick up that book?
In jail I started to pray and ask for guidance. I didn't pray to get out of jail, but to get me through the journey. Those prayers led me to the book, A Treasury of Philosophy—specifically the story of Socrates.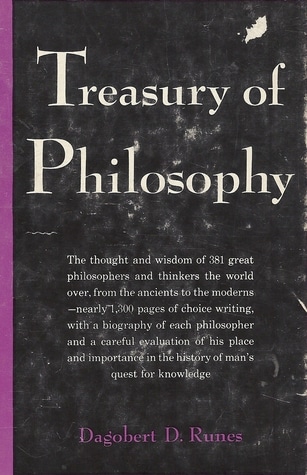 I was a terrible student in school and never read books growing up. But my prayers led me to read that book. I began to think, "What would law-abiding citizens expect from me?"
That's when I came up with a three-part plan. I was going to educate myself, contribute to society, and build a support network. If I could execute that plan, I could emerge from prison with dignity.
While you were in prison you were met with setback after setback, yet you came out victorious. What advice would you give to someone who is discouraged because of setbacks in his/her life?
I would encourage them to visualize success. Figure out the best possible outcome to their life. I started to think in the cell, not about getting through the day or the week, but about success. I would think, "What is the best possible outcome for this?" The visualization was to become a law-abiding citizen. I wanted people to see me as a good person—not just someone who made bad decisions as a youth. The more clarity I got on that, the more empowered I became.
[inlinetweet prefix="" tweeter="" suffix="@degreed"]Don't look at today's struggle because then you are just focused on those struggles. Make a three-year, five-year, or ten-year plan.[/inlinetweet] Visualize what the best possible outcome is in three, five, or ten years. Then reverse engineer where you need to be and create a plan. Create a plan for what you can accomplish in a year, a month, a week, and a day and work on that. You become empowered as an individual as you move toward what you define as a victory.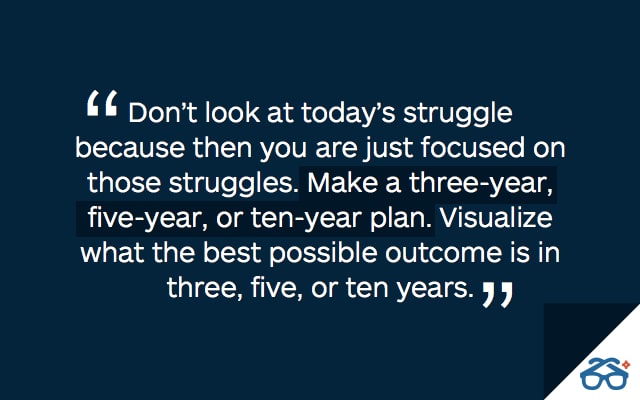 How have you adjusted your personal growth patterns now that you have more freedom?
I'm still very disciplined. I've been free from the Bureau of Prisons for almost two years now. I've found there are so many more tools to use. I got a nice Mac Pro: no more spinning ball! I'm trying to learn social media better. When I was in prison I never even sent an email. I read about it, but I never experienced it. I have a lot to learn, and I still need to master the tools that are available.
What's next for you?
My big project right now is a new podcast that I have developed. It's called Earning Freedom. I produce a new episode every day. On the episodes I interview formerly incarcerated people or business leaders. I'm trying to connect with more employers and formerly incarcerated people to learn from them and tell their stories.
I have also written a few simple eBooks to help individuals who have been indicted—so they can really understand the process they will be going through. I want to help them begin a deliberate path and position themselves so they can emerge successfully without letting the prison experience be a failure.
Will you be writing another book?
Yes. I will be writing a follow up to my book Earning Freedom that will have the details of my time after I was released from prison

If you haven't read Michael's book, Earning Freedom, I highly recommend it. You can also read more about Michael's story or listen to his podcast here
Click here to read Part I: No Excuses: How Michael Santos Created Success In Prison