You may be familiar with American Psychologist, Abraham Maslow, who developed the theory of self-actualization. In Maslow's studies, he identified the hierarchy of needs which include five fundamental elements needed in order to reach the stage of self-actualization. These five elements are physiological needs, safety needs, love and belonging needs, esteem needs, and self-actualization needs. Maslow argues that an individual cannot be fulfilled in life unless all five elements are met, working from the bottom to the top.
Throughout life, we work towards acquiring these elements so that we can live a comfortable life. We immerse ourselves in various every day activities. One of the activities that plays a large role in our lives is work. Similarly, Maslow's hierarchy of needs can be directly translated into our needs within our careers. Although we all have varying work schedules, we dedicate a great deal of time towards our jobs and the responsibilities they require. [inlinetweet prefix="" tweeter="" suffix="@degreed"]This is how the hierarchy of needs applies to our growth and happiness within the workplace.[/inlinetweet]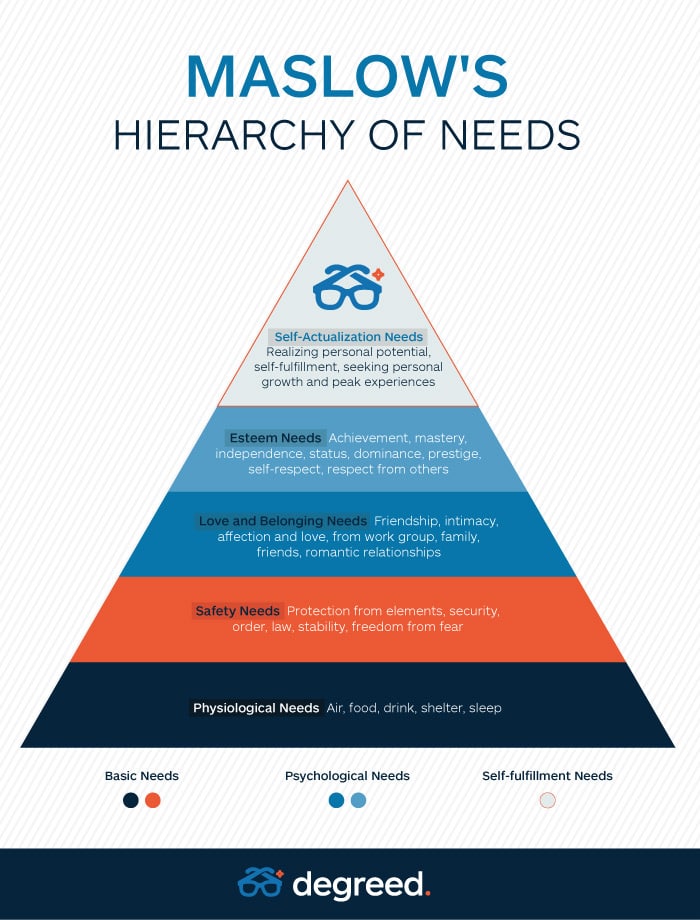 Physiological Needs –Air, food, drink, shelter, sleep
At work, your physiological needs include the factors that make up the work environment such as a clean working space, work supplies, technology, etc. In order to carry out tasks efficiently, you first need to have the essential tools and assets readily available. A lack of physical comfort at work can result in distraction or failure to produce work that meets the expected standards.
Safety Needs –Protection from elements, security, order, law, stability, freedom from fear
Making sure you feel safe from any harm, whether it is mental or physical, is a significant aspect in the quality of life at work. There are various factors that play part in ensuring safety in the workforce. These factors include a reasonable income, medical/dental insurance, accommodating benefits, and proper rules and regulations implemented by Human Resources. A lack of safety or a culture of fear can lead to work-related stress which can impose major consequences both inside and outside of work.
Love and Belonging Needs –Friendship, intimacy, affection and love, – from work group, family, friends, romantic relationships
One of the needs that could make or break your path to self-actualization at work is feeling support and a sense of belonging with people you work with. Teamwork, mentorship, and a sense of acceptance from co-workers largely affect how employees feel about the company. It is important for you to feel like you are a valuable asset to the team, and to feel that you are making a contribution towards end goals. Without the support from fellow co-workers, one can feel insignificant, isolated, and alone.
Esteem Needs –Achievement, mastery, independence, status, dominance, prestige, self-respect, respect from others
Esteem needs go hand in hand with love and belongingness needs. [inlinetweet prefix="" tweeter="" suffix="@degreed"]Feeling that your work matters and is recognized by others plays a large role in how you feel about yourself.[/inlinetweet] Mastering concepts and becoming an expert at what you do builds esteem. In addition,[inlinetweet prefix="" tweeter="" suffix="@degreed"] the way you present yourself at work is imperative in gaining the trust and respect from your surrounding peers.[/inlinetweet] It is also essential towards your own personal growth within a company.
Self-Actualization Needs –Realizing personal potential, self-fulfillment, seeking personal growth and peak experiences
[inlinetweet prefix="" tweeter="" suffix="@degreed"]Realizing your full potential by seeing your path and where it can lead you is the ultimate goal in any work experience.[/inlinetweet] Learning how and where you can apply your skills and knowledge greatly impacts the future you see yourself having. Self-Actualization within your career can result in peak experiences that make you a better employee and member of society.
All work experiences are a significant learning experience towards the person that you want to become and where you want to succeed. Once we achieve the fifth level of Self-Actualization, our needs are met to enable us to pursue the career of your dreams. [inlinetweet prefix="" tweeter="" suffix="@degreed"]Where are you now? How can you push yourself to reach the next level?[/inlinetweet]
Tweet us your thoughts on how Maslow's hierarchy of needs applies to your career at @degreed. You just learned about psychology and personal development, track what you learned on your Degreed profile.