In our August webinar, "Bring Your Own Learning," we explored the data behind the Bring Your Own Learning trend and discussed how you can manage the BYOL shift. As part of the data we shared, 77% of employees told us that their own self-directed learning was more effective towards helping them be successful in their profession. These are adults, they know what they need and they know what their strengths and weaknesses are. When we asked people how they find new information to do their jobs, 69% of them said the first thing they do is Google it and read or watch what they find. The behavior pattern here is critical: people expect immediate answers.
The takeaway is that empowering employee learning is the next big movement in education. Those who embrace it will thrive.
How can you start to manage the shift to bring your own learning? Here are 5 ideas for supporting employee learning in the new learning ecosystem.
1. Weekly lunch and learns. These are informal opportunities to tap into the knowledge and skills of employees, by having those people share what they know with their colleagues. We've seen this implemented with tools like Google Hangouts or Webcasts.
2. Tuition reimbursement and recognition programs. Increasingly we're seeing organizations thinking about these programs differently to work for informal and self-directed learning.
3. Set specific learning goals. Consider reevaluating performance management processes to connect the idea of career advancement to learning in concrete and specific ways.
4. Curate and recommend resources. Look for resources that aren't just formal; video, articles, webinars, MOOCs. Mix a variety of formats.
5. Recognize and value all kinds of learning and development. 
Jane Hart, Founder of Centre for Learning and Performance Technologies  has said regarding the future of learning "It will not be about designing personalized training nor managing people's learning for them, but rather supporting their own personal learning strategies."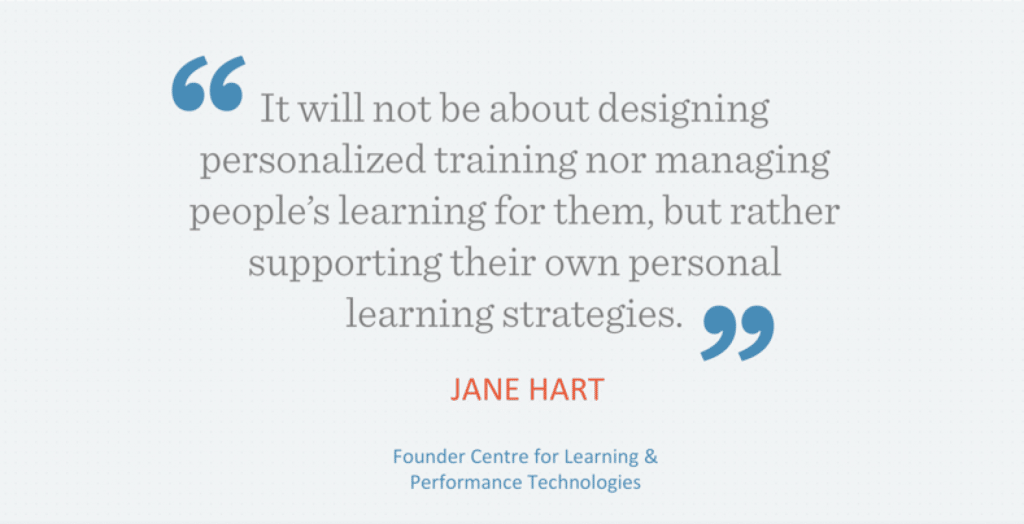 We agree, we also believe that accountability equals love. Organizations should think about guiding and empowering learning as much as they do enforcing.
Do you have more ideas for supporting employee learning? Tweet them to us @Degreed. Find out how Degreed can help you empower your learners here.