How it all started
Not to be nostalgic about my education, but this is the type of high school I wished I'd gone to.
Earlier this month, I served as a panelist for Design Tech High School's Presentations of Learning, which is a 3 minute creative display by d.tech students that demonstrates reflection, growth & improvement in the practice of design thinking to the greater community (taken straight out of the pamphlet because I couldn't have said it any better).
D.tech High School is incredibly unique in that it immerses students in technology, design thinking and project-based approaches in the classroom with personalized learning. Design thinking is especially prevalent throughout all the lessons, and all teachers go through training at the Stanford d.school before teaching a d.Lab class.
What exactly is design thinking and why is it so important?
Design thinking is a way of thinking that puts being human first. The process looks like this: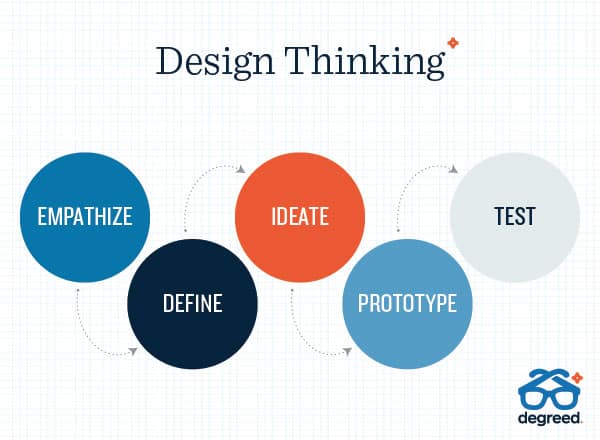 Notice that the first and fundamental step is empathy. You observe, ask questions, and conduct interviews to find out what the other person really needs. This is where your assumptions and biases are put aside and the listening ears come forward.
Then, you define the problem with a big picture perspective of what exactly the needs are that we're trying to solve for, to ensure that we're not climbing the ladder that's leaning against the wrong wall.
With the constraints set, it's time to ideate and use the imagination to come up with the craziest ideas in your wildest dreams that can solve the defined problem. This is where the students expressed they had the most trouble in – speaking up and not being embarrassed about their ideas.
Then you narrow down the ideas to a couple to prototype. This is where you get scrappy and mimic the product and experience of using the product. Common materials are cardboard, construction paper, post-its and popsicle sticks (my favorite).
Then you test your assumptions. When your assumptions are wrong, it doesn't mean that it's a failure. It only means that you're one step closer to the right solutions, and it's time to go back to the drawing board.
Design thinking is an ongoing process, not only in the sense that you continuously iterate but also that it doesn't just stop at the classroom. Throughout the panel, questions were asked to encourage the students to think about how they can apply these concepts they learned from their projects in life and for the upcoming semesters.
I was amazed by the quality of the presentations, the creativity of the mediums they used and the variety of their projects ranging from animated gaming videos to organized camping trips to composition of a rap song (basically all the things that I've only dreamed about doing). It was incredibly high quality and almost unbelievable that there were so many young actresses, writers, comedians and musicians in the house.
An unexpected effect of learning
I was in for a bigger surprise though – the way the students described themselves before design thinking completely blew me away. Almost every one of their presentations started with "I was really shy…." and I couldn't believe that was true when the student standing in front of me spoke with such confidence and ease.
That's when it hit me. Design thinking doesn't only change the way the mind thinks but it also transforms the personality. Being a part of the process led to confidence. Turns out that conducting interviews encouraged them to step out of their boundaries and speak to strangers. Working with others to define the problem facilitated collaboration and teamwork. Sharing all kinds of ideas took away the embarrassment and hesitation to voice what's on their minds. Constantly prototyping and testing melted away the fear of failure. Having the type of environment to experience this led to more confidence.
Creating a learning environment
To sum it up, the students were encouraged to be bold. d.tech provides them with type of environment to experiment and fulfill their curiosities at their own pace. Classes also mirror this type of mindset, with minimal tests which can be retaken throughout the semester, leaving the rest of the time dedicated to learning by doing projects. Those who are at a slower pace than others get focused help on a specific topic they are having difficulties with and only move on once they understand it. Similar to pathways on Degreed where a variety of content in different formats (courses, books, videos, etc.) can be curated into a self-paced learning path to learn new skills, d.tech empowers personalized and self-directed learning.
From the transformations I saw in the students, it makes me think – what if the learning delivery method mattered just as much as the actual lesson content? What if learning was the core motivation rather than the occasional byproduct of rote memorization? What if education wasn't only a tool to get into college and a job after graduating, but also a toolkit for life?
What would that look like? It's some food for thought as we work together towards reinventing the future of education.