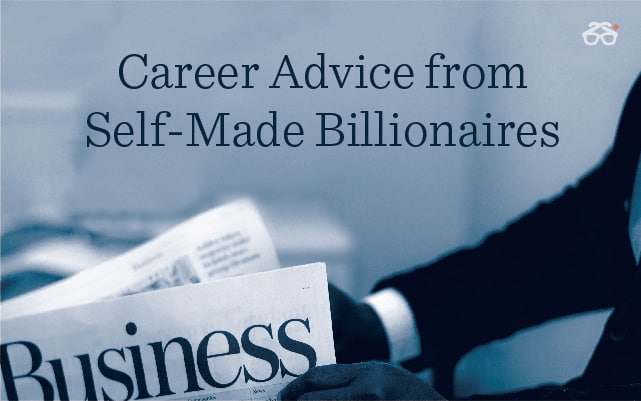 The first time I truly grasped the magnitude of a billion was while reading Tony Robbins' book, Money: Master the Game. He explains a billion relative to time. One million seconds is roughly 12 days. And how about one billion seconds? That's 32 YEARS. The difference between a millionaire and a billionaire is massive. So I think it's safe to say that becoming a self-made billionaire is quite an impressive feat. The following career advice comes from six individuals who rose up out of less-than-stellar conditions and into incredible wealth.
John Paul DeJoria
First up we have Mr. John Paul DeJoria. This guy didn't just stop after his first billion-dollar success, he took things a step further and built a second billion-dollar company. As a child DeJoria sold Christmas cards and newspapers to help support his family, but he eventually ended up living in foster care. Later in life he had to live in his car while he went door-to-door selling his shampoo products. Not only did he grow that little business into the billion-dollar Paul Mitchell brand, he also started Patron Tequila—another billion-dollar endeavor.
As a man who began his career doing door-to-door sales, it's unsurprising that a lot of what DeJoria has to say is about powering through rejection. The following piece of career advice in particular is a solid representation of the determination it took for him to build something great through great adversity.
"You're going to run across a lot of rejection. Be prepared for the rejection. No matter how bad it is don't let it overcome you and influence you—keep on going towards what you want to do–no matter what… You need to be as enthusiastic about door number one-hundred as door number one."
One other piece of advice from DeJoria that I thought was worth sharing has to do with the kind of work that it takes to become successful.
"The difference between successful people and unsuccessful people is that successful people do all the things the unsuccessful people don't want to do."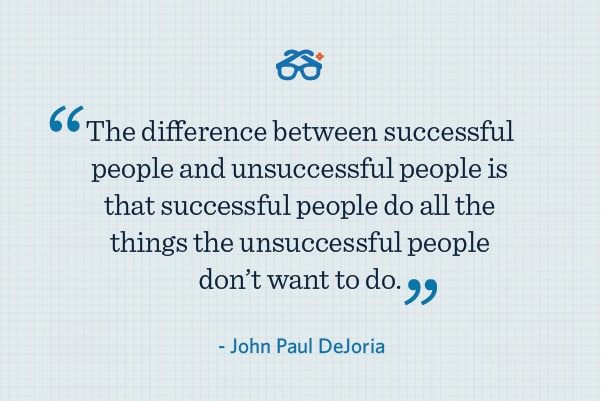 J.K. Rowling
First things first, I have to admit that I'm not much of a Harry Potter fan. Though I do respect the talent of Rowling. For those of you diehard fans, you probably know everything there is to know about her. But for those who don't know everything, Rowling had some pretty rough patches on her way to fame and fortune. At one point she was living off welfare as a single mother writing all day in a coffee shop with her baby by her side. I can't imagine that sitting in that coffee shop she ever imagined she'd become the richest author in the world.
So what career advice does Rowling have for us? The following quotes come from a commencement speech she gave at Harvard in 2008. Like DeJoria, she has some enlightening thoughts on failure, and she also believes in the power of imagination.
"Failure meant a stripping away of the inessential. I stopped pretending to myself that I was anything other than what I was, and began to direct all my energy into finishing the only work that mattered to me. Had I really succeeded at anything else, I might never have found the determination to succeed in the one arena I believed I truly belonged."
"I am not going to stand here and tell you that failure is fun. That period of my life was a dark one, and I had no idea that there was going to be what the press has since represented as a kind of fairy tale resolution."
"We do not need magic to change the world, we carry all the power we need inside ourselves already: we have the power to imagine better."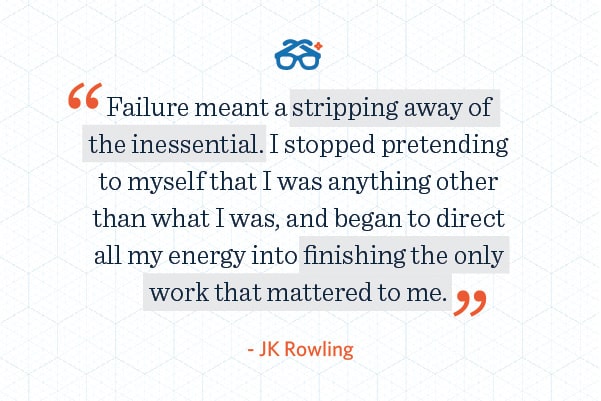 Howard Schultz
If you enjoy pumpkin spice in any kind of hot beverage, you've probably been to a Starbucks recently. The multibillion-dollar company has a storefront on seemingly every street corner in America. But for Starbucks CEO, Howard Schultz, things weren't always so good. As a child, Schultz didn't have a lot of money. Because of his predicament, he felt a strong desire to prove he could become successful in spite of his limited resources. Schultz now has a keen understanding of what a business needs in order to grow. Here are a couple thought-provoking snippets of advice from Schultz on authenticity and conviction.
"In this ever-changing society, the most powerful and enduring brands are built from the heart. They are real and sustainable. Their foundations are stronger because they are built with the strength of the human spirit, not an ad campaign. The companies that are lasting are those that are authentic."
"There are moments in our lives when we summon the courage to make choices that go against reason, against common sense and the wise counsel of people we trust. But we lean forward nonetheless because, despite all risks and rational argument, we believe that the path we are choosing is the right and best thing to do. We refuse to be bystanders, even if we do not know exactly where our actions will lead."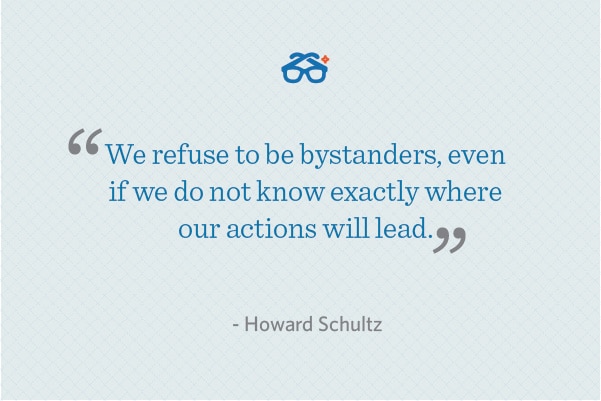 "This is the kind of passionate conviction that sparks romances, wins battles, and drives people to pursue dreams others wouldn't dare. Belief in ourselves and in what is right catapults us over hurdles, and our lives unfold. 'Life is a sum of all your choices,' wrote Albert Camus. Large or small, our actions forge our futures and hopefully inspire others along the way."
Zhou Qunfei
According to a New York Times article Zhou Qunfei is the world's richest self-made woman. Zhou's story is quite remarkable. Apparently she isn't fond of interviews so particular pieces of career advice from her are hard to come by. However, within the details of her rags-to-riches story are beautiful examples from which we can learn about success.
As a young person, Zhou worked long hours in a factory in Shenzhen, China. She made the equivalent of about $1 a day. "I didn't enjoy it," she says in the NY Times article. After just three months she had to quit. But Zhou didn't quit in a way most of us would. She penned her boss a letter of resignation. In the letter she stated her complaints regarding the long hours. But she also wrote about how grateful she was to have had the job, and that she wanted the opportunity to learn more.
When her boss read the letter, he was so impressed that he gave her a promotion and the opportunity to do other work in the factory. That experience gave her the step up she needed to start the leading glass screen production company, Lens Technology. Chances are pretty good that the glass screen you are reading this blog post on was made by Zhou's company.
When it comes to Zhou's demeanor, her cousin has this to say about her: "In the Hunan language, we call women like her 'ba de man,' which means a person who dares to do what others are afraid to do."
In addition to being daring, Zhou is meticulous and exact in her work. She often walks the factory floor to make sure everything is in order. She'll step in and work the most menial jobs just to make sure the process is seamless and optimally effective. This level of detail stems from her childhood. "My father had lost his eyesight, so if we placed something somewhere, it had to be in the right spot, exactly, or something could go wrong. That's the attention to detail I demand at the workplace."
Lloyd Blankfein
Lloyd Blankfein, the CEO of Goldman Sachs, came out of the projects in east Brooklyn. His father was a postal worker and his mother a receptionist. Blankfein sold sodas at Yankees games. It took a ton of work, but Blankfein eventually rose out of poverty to the top of Wall Street.
In a video for the Goldman Sachs summer interns in 2013, Blankfein gave some solid career advice on how to rise to the top no matter what cards you're dealt.
"By the way…there are advantages to growing up in a place with a lot of access to a lot of privileges and there are burdens to that also. And the burdens of that are the insecurity that comes from having had things more easily….Whoever you are, wherever you are stationed, these are the cards you got dealt. You can't spend your time wringing your hands about it. You play the cards you have. You accept the burdens in the context of which you came from and enjoy the privileges and don't be guilty and either one of them."
Here are two more powerful pieces of advice from Blankfein that have to do with accepting failure and building relationships.

"If you're on a beach and a tsunami hits, you'll drown whether you're a small child or an Olympic swimmer. Some things will go bad no matter how good you are."
"You have to, in your own life, get people to want to work with you and want to help you. The organizational chart, in my opinion, means very little. I need my bosses' goodwill, but I need the goodwill of my subordinates even more."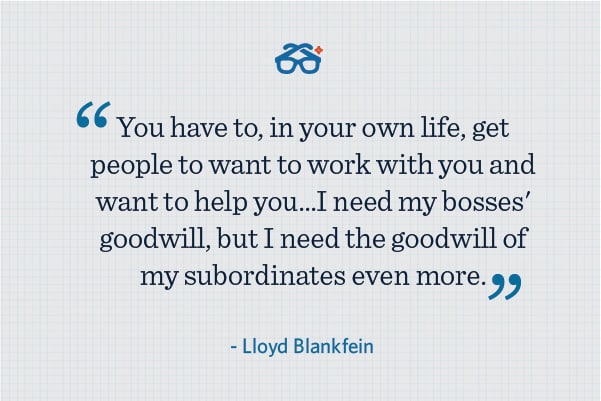 Oprah Winfrey
When I was first researching people for this article, I had no idea that Oprah came out of poverty. All I really knew about her up to this point was that my mom used to fold laundry while watching her show when I was a kid, and in December the audience got all of her favorite things.
What I didn't know was that she grew up in rural Mississippi wearing clothes her grandmother made out of potato sacks. On top of that, she had to deal with unimaginable emotional trauma from sexual abuse. Now a billionaire media mogul, Oprah's work has influenced the lives of millions of people.
The following are just a few of the many pieces of advice she has for success and happiness. From courage to personal responsibility, she touches on some powerful stuff.
"I've come to believe that each of us has a personal calling that's as unique as a fingerprint – and that the best way to succeed is to discover what you love and then find a way to offer it to others in the form of service, working hard, and also allowing the energy of the universe to lead you. "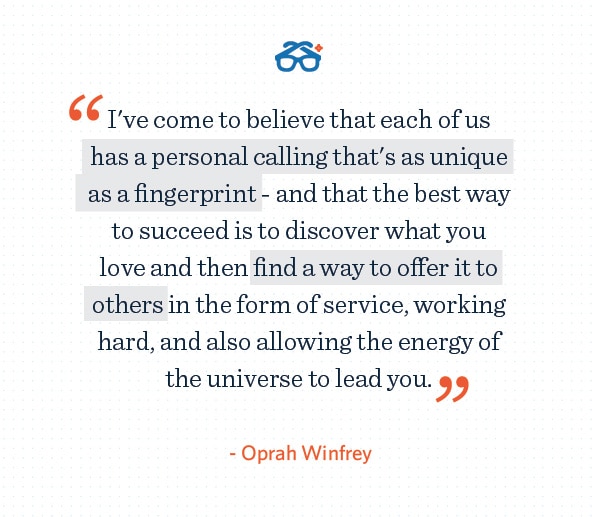 "You get in life what you have the courage to ask for."
"The reason I've been able to be so financially successful is my focus has never, ever for one minute been money."
"I don't think of myself as a poor deprived ghetto girl who made good. I think of myself as somebody who, from an early age, knew I was responsible for myself, and I had to make good."
I hope you found at least one piece of advice that you can take to heart and apply in your life. I know I have. Let me know what you liked the most. Tweet me at @bradensthompson, and follow me on Degreed here. Click the button below to get credit for reading this article.