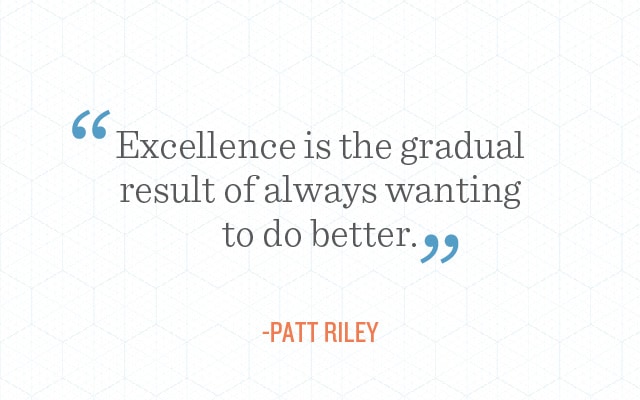 The most intriguing part of the quote above is not that excellence comes from wanting to do better—that's pretty obvious—but that excellence comes from consistently making gradual changes.
Merriam-Webster defines the word gradual \ˈgra-jə-wəl\ (adj) as moving, changing, or developing by fine or often imperceptible degrees.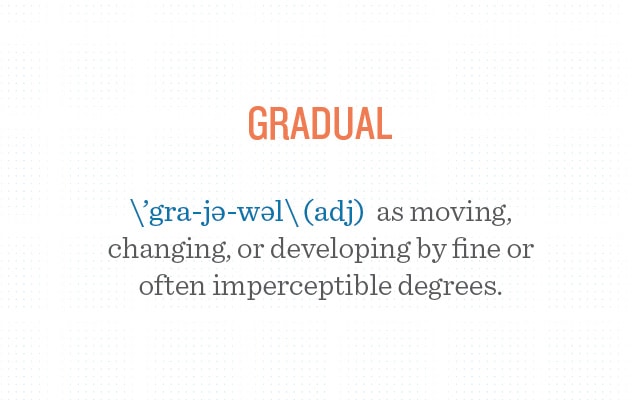 I know that's the recipe for the opening line of every high school graduation speech ever, but it works here. And I'm a sucker for words.
What Mr. Riley is saying here is pretty remarkable when you ponder it. How is it that something gradual—seemingly undetectable—can create anything substantial?
This is an idea that I could dwell on forever and still not completely wrap my head around. You could take a grain of sand out of the desert, and no one would be the wiser. You could do the same with a drop of water from the ocean. As humans, we are only one in a sea of billions. We're literally just fibers in the fabric of the world. All but imperceptible.
Yet, thinking that each little piece of the greater whole has no meaning is flawed. Each little piece matters. It builds on the other little pieces around it and eventually becomes something great. Try to watch a movie on a TV with a missing pixel and tell me every tiny piece doesn't matter.
The Compound Effect
I recently read a book by Darren Hardy titled The Compound Effect. In the book, Hardy essentially tries to break down and explain exactly how small pieces add up over time and lead to monumental results.
One of the most common explanations of this is the example of the compounding penny.
If you don't know what that is, here's the synopsis: say someone offered you the choice between a million dollars right now or the final sum of a penny doubled every day for 30 days (.01, .02, .04 etc.), which would you take?
The knee-jerk reaction is to take the million dollars. It seems like a no brainer. However, if you double a penny every day for 30 days, you end up with 5.3 million dollars. More than five times the amount you would have had if you took the million up front.
At first, you don't really see any change. On day five you only have $0.16. Big whoop. You've waited five days and you still don't even have enough to get a gum ball. Even at day 15, the halfway mark, you only have $163.84. Compared to $5.3 million, that's miniscule. If you stole $163.84 out of someone's bank account who has $5.3 million, it would be almost imperceptible. But through the power of the compound effect, the final 15 days are astronomically more lucrative than the first 15.
This idea works because gradual change is powerful when paired with consistency . At day five, you're probably pretty discouraged. But if you stop doubling, you lose out on a big payout. The penny example is a little misleading because we can do the math and find the exact final outcome. But if you don't know what the end looks like (as is that case with most things in life) it's hard to feel like you're making any progress.
Have you ever started a new diet or exercise routine and got frustrated after a week when you stepped on the scale and saw little to no change? It's hard to stay motivated when you don't see effort right away. That's the poisonous nature of the human desire for instant gratification. But you have to keep at it. Every effort matters if you are consistent..
Going back to Hardy's book, he says, "Your only path to success is through a continuum of mundane, unsexy, unexciting, and sometimes difficult daily disciplines compounded over time."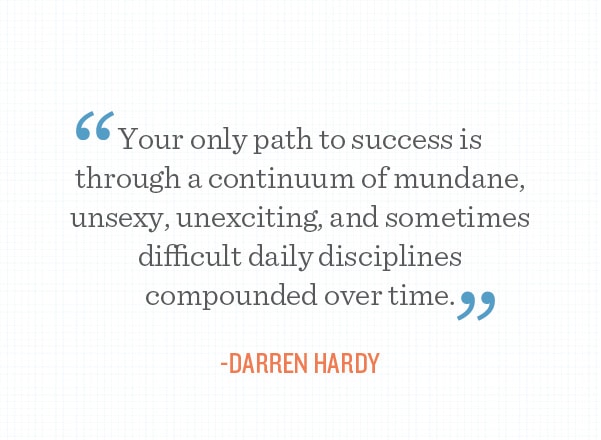 There is no quick fix for success. The only way to the top is through gradual and consistent effort. There are no shortcuts. And you may not see the results you're looking for until you've kept at it for years.
The Success of Steph Curry
As outsiders looking in, successful people may appear to have fallen into their results overnight. That's because there's nothing newsworthy about a small change. The only way gradual effort becomes newsworthy is when it is maintained consistently over time. And that's when everyone takes notice.
Let's take one of the best athletes in the world right now as an example. Even if you know nothing about basketball, you've probably heard of Steph Curry. You have surely seen his amazing athletic feats on videos in your Facebook and Twitter feeds. But it wasn't like that even two or three years ago.
Hardy talks about this as well.
"Don't try to fool yourself into believing that a mega-successful athlete didn't live through regular bone-crushing drills and thousands of hours of practice. He got up early to practice—and kept practicing long after all others had stopped."
Out of high school, Steph Curry was overlooked by schools in big conferences. All the critics said he was too small. But he kept pushing. By the time he decided to go pro, scouts had all but declared him worthless in the NBA. Those draft reports are laughable now. Especially while read by Curry in a video touting his 2015 MVP and championship honors (something CoachUP did recently).
But Curry kept at it. He kept perfecting his craft.
"He practiced like a demon, hyper-focused on his weaknesses." – Washington Post
Curry worked tirelessly on fundamentals—and he still does—making sure he has mastered every monotonous movement that happens in a game. That consistent effort on the simple components of the game has paid off.
"…staying on top of that simple fundamental makes you a little bit faster, a little bit more creative, a little bit more efficient on the floor." – Steph Curry via Sports Illustrated
It's hard not to watch in awe as Curry has dominated the game this year. Next time you watch him play, try not to see him only as he is now, but, like Under Armour puts it, as the sum of all his training. And don't discount the power of gradual change made consistently over time, instead, try putting them to work towards your own goals.