"All my life I've looked at words as though I were seeing them for the first time." -Ernest Hemingway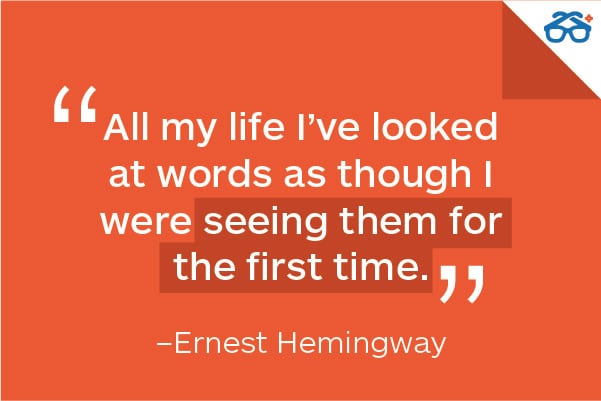 Choosing the right word is never easy. Whether you're writing a blog post or arguing conversing with a loved one, the words you select can make or break you. They can accurately express your ideas, or they can muddle things up. And in this age of social media and other digital communication, many of our words are permanently recorded for all the world to misunderstand interpret. Yet most of us continue to pluck the first that come to mind.
With so much riding on the particular words we speak and write, it's a good idea to reflect every now and then on their importance, their power, their quirks; to behold the myriad ways they are currently being used in society. Sometimes we need to put on our Hemingway glasses and look at words as if we're seeing them for the first time.
Here's an eclectic array of content from around the web that will get you thinking about words in a new way .
George Orwell and the Politics of the English Language – If you haven't read this classic piece, now's the time. Here are the rules about word usage that Orwell recommends:
Never use a metaphor, simile, or other figure of speech which you are used to seeing in print.
Never use a long word where a short one will do.
If it is possible to cut a word out, always cut it out.
Never use the passive where you can use the active.
Never use a foreign phrase, a scientific word, or a jargon word if you can think of an everyday English equivalent.
Break any of these rules sooner than say anything outright barbarous.
What is a word? – If you're feeling brave, see what the philosophers have to say about words.
Recent Articles
What do Donald Trump and the Pope Have in Common? – Clue: they both like "big" words.
These Words Would Knock Your State Out Of the National Spelling Bee – Here's a state-by-state rundown of the words people googled for spell check the most during the last year (Arkansas, should we be worried?). For more insight into regional word usage, check out this State-by-State Map of the most unique descriptive words used by online daters.
Musicians with the Most Diverse Vocabularies – Spoiler Alert: The winner by far is Eminem.
How do you speak American? Mostly, just make up words – If you're a fan of made-up words, you'll also love this fascinating book by Lizzie Skurnick.
What it's like to write speeches for a rude, rambling and disgraced politician – Recent review of a book that some think will become a classic on political communication.
Think of "Mullet" as a 1980s Word? It's Not. – My favorite slang for "mullet"? Kentucky waterfall.
Words jump-start vision, psychologist's study shows. Even during the first electrical twitches of perception, words are already shaping our vision.
Twitters Knack for New Words – Much praise here for Twitter's neological invention.
Why Is There So Much Hate for the Word "Moist"? – Finally scientists weigh in on this strange case of "moist" aversion.
Sherbet vs Sherbert – A lot of commenters have weighed in on this debate. What do you think?
Greek crisis: A reader's guide to puns and portmanteaus
Oxford English Dictionary's New Words – Well it's about time that "shizzle" and "koozie" were given official status.
Reference Guides
We're all familiar with the Oxford Dictionaries, Cambridge Dictionaries, and Dictionary.com. But sometimes we need a different set of references to guides our word searches. Here are some you should check out.
Urban Dictionary – Crowdsourced online dictionary of slang words.
Pseudo Dictionary – More crowdsourced terms.
Dictionary of American Regional English – The full panoply of American regional words, phrases, and pronunciations.
Online Etymology Dictionary – Best place to discover the origins of English words.
Metaphor Map of English – Shows the metaphorical links between different areas of meaning, and allows us to track metaphorical ways of thinking and expressing ourselves over more than a millennium.
Visual Thesaurus – Offers a floating constellation of related words. Visuwords has a similar. interface.
Acronym Finder – Find out what any acronym, abbreviation, or initialism stands for.
Eggcorn Database – Searchable database of words and phrases that came about from the mishearing or misinterpretation of other words.
All-Vowel Words – The title says it all.
All-Consonant Words – Ditto.
Blogs for Word Nerds
About Words – Best feature: weekly list of possible new words that lets users vote on them.
The Word Detective – Words and language in a humorous vein.
One Letter Words blog – Strange and unusual references from a word genius.
Word Spy – The word lover's guide to new words.
Literal Minded – Commentary on words by a guy who takes things too literally.
Fritinancy – Names, brands, writing and language from a professional wordworker.
Pain in the English – Discusses all the gray areas of the English language.
Cruciverb.com – The ultimate crossword database. A true word lover's heaven.
NY Times Wordplay blog – Crossword blog of the New York Times.
Podcasts
The Allusionist – Etymological adventures with Helen Zaltzman in a fortnightly podcast ( My favorite).
A Way With Words – This NPR classic examines language through the lens of history, culture and family.
Lexicon Valley – Podcast about language pet peeves, syntax, etymology and neurolinguistics.
Lists
34 Interjections You Should Be Using
83 Old Slang Phrases We Should Bring Back
11 Terms for Self-proclaimed Smartypants
Top 10 Words with Bizarre Meanings
39 incorrectly used words that can make you look bad
25 Maps that Explain the English Language
Wiki list of English portmanteaux
Most searched for words on Google
Most searched for words by NY Times readers
You just learned about english, grammar, and pop culture. Get points for this article on Degreed. Catch Jedd McFatter tweeting the most powerful words possible at @ATYPICAL.