Our teachers are given incredible responsibility – to grow the minds of our future leaders. And at some point, you may have wondered, how do these selfless individuals get trained for such a big task? It may seem obvious – a college degree and ongoing certifications. But you might be surprised to find out that "most states don't have certification for computer science so most teachers in K12 have no education in computer science," shared Mark Nelson, Ph.D., and Executive Director for the Computer Science Teachers Association (CSTA).
Despite the demand from the larger economy, "fewer than 10% of schools offer a computer science program," added Dr. Nelson. This means that many computer science teachers actually come from different disciplines – math, science, continuing tech education such as business or IT, even gym and Spanish.
So how are they finding the resources they need to be effective computer science teachers when some have had little to no training in this space?
Many come to CSTA, a membership organization that supports and promotes the teaching of computer science and other computing disciplines at the K-12/pre university level. Recently, Degreed partnered with CSTA to create the first-of-its-kind professional development (PD) platform for K-12 computer science teachers, known as the Continuing Professional Development Pipeline (CPD Pipeline).
The CPD Pipeline is designed to address a key challenge in K-12 computer science education: growing the pool of teachers who are both competent and confident in teaching computer science concepts and practices.
"In capability and philosophy, Degreed and CSTA were a match," commented Dr. Nelson. "But what struck us was the initial conversations with Degreed made us rethink the whole situation. Our problem wasn't in providing training, it was a workforce development problem. We needed to make sure our workforce was continually learning, growing and had the skills that matched the current workforce."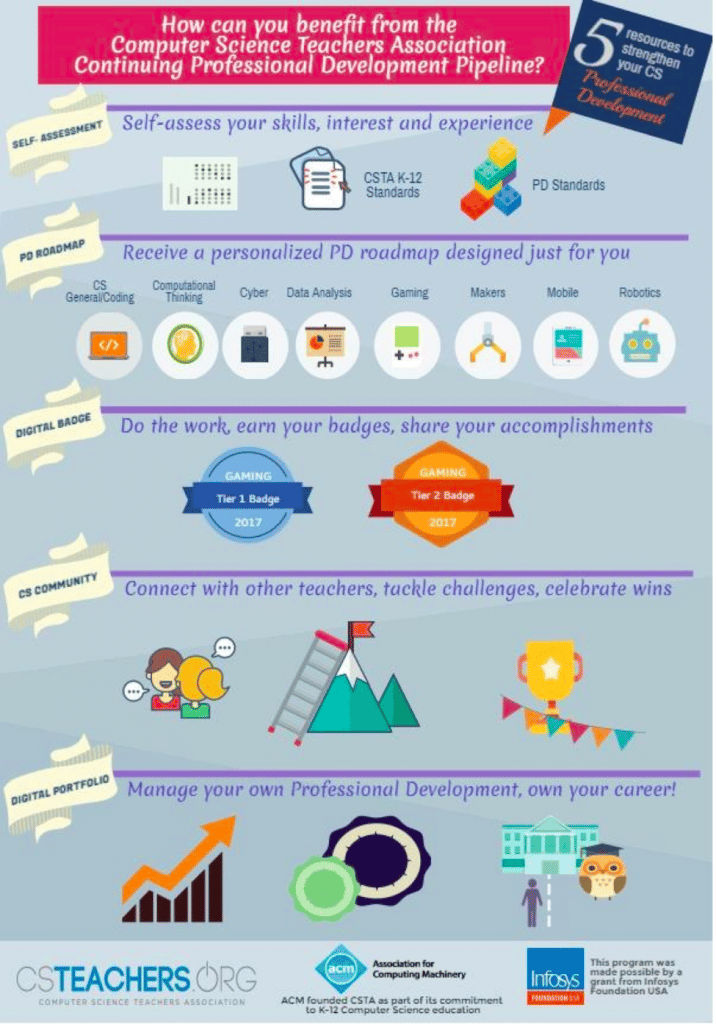 With a new sense of purpose, CSTA wanted a solution that could supply teachers with 5 core learning components:
1)        self-assessments of skills, interests, and experience
2)        personalized PD roadmaps to guide the process
3)        digital badging, with support from Badgr;
4)        link to the computer science community to connect with other teachers, tackle challenges and celebrate wins; digital portfolios to showcase PD and manage career paths.
"We are proud and excited for the opportunity to partner with CSTA to transform the way K12 computer science teachers access and benefit from meaningful and relevant Professional Development programs," shared David Blake, CEO and co-founder of Degreed. "In leveraging Degreed, CSTA will be able to help any number of teachers advance their professional development and certification in computer science, in turn, giving even more students access to the information and knowledge needed to build their own skills and expertise."
While CSTA is excited about the user-friendly environment and learning pathways provided by Degreed, Dr. Nelson is inspired by what the future could bring. "This could be a new way to teacher certification – this could be huge in terms of rethinking how certification happens in K12," he said.
We thank CSTA for their dedication to skill development and the future – for all they are doing to educate our teachers and for the significant role they play in bettering the futures of our students.
Interested in becoming a creator of technology instead of just a consumer? Check out the CPD Pipeline here. And if you're an Association interested in driving member engagement and creating your own learning pathways on any subject,  Degreed can help.