The world of work is evolving at lightning speed, and upskilling has become more essential than ever. When skills are consistently grown and tracked, they become tools that can noticeably elevate the value your L&D team contributes to your business.
Skills are in the limelight right now, exactly where they should always be (in our opinion). And that's why we're putting upskilling strategies on center stage in the land of stardom: Los Angeles.
Degreed LENS 2021, our annual flagship conference, will bring together the most innovative leaders in both business and learning to talk about how you can harness the power of upskilling and learning strategies across your organization. We know your business is powered by people, so let's give them the learning culture and technology they need to be successful.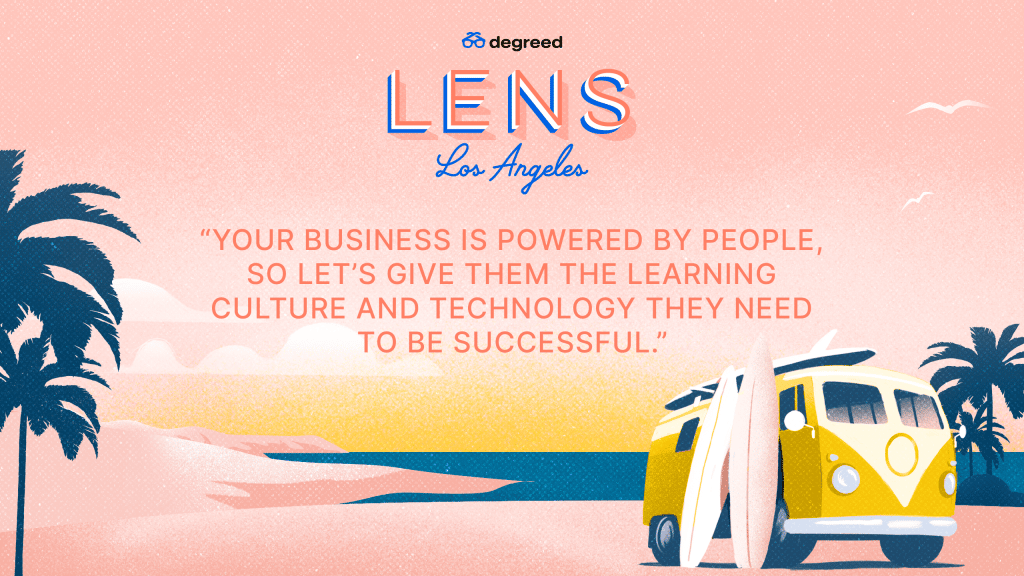 Dan Pontefract, Founder and CEO of the Pontefract Group, is this year's LENS moderator. Join him and us to explore insights from industry experts, develop moonshot L&D goals to take back to the office, and enjoy Hollywood-style networking opportunities. From November 9th to 11th, LENS will focus on complex topics like employee experience and engagement, upskilling strategies, and the tech tools that can help you achieve your learning goals.
Bring the Magic to L.A.
Our keynote speakers will take the LENS Hollywood sparkle to the next level.
Earvin "Magic" Johnson is the Chairman and Chief Executive Officer of Magic Johnson Enterprises, an investment conglomerate valued at an estimated $1 billion. Since retiring from the NBA over 20 years ago, the legendary basketball star has morphed into a business powerhouse who has dedicated his life to leaving a positive impact in underserved urban communities. Having left the basketball court for the boardroom, Johnson parlayed the skills and tenacity he acquired on the court into a winning formula for successful business ventures.
Nancy Duarte, known as "the Storyteller of the Valley," is CEO of Duarte, Inc. and author of six best-selling books. For over 30 years, her company has worked with the highest performing brands and executives in the world. The insights from those engagements get transformed into training everyone can learn from. Duarte is a communication expert who cracked the code for effectively incorporating story patterns into business communications. She's been featured in Fortune, Time Magazine, Forbes, Fast Company, Wired, Wall Street Journal, Cosmopolitan, New York Times, LA Times, and on CNN. She is a LinkedIn Influencer, is on Twitter @NancyDuarte, and has a bunch of free resources.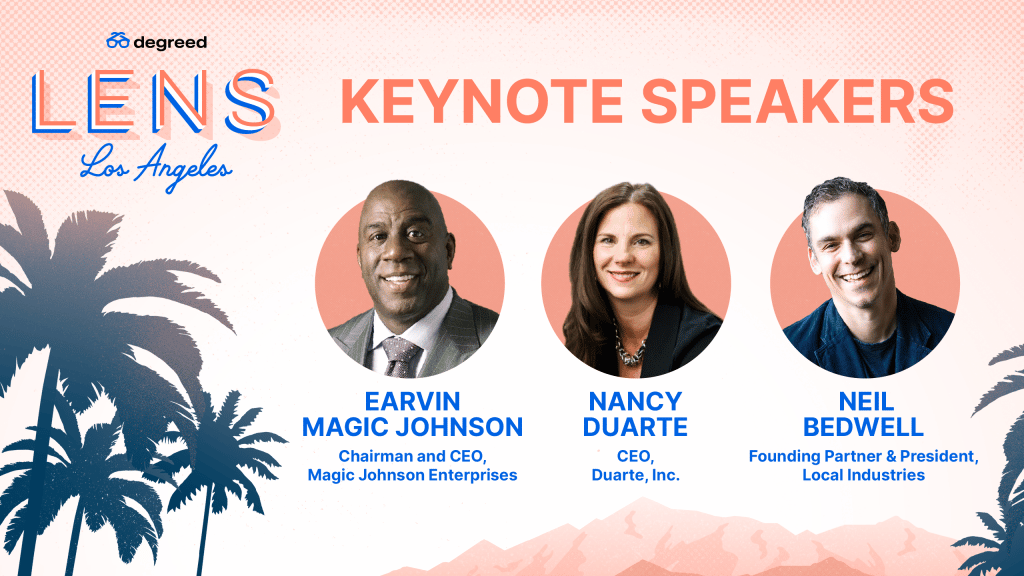 Neil Bedwell is a Founding Partner and President at LOCAL, a Change Marketing™ consultancy building culture, employee experience, and internal communication programs for some of the world's best companies. His marketing career spans 20 years running work, teams, and agencies in London, Amsterdam, San Francisco, and Atlanta. Before founding LOCAL, Neil led global digital strategy at Coca-Cola and ran the brand's digital program for the 2014 FIFA World Cup in Brazil. Neil is a passionate advisor, instructor, writer, and speaker on marketing disruption and the "people-first" future of work. Over the last few year's he's been featured on stages and pages in a wide variety of places, including General Assembly, Forbes, The Adobe Summit, SXSW, IAB Mexico, The Economist Big Rethink, ACMP, Worldz, DisruptHR, and SDX San Diego.
These speakers have some inspiring topics prepared that will get you jazzed to shake up your L&D program in the best ways:
The Magic of Winning
Influencing Through Story
The Human Side of Business Transformation
Get "A-List" Access
For the first time, we'll be hosting pre-conference workshops designed to help current clients and partners, as well as future clients, learn more about Degreed and the thought leadership behind our business. Sessions will focus on improving your experience with Degreed in all stages of the upskilling journey. Here's a preview:
Current Clients
Optimizing Degreed For Your Business
Success Metrics that Matter
Degreed Admin Functions You Didn't Know You Needed
Partners
What's New in the L&D Market?
How to Partner with the Degreed Services Team
Getting to Know the New Degreed Partner Program
Future Clients Prospects
Creating a Business Case and Success Metrics for Learning Technology
Shifting to a Skills-First Strategy and Culture
LMS vs. LXP – Understanding the Learning Tech Ecosystem
Let Skills Do the Work
Optimizing how your company puts skills to work is a focus of this year's LENS. What's the point in collecting data if it's not useful and actionable? We've curated content to share concrete ways you can turn skills and skill intelligence into business value. Led by speakers from Penguin Random House and Degreed, here are a couple sessions you can look forward to:
Managing Organizational Change to Create Peak Performance
Skills Are Becoming Currency of the Workplace
Purchasing Degreed, Not a Platform
Lead the Way
No matter what stage your business is at in the upskilling process, LENS has masterclasses aligned to your challenges including planning, launching, and expanding your organization's learning and development. Many sessions will be led by Degreed clients who've been through it, including speakers from innovative companies like AstraZeneca, Capital Group, Cigna, Citi, Intuit, Leapgen, Novo Nordisk, The Starr Conspiracy, Visa, and Visier.
These sessions will ensure you can head back to the office with a roadmap for an improved learning and upskilling journey. Here's a sneak peek at the topics:
Planning
Matching Learning to the Speed of Business
Competencies Are So Last Year – Shift to a Skills Focus
HR Tech Features You Should Be Looking For
Launching
Implementing Learning Tech Like a Pro
Creating an Effective Learning Tech Ecosystem
Reporting vs. Analytics
Expanding
How Experiential Learning Accelerates Skill Growth
Why Course Completions Mean Nothing
Using Skills to Promote Diversity in Operations
Party Like a Star
We want you to have fun and get to know your fellow attendees. That's why we have a schedule of unique, celeb-worthy events planned. From morning workouts to evening cocktail parties, join us for a little pampering and R&R. All evening events include dinner, transportation to external event venues, and entertainment.
Get a glimpse of the VIP activities in your future:
Morning "Start Your Engine" movement workshops
Welcome Reception: Otium Whiskey Tastings & Broad Art Museum Tour
Evening Party: Casino Night at Spire 73 (InterContinental Hotel rooftop bar)
Closing Party: GRAMMY Museum Tour & Live Music
Know the Details
Date: November 9 – 11, 2021
Location: InterContinental Hotel, 900 Wilshire Blvd, Los Angeles, CA 90017, United States
Early Bird Pricing Deadline: August 26, 2021
InterContinental Room Block Reservation Deadline: 5 p.m. PT on Monday, October 18, 2021
We will be following all local, state, and federal COVID-19 guidelines for the duration of the conference.