Pop a bottle of bubbly. It's been exactly one year since we announced that Pathgather and Degreed would be joining forces to take skill building, measuring, and communicating to unforeseen heights.
Since that announcement, our product and engineering teams have been hard at work to bring the best of Pathgather to Degreed in order to deliver one best-in-class product to the market. Today, to commemorate our first anniversary, we're busting out the disco balls, party streamers, candles, and everything else. But the icing on the ice cream cake is how excited we are to share an update on our progress, including details of how we approached the integration of the two products, priorities for the combined roadmap, and some examples of how the acquisition has already made Degreed better. In the future, we'll showcase clients who are leading the charge with their successful adoptions of the combined platform.
As we set out to combine two market-leading products — which together defined an entirely new product category for enterprise learning — we had to initially overcome some anxiety about the nature of the merger. Simply put, Pathgather and Degreed were extremely similar. Unlike some acquisitions driven by the need to expand the product portfolio or to fill a capability gap, both companies were laser-focused on helping employers empower their organizations to discover, share, and value all learning from everywhere.
Our Guiding Principles
To help with decisions surrounding the integration, we established a few principles to help guide our newly-combined team during this journey.
The first principle was to focus on strengths. Pathgather and Degreed served customers across both the enterprise and mid-market, and each company grew rapidly on the back of fundamental strengths relative — not only to the competition and the status quo — but to each other. Where they differed in strength, the two companies complemented each other, and where they were similar, they integrated seamlessly.
Valuing the voice of the customer was our second principle. We wanted to acknowledge the perspective that not only enabled our past success, but was crucial for our future. One of the first steps we took after the acquisition was embarking on a listening tour with Pathgather customers to better understand their needs both today and tomorrow. It was important to ensure we kept both the customer and user perspectives as a priority in shaping our strategy for a combined product.
Lastly, we adhered to our desire to be balanced, a principle which had implications for both the product itself and for the teams building it. From a product perspective, this required us to be honest about each product's respective strengths and shortcomings. This mindset extended to the teams building the product, which at times required some difficult discussions and acquiescence, since there was no shortage of established viewpoints about the best way to enable value for customers.
And while it wasn't formalized as a principle per se, underlying our approach was ensuring all decisions supported the broader Degreed mission of enabling a better way for organizations and their employees to develop and communicate skills.
Getting it Right
After the merger, our product, client experience, and sales teams spent countless hours analyzing and discussing the data collected from customer interviews and user surveys, and we ultimately established five areas of priority focus for the combined product. These are the areas we knew we had to perfect as we integrated the products.
User Experience – UX is all about how a product makes you feel. Products with great UX have a personality that persists beyond the first glance and lasts throughout the detailed interactions. One of Pathgather's cornerstone traits was an incredibly user-friendly platform, which we wanted to preserve and infuse into the combined product. This way we could ensure that both Pathgather and Degreed users alike were delighted with every interaction on the platform.
We've implemented several visual design enhancements intended to improve readability and consistency, including support for a stretched image and the inclusion of additional information about the content item. The cards now show content type, duration, user completions, likes, and relevant skills.
Social Layer – Almost every customer we interviewed agreed that one of the key reasons they purchased Pathgather was to foster a new model for learning that would be learner-driven; to cultivate a learning culture in which everyone could own and drive their own development. To achieve this, we wanted to strike a balance between the "we" journey —  focused on emphasizing the social aspects of learning  —  and "me" journey, or the personalization of the learning experience.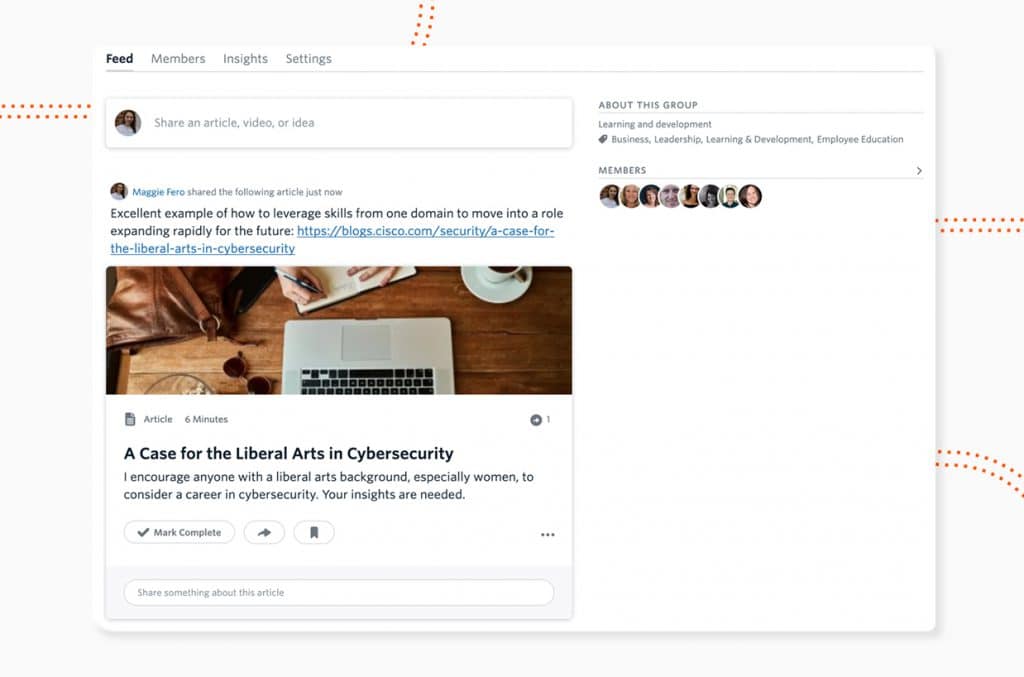 One of the first areas to get a social upgrade were group posts, where users can share content, provide a quick update, or even ask questions of other members in the group — enabling an experience with which users have become quite familiar from social media apps. We also made some simple terminology changes to exude a more inviting, social experience for users, such as "sharing" instead of recommending, and "following" instead of enrolling.
Admin Enablement – A key enabler for learning and talent teams, administrators need the ability to quickly and easily control branding and configuration, manage data on the platform, and drive engagement around priority learning initiatives. As organizations become less hierarchical and work becomes more team-centric, admins will require an increasingly decentralized, self-service model for enabling a culture of learning.
Later this year, we will further simplify content integrations for admins with the click of a button, and highlight "featured" providers in curated pages and resources.
Data and Reporting – Whether thinking about personal development, team growth, or the needs of the entire company, it's critical to have insights into everything users do in support of their development, from what they're searching to how they engage with content and each other. Moreover, these learning and skills insights should easily integrate with other enterprise datasets through any reporting and analytics tools of choice.

We now provide insights into both user engagement and retention metrics by showing both active users as well as returning users to Degreed. This helps provide clients with a better understanding of how their learning initiatives are performing over time.
APIs – For our customers, our product is the front door for all employee development; while it's crucial, it's only one of many pieces that comprise the overall learning and talent ecosystem. We know that the value of any network is proportional to its size, thus allowing access to seamlessly and securely connect with other applications and data opens up an entire world of additional value.
Since the beginning of the year, we've added extensive support to Degreed's API to permit organizations to create, update and delete a wide variety of platform data including users, content, and skills reference data. Later this year we will add support for the xAPI standard to enable organization a more flexible way to capture and analyze behavioral learning data.
We're one year in and have a lifetime of learning to go. Yet we've already accomplished so much and we couldn't be more excited about where this journey is going to take us. There's so much more in store for this dynamic duo.