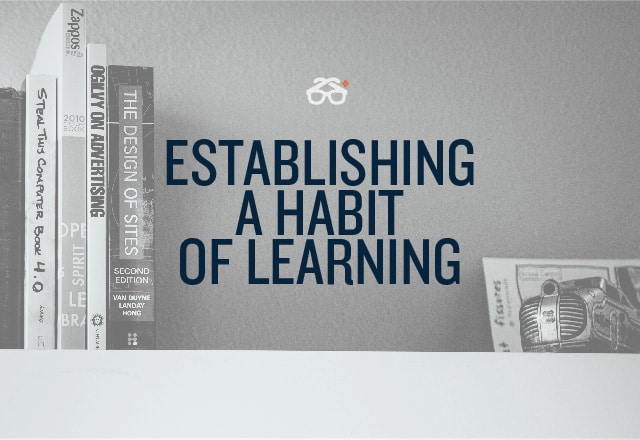 Let's talk about habits.
I was recently inspired by an article on the Babbel blog that had some quality suggestions on habit formation. It got me thinking about my own learning habits.
After reading the article, I sat myself down and while gently touching the tips of my fingers together, I asked myself, "Am I really doing everything I can to learn something new every day?"
I had to answer honestly. I would know if I was lying.
Medium story short, the answer was no. I can do more.
Now I know that habits are the center of many debates. Everyone has their own thoughts and opinions on how to break and create habits. With that in mind, I know that the process in this post will not work for everyone. As with everything on the Internet, take it with a grain of salt. However, it is my hope that this at least gets you to think more seriously about your daily learning habits and how to become better at adding to your knowledge base daily.
Identify an Action
Habits underlie almost everything we do on a daily basis. Yet we go throughout our daily routines all but unaware of how deep some of our habits are ingrained. The good news is that all of these habits, no matter how good or bad, can be used as tools to jump start new habits.
For the purposes of this post, let's say you want to learn to be a better artist. First, you'll need to identify an action that will help you accomplish that goal. Don't make it too difficult. In fact, the simpler the better.
To be a better artist, you will need to have something to draw on, right? So let's set our action as opening a sketchpad. That simple. You haven't committed to drawing anything, just to open your pad.
Find an Anchor
Now this is where you are going to have to become a little more self aware. You're going to have to identify all the ingrained habits that fill up your day. Once you start thinking, you'll realize how many there are to choose from. It could be brushing your teeth, hanging your coat up when you get home, turning on the coffee pot, sitting on the couch after work, checking your pockets to make sure you have your keys and phone, kissing your kids goodbye, etc. This is just a quick list. You should be able to come up with many more than this.
Once you have identified these habits, you'll need to do a little refining. Find a habit that occurs at a similar frequency to the new habit you want to form. For the art example let's say you want to work on your art every day. So you would identify a habit that you do daily. That will be what we call your anchor.
Create a Process
Once you have found your anchor—a habit that you can piggyback off of—you will need to create a process to turn that habit into a cue for your new habit. For example, if you plop down on the couch every day after work, place your sketchpad on the coffee table. This is where your simple action you identified earlier will come into play. Once you plop down (anchor), open your sketch pad (action).
At this point, you don't even have to draw anything. Just open the sketch pad. That might seem way too easy and pointless. However, it's this simple action that will help you determine if you have identified a solid anchor. If you find that you just don't have any motivation when you open your sketch pad after you sit down on the couch, because you're tired and you want to just sit and relax, that's probably not a great anchor to tie your new habit to. If completing the action with the anchor doesn't make sense or doesn't feel comfortable, try experimenting with other anchors. Maybe instead of the couch anchor, you open your sketch pad after you plug your phone in at night. There are myriad options to choose from.
Once you have perfected the simple process of anchor and action, you're ready for the last step.
Ramp up the Tension
This is where your habit begins to take shape. It is extremely difficult to establish a habit if you go all in from day one. You might make it a week, but you really haven't established the habit. You've just proven that you can do something new for a few days. This process is about establishing a real habit, and that happens slowly over time. There isn't much instant gratification in habit formation.
Maybe ramping up the tension means starting with a simple doodle a day and perfecting some fundamentals of art. From there, maybe you start adding a YouTube tutorial or a few pages from an instructional book to the routine. Eventually, you will no longer need the anchor to cue your learning. That's when you will know you have established a new habit of learning!
Here's a quick recap of what we learned.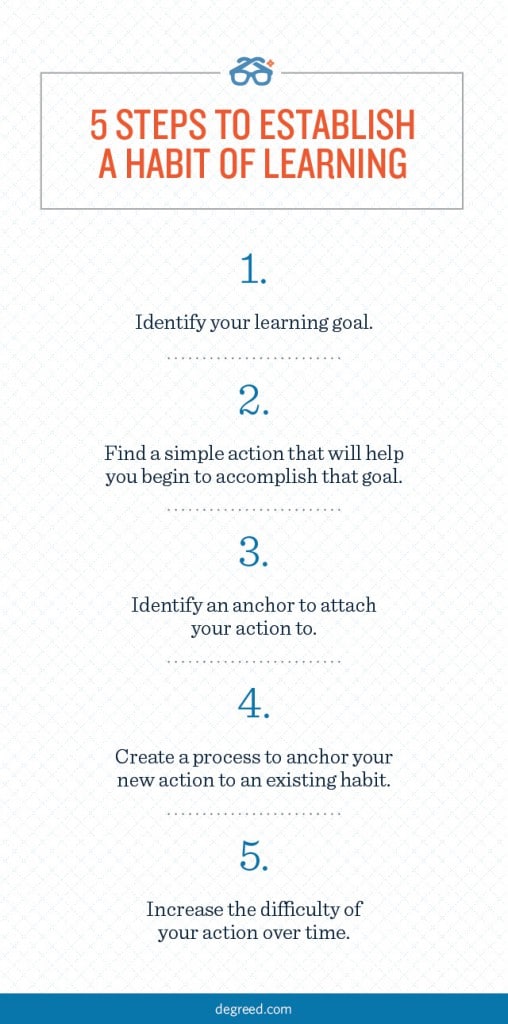 Again, thanks to the language-learning people at Babbel for informing me on this process. Like I said, it may not work for everyone. But why not give it a try? The worst thing that could happen is you cross off one more thing that doesn't work for you. If it does work, I want to hear about it. I too will be working on my daily learning habits. Shoot me a question and hold me accountable or tell me what habits you are working on! You can comment here or tweet me at @bradensthompson.