Click on any workforce-related article these days and you'll likely see a mention of the "Great Resignation" or the "U.S. staffing shortage." Workers realize they deserve more — more support, more money and more career advancement opportunities — and they aren't willing to settle.
A majority of Gen Z U.S. workers ranked learning new skills as the third-most important driver when evaluating new job opportunities, behind health insurance and disability benefits, reads a 2021 Gallup survey. And Degreed research found nearly half of workers around the world said they are more likely to leave their employer if they don't see a commitment to upskilling and reskilling.
Whether it's the desire to try something new or the knowledge that the workforce is changing, workers are ready and willing to acquire new skills. They're seeking out companies with a culture focusing on workforce learning — and ditching those that don't.
How to Create a Lifelong Learning Culture
Companies with cultures that prioritize learning, development and career growth will reap the benefits of a happy and loyal workforce.
Employers that excel at internal mobility retain employees for an average of 5.4 years, nearly twice as long as companies that struggle with it. Even those employees who've plateaued in their current role tend to stay loyal to their employer if they're encouraged to forge new internal paths.
"Professional development has become a top priority for workers when determining their interest in or loyalty to a company," says Janice Burns, Chief People Officer at Degreed. "Specifically, workers are yearning for more educational options that align with their professional purpose and growth. Companies that provide these types of benefits will attract, engage and retain the best workers."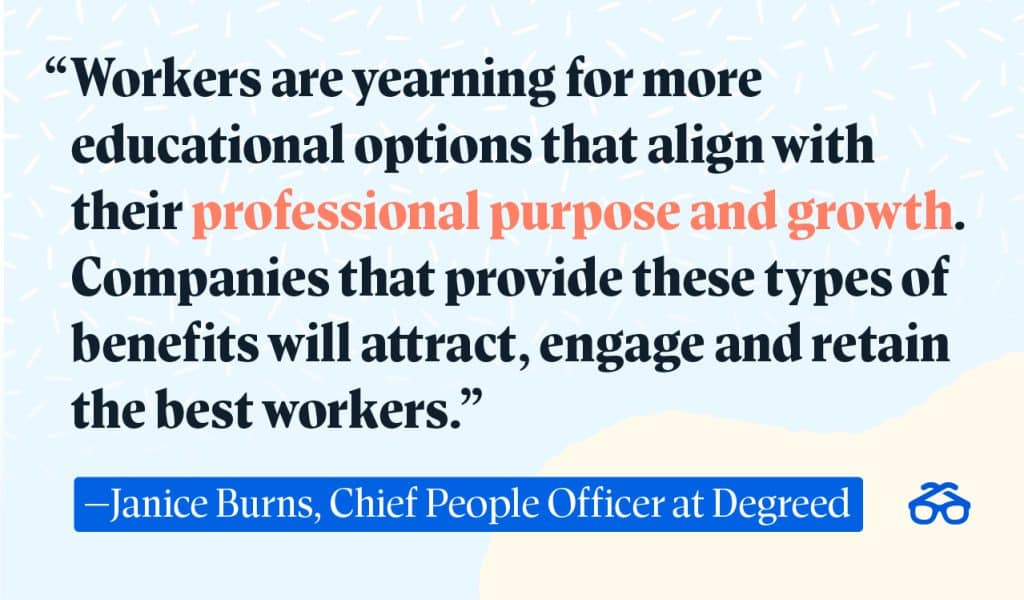 There are a few steps L&D professionals should take in order to develop and sustain a successful culture of learning:
Get leadership on board. It's one thing to want more development opportunities for your workforce, but it's another thing to actually implement them. For your L&D program to truly succeed, you need adoption and buy-in at the highest level. Come to your meetings armed with data to support the ROI of a learning experience platform (LXP) and a plan for how you'll roll it out at your organization.
Don't try to be everything for everybody. Your employees have diverse interests and differing career goals, and your learning content should be just as varied. Aim for an intersection between what workers want and what will best meet your business's needs when planning your learning strategy.
Commit to a continuous culture of learning. A positive learning culture is more than just offering disparate classes a few times a year or promoting employees here and there. Instead, invest in a learning experience platform (LXP) like Degreed that operates on an open ecosystem, where workers can learn anytime and anywhere and track it on their profiles. Employees and their managers can see their skill development, view internal opportunities such as a new job or a stretch assignment, and work on the skills they need to succeed.
Offer employee training incentives: While workers may say they want educational opportunities, mounting to-dos can make learning less of a priority. By offering rewards for completed programs, such as a gift card or the ability to earn certifications, you'll give your workers the extra push needed to grow their skills.
The Business Benefits of a Learning-Focused Workplace
Not only will upping the education ante at your organization lead to attraction and retention, it'll help grow your bottom line. In our research report, How the Workforce Learns, workers who rated their company learning cultures as positive are 166 percent more likely to say their companies grew revenue faster than their competitors.
It's clear that in order to attract and keep top talent, companies must implement and promote a positive learning environment. By getting the right buy-in, determining the best learning model, and partnering with the right learning experience platform, you'll keep your current workers happy and widen your candidate pool.
Trying to Keep Your Best Talent?
Degreed clients can achieve up to five times reduction of attrition in key roles. Read about all the findings in The Total Economic Impact™ Of Degreed study conducted by Forrester Consulting. Download it today.