Over the past several years, it's grown harder and harder to talk about jobs, hiring, and careers without a conversation about automation, and yes, even robots. Walk into a McDonald's, Walmart, or Aloft Hotel and you may find an electronic worker greeting or serving you. And while it seems we're getting close to the world of the Jetsons and Rosie the Robomaid, automation will never fully solve all of the problems related to jobs, hiring, and careers, especially when it comes to the human side of things.

Whether you're on board with the idea of a skills gap or not, the numbers don't lie. Right now, those numbers are clearly indicating that the skills gap is real. Korn Ferry surveyed 1,500 business leaders around the world, and slightly more than half said they expected the talent shortage to still be around in 2030, costing firms nearly $8.5 trillion in lost revenue.
Organizations are turning to internal upskilling and mobility strategies to address talent shortages. The problem, however, is that there is a lot of "you should pay attention" data, yet little advice on how to address the inherent people, process, technology, culture challenges, along with the solutions to overcome them. This is where Degreed steps in.
In a recent HBR article, Peter Cappelli, Professor of Management at The Wharton School of Business, shares research showing how internal hires stack up on the list of hiring sources. The dismal truth is that they're at the bottom, below third-party websites, social networks, and staffing firms.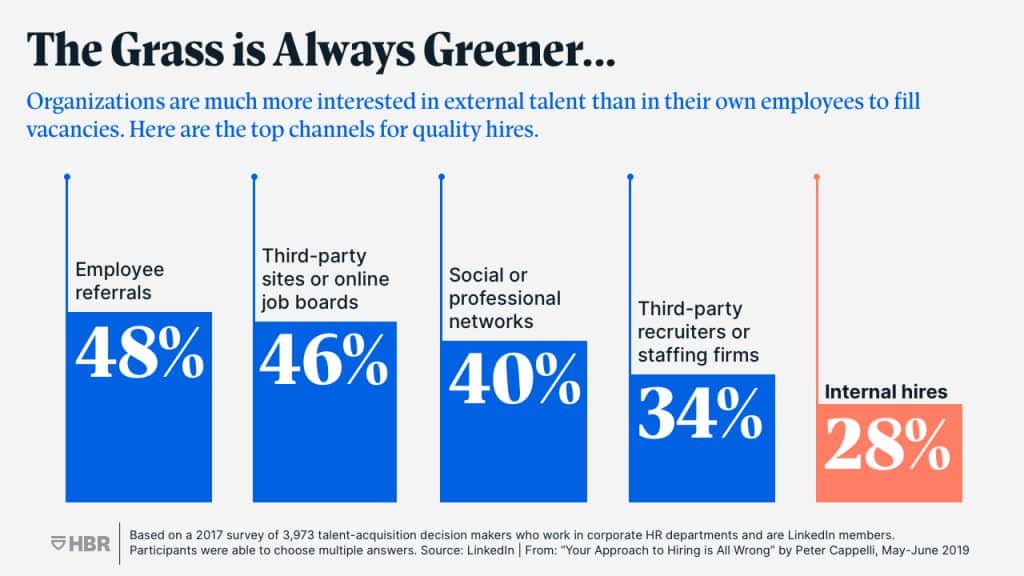 In order to improve the situation, organizations have to take a people-first approach. Doing so requires addressing the challenges that exist today, and creating solutions that benefit the most important element of an internal mobility strategy: people.
Let's talk about the three main stakeholders in an internal mobility strategy:
The individual
The manager (current and hiring)
The talent team
First up, the talent team. Most organizations have a talent acquisition team but not a talent retention team. Digging deeper, the talent acquisition team's goal, as the name might suggest, is to acquire talent, not retain it. The metrics for this department speak to acquisition goals and the speed of achieving them.
Moving on to current and hiring managers. In many organizations, current managers should be the best promoter of internal career mobility, but this is often not the case. Why? In the article "Career Websites Alone Are Not Enough," Lisa Pueschel, Staples' Vice President of Talent Acquisition, says "I don't think managers are holding people back because they don't want them to grow their careers. They're holding people back because they're fearful of having a gaping hole in their organization for 30, or 60, or 90 days."

Managers may not know how to help individuals. One HR Executive described the problem this way: individuals are either aided or stymied by the capability of their current manager to unlock their next career step. And our most recent research indicates that while employees are looking for this direction from managers, they're largely not receiving it. Based on our How the Workforce Learns Report, only 20% of managers in our survey recommended learning resources or experiences to their direct reports. And only 17% helped create a plan or set goals for developing skills.
Hiring managers for those next roles play a part in the problem, too. Pueschel describes this situation: "Here's how it goes sometimes, recruiters bring up some internal names. Hiring managers are receptive. They say, 'Yes, I'd love to see that person, but I also want to see two or three external people.' We need to stop that. If we have great internal talent, let's move them to grow their careers."
That brings us to the individual. It's common in many organizations for individuals to own their careers. That sense of ownership should be both motivating and empowering, but too often it becomes a limiter and a cause for the aforementioned attrition. In addition to lack of visibility into — or sometimes knowledge of — what career paths look like in most organizations, the two people might approach regarding career growth — managers and talent teams — are usually part of the problem.
The blame can't be placed solely on managers and talent teams. CEB Researchers have pointed out that individuals can also contribute to the problem, especially those empowered to own their careers who then choose paths that don't align with organizational needs.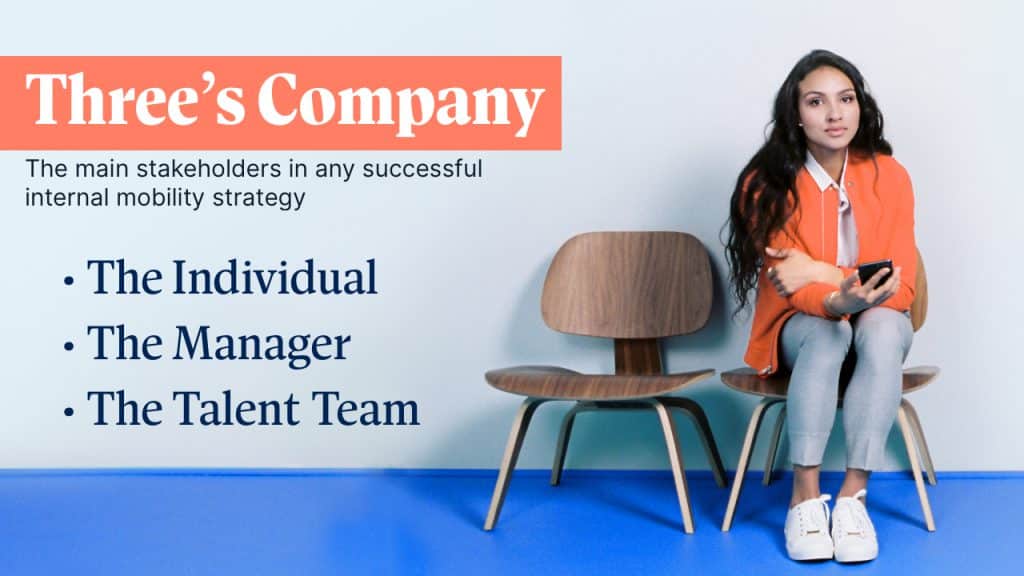 Freedom to the People
If these are your problems, then we've got good news: there's hope. But there's also work that needs to be done. Let's start with the ways you can solve people problems.
Starting with the Talent Team again, it could be as simple as creating metrics and rewards for internal hires. Plenty of companies already have internal mobility goals but the best organizations use the data for internal hires and combine it with the speed of hiring metrics. This shows the organizational ROI of internal mobility and creates a virtuous cycle that repeats itself: more internal hires means more ROI, which then encourages Talent Teams to continue to seek internal hires. Add in a little incentive for the teams and you'll watch your internal mobility efforts soar in no time.
We're also seeing organizations take things up a notch by creating new roles to address internal mobility. In his post "Enterprise Learning 2.0: From CLO to CCO," Andrew Dyer of the Boston Consulting Group suggests creating the role of Chief Capabilities Officer to align human, technology and machine resources related to career growth.
There are also solutions for managers. Current and hiring managers need to buy into the importance of internal mobility. The same metrics used for the talent teams can cascade to managers, incentivizing both when internal hires are placed into new roles. The best organizations go even further by providing tools that allow managers to promote connections among employees that lead to career growth.
Lastly, the solutions for individuals. It's still true that individuals own their careers, and as such, individuals should be encouraged to research and define what their next steps look like. That means considering both transferable skills and ways to build the necessary skills for those new roles.
Once complete, employees can transparently share those goals and skills. In their book, The Expertise Economy, Kelly Palmer and David Blake share eBay's story of launching a career marketplace built on Degreed, Fuel50, and RallyTeam. This marketplace combines self-exploration, learning, and development for current and next roles, a career and project marketplace, and stories of success to inspire action.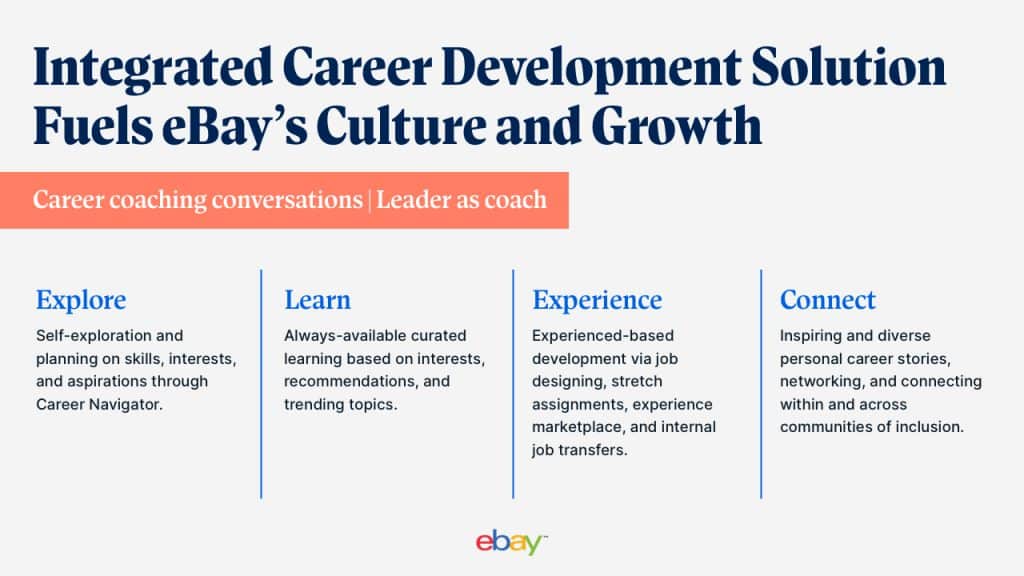 The people challenge isn't the only puzzle piece to solve to make your internal mobility strategy sing. Looking at tools and processes can also help. But never forget that the biggest puzzle piece will always be people. Keeping your people progressing through upskilling and a finely-tuned mobility strategy are the best ways to close skill gaps and overcome the problems in your organization. We can accept help and use tools that make things easier, but ultimately it falls back on us.