The Challenge
Purch is a digital content and commerce company, servicing more than 100 million customers worldwide, making it the largest publisher in the tech vertical, according to comScore. Purch prides itself on its company culture, but did not have a strong learning culture. Like many companies, they wanted a learning culture that could improve employee engagement. More than just training employees, Purch wanted to promote employee progress and develop employees.
Purch hired Juli Weber early in 2015, with a mandate to build a learning culture, and implement a learning tool, like a Learning Management System (LMS). To better understand their learning needs, Juli conducted a Learning Needs Assessment. She sent a survey company-wide asking employees a list of questions to understand their learning habits, skill needs, and barriers to learning. The results were eye-opening.
When asked what was more effective in helping them to be successful in their professions, 73% of Purch's employees said self-directed learning was more useful than employer directed training.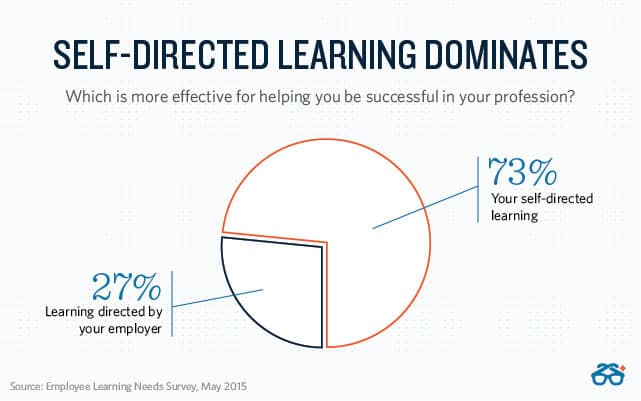 The survey also showed that this self-directed learning was happening all the time – just not through conventional L&D solutions. 24% of employees said they had learned something useful from an article, blog, or video, in the last day. Almost all employees, 92%, had learned something that month.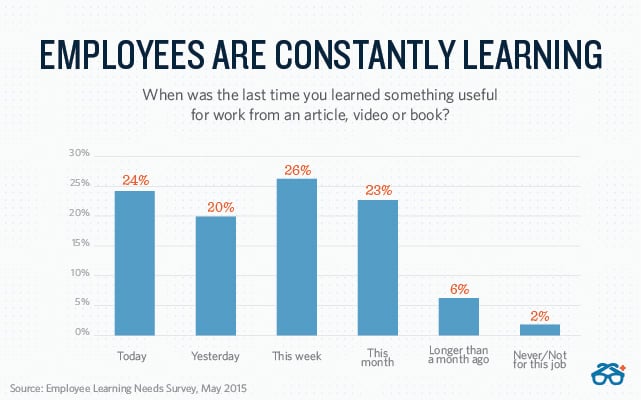 Even more shocking: 70% of employees were using Google to find learning first. Almost no one was going to HR for learning resources.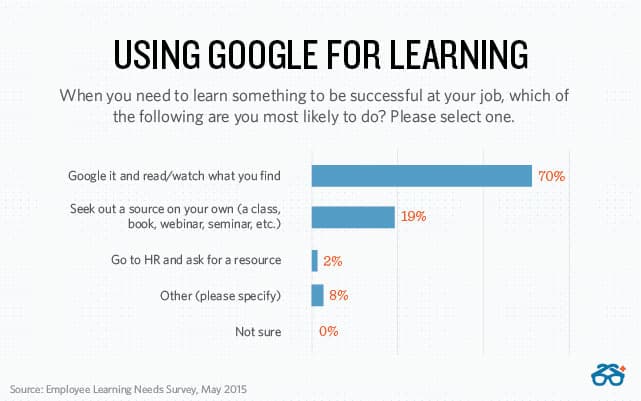 The Search
Based on that assessment, Juli knew that Purch needed a solution that could empower employees with the autonomy and resources to drive their own learning. The solution needed to meet learners' needs, not just the organization's, enabling employees to access learning resources anytime, anywhere. A solution that went beyond merely training employees and actually helped to develop them – facilitating progression to the next job.
Other requirements for the solution included:
A diverse set of learning content, at low cost.
Integration with Lynda.com, a content provider Purch had already purchased.
Enterprise-network integrations, like SSO and HR system synchronization.
Social aspects – a tool that encouraged conversations around learning.
Gamification – make learning fun, was a very important requirement.
Personal reporting for employees and managers so they could track their progress.
"We wanted to create a learning culture that is driven by organic, autonomous, value-added learning activities, sprinkled with social aspects and fun." Juli says.
The biggest issue with implementing just an LMS is that the LMS came empty. Purch would have to start with a blank slate, and then tell employees to wait while the training department built all the content they needed. As Juli explained, "I had to build all the courses myself, but it doesn't make sense for me to build a course when there is material out there from trusted sources. "
Why Degreed
Then Purch stumbled upon something new, Degreed. Juli joined a Degreed webinar, and was immediately interested.
A major benefit of Degreed was that it comes with the world's largest ecosystem of learning content with 250,000 online learning courses from the top content providers, and 3 million informal learning activities from more than 1200 sources. Everything from live, virtual and eLearning courses to videos, MOOCs, bootcamps, articles, books, podcasts, webinars, and more.
Degreed offers engagement tools, like social and gamification to help motivate employees. And, Degreed offers the organization insights to all the learning that is happening – not just the required training.
The Innovation
At one point in the decision making process someone said to Juli, "you know Degreed isn't an LMS?" Juli's response – "yeah, that's the point." The early adopters at Purch understood what Degreed was, but there were those that were more resistant to change, that didn't get it. The learning assessment results that Juli had gathered clearly indicated that this is how people learned. A traditional approach wasn't going to meet the needs of their employees.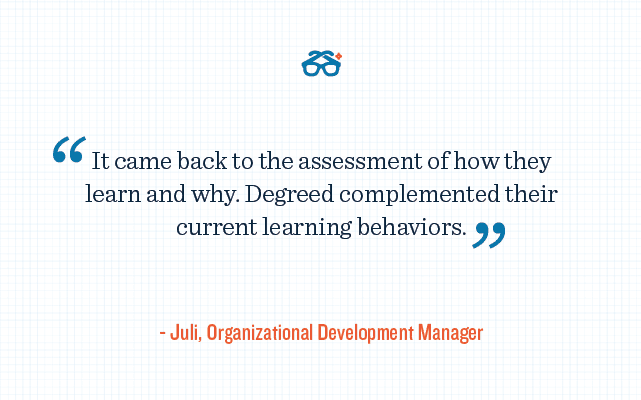 Juli reviewed her options and felt like she was at a turning point. Implementing just an LMS would restrict what learning the organization could provide. She knew it would work for the here and now, but she wanted something that would be innovative and grow as the Purch grew. "I felt that if I went traditional, it would be closing a door."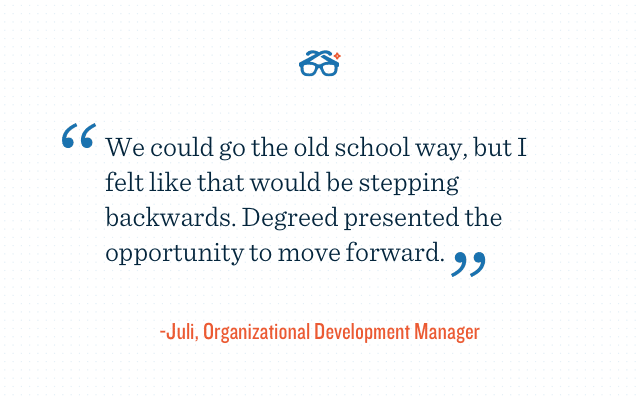 The Impact
Now at Purch, people are learning constantly, and employees can easily track and get recognized for all their learning – the organization now has insights into what people are learning. Degreed is the central hub for all learning in the organization. That includes the articles and videos that can be found on Google, Purch compliance training, the Lynda content the company has purchased, plus a lot more.
Now, when Juli needs to create custom training, she has a better idea of what will drive the greatest impact. "If I'm going to create learning, I only spend time creating learning that really targets the needs."
And best of all, "Degreed is so simple." It's easy for Juli to maintain and "people just use it, and I don't even need to help them, which gives me time to focus on other things like compliance training. "
And when Juli does create a curriculum, leveraging Degreed results in huge time savings. Traditionally, one hour of classroom training required eight hours of development. With Degreed Pathways, Juli can curate content from the best sources. Two hours of training takes about 2 hours of development time. Now, curriculum development now takes ⅛ of the time.
The time savings is especially important, because Juli has now been promoted to a new role that encompasses both HR and learning and training responsibilities.
The Takeaways
Here are three things you can learn from Purch's new approach to L&D:
Connect with learners by running your own Learning Needs Assessment. We've prepared a Learning Needs Assessment you can use- enter your email in the form below and we'll deliver it to your inbox.
Create a learning culture that is driven by organic, autonomous, value-added learning activities, sprinkled with social aspects and fun.
Save time and money by curating content instead of buying and building.
Ready to get started with your own Learning Needs Assessment? Enter your email below and we'll send you the complete case study with a Learning Needs Assessment that features 19 questions that can help you better gauge the needs of your learners.