Admittedly, I'm somewhat of a newb to the world of podcasts. Though I have been a fan of audiobooks for years, I took my time getting into podcasts. Last year when everyone was listening to Serial while they ate their cereal, I was going strong on my serial habit of sleeping in and skipping my cereal.
Six months ago I finally caved and decided to give Serial a try. I finished season 1 in a week. It wasn't hard for me to understand why it has shattered podcast records. And I only know that fact because of an interview I listened to last week with Ira Glass… on a podcast. I'm sincerely grateful for Sarah Koenig opening the door for me to a new avenue of learning. Once I was done with Serial, I couldn't just stop. I began exploring other podcasts. Now I consume at least 4-6 hours of podcast content per week.
After I had worked my way through the most recent episodes of the podcasts I was familiar with, I got the the point where I had to start branching out and searching for new content. As I tried other podcasts out, I realized that liking one episode of a certain podcast didn't always mean that I would enjoy all of the other episodes.
Originally, I just browsed for new stuff by scrolling through the top picks list on the iTunes Podcasts app. But that was time consuming. After trying out the search functionality on the app, I wished I could search a little better. I decided to look for other resources that I could use to further dial in my selections. Turns out there are some pretty good websites/apps out there to help you do just that. Here are a few of the best ones I've found.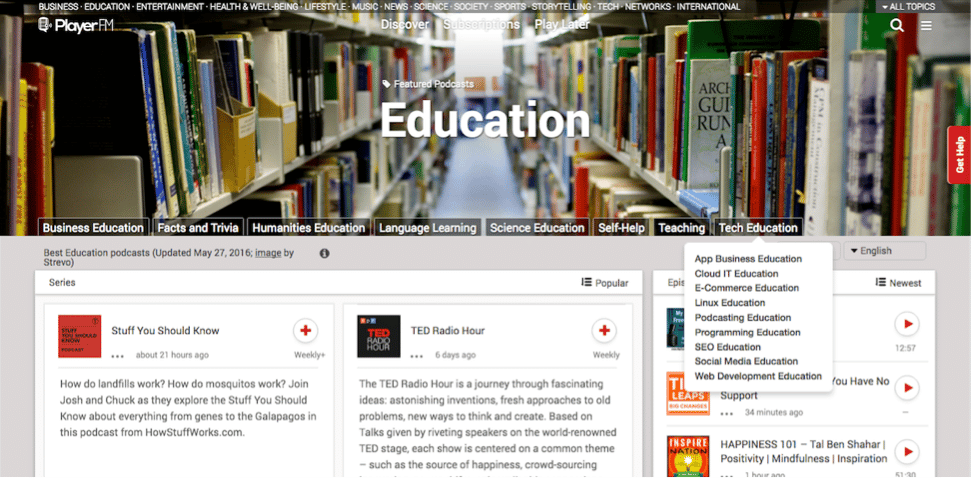 First up is Player.fm. In terms of topic-based searches, I probably like this one the best. For example, just look how it breaks out the general topics into much more specific areas. Searching through those areas not only yields a list of the top podcasts relevant to the topic, but also the most recent episodes from any podcast that talks about the topic. You can run this app right on your phone (Android only) for free. As an iPhone user, I just enjoy using the search features on the website. My favorite part is the "play later" functionality, which allows you to save individual episodes instead of having to subscribe to the whole podcast and then remember where the episode was.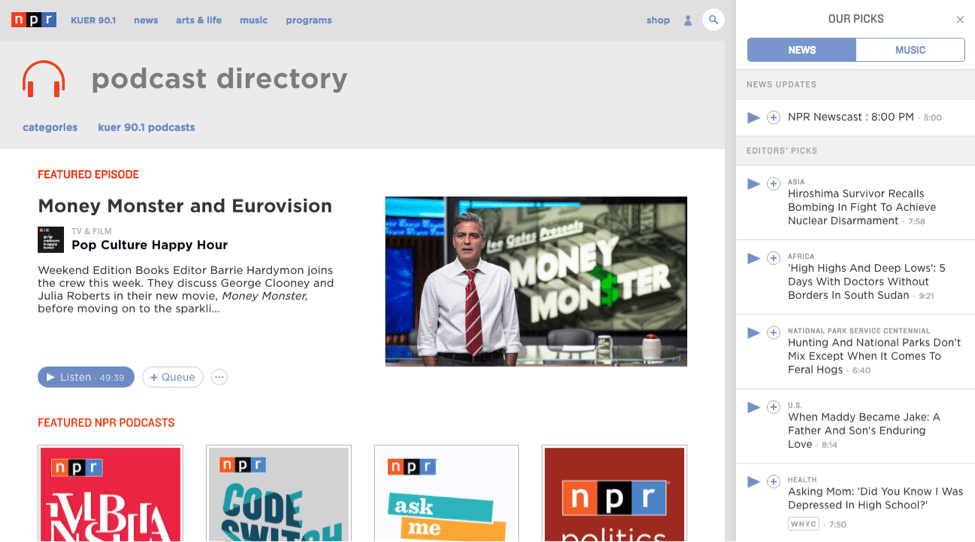 The NPR directory only searches and references podcasts that are produced by NPR. This American Life, which is an NPR podcast, basically invented the system by which most podcasts produce content today. So it's safe to say they know their stuff. NPR owns a pretty good share of the podcast market. You'd be hard pressed not to find something you enjoy from an NPR podcast. The site also has recommended picks and category search functions.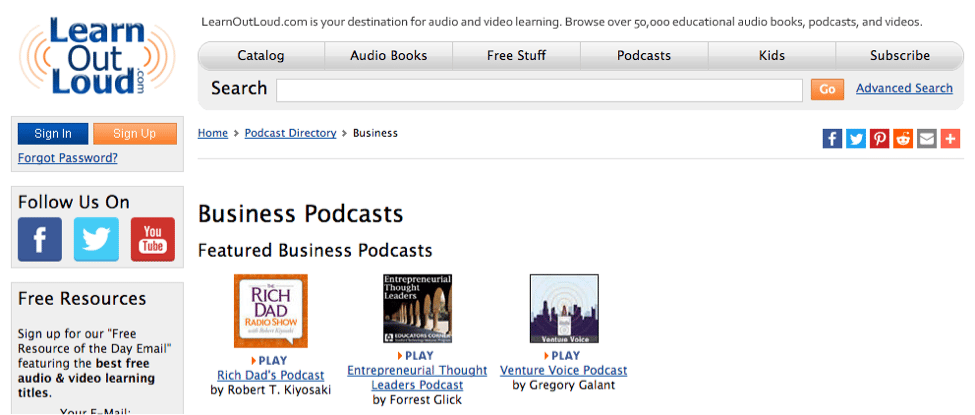 This site might not have the most elegant design, but it still has a ton of functionality. You can search through all kinds of categories and topics to find content that is interesting and new. A lot of content is free, but you can also access their premium content for a fee. And they don't stop at podcasts, how do you feel about free audiobooks?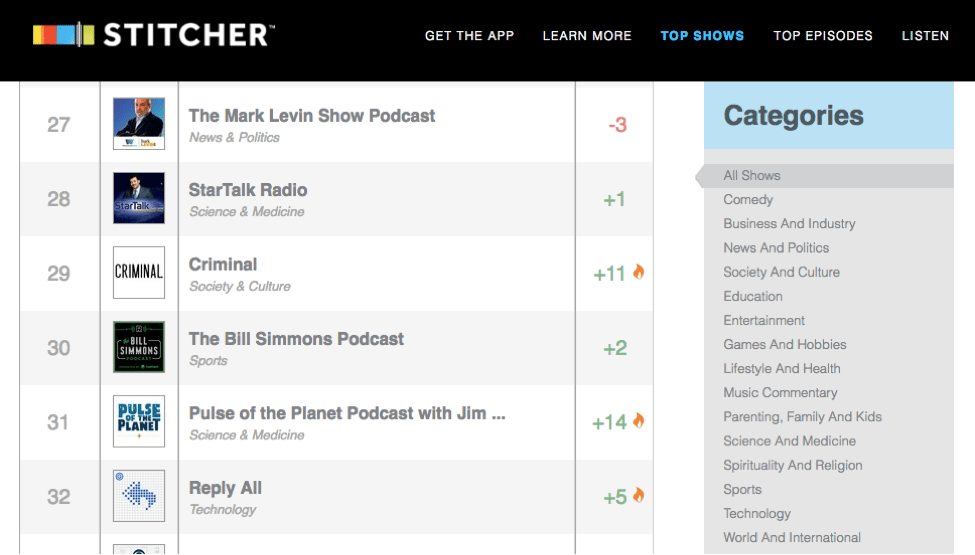 If you're a frequent podcast listener, you've probably heard of Stitcher. But for those who might not know, Stitcher is a solid way to find and curate podcast content. The name Stitcher refers to the app's ability to "stitch" together multiple shows into a customized station playlist—kinda like Pandora for podcasts. You can also try pre-set stations that are curated by Stitcher's editors. One of the things I like is how it tracks the movement of the top podcasts. Those insights into how a podcast is trending can help you find great content that you may have overlooked otherwise.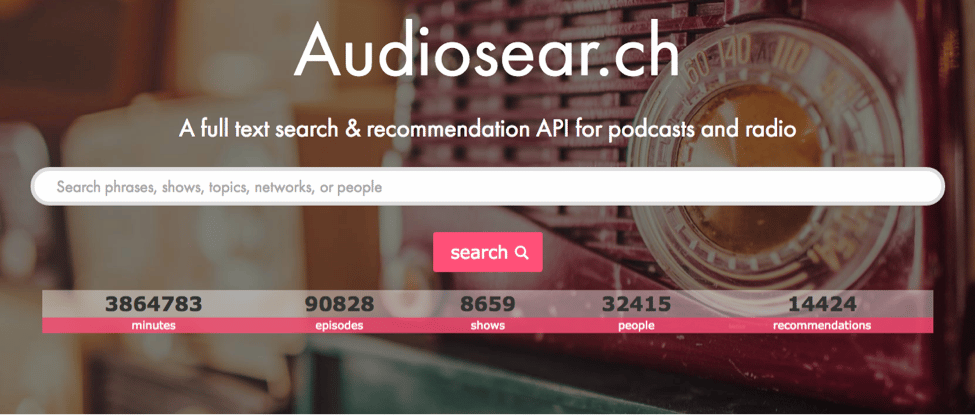 Audiosear.ch has some really awesome visual graphics that help you understand various metrics of current podcasts. For example, there is a frequency graph that shows you who the most mentioned people are in their podcast database. And if you are curious about how many podcasts Macauley Culkin is mentioned in, you can find that in their People Index. There is also a feature called PodLikeThat that suggests podcasts that are similar to your favorite podcasts and podcast episodes. For those who might want random podcast suggestions, there is also a Pod-A-Day email you can sign up for to get a new podcast in your inbox daily.
Hopefully at least one of these websites/apps will help you more easily find new podcast content that fits your taste! And don't forget, you can track all your podcast listening on your Degreed profile!