Last year, an average of 3.9 million people per month left their jobs — the highest average ever recorded. And while experts expect the rate to decline this year, the competition for talent isn't stopping any time soon. Business leaders have started looking inward, asking if they've done enough to satisfy their people's long-term learning journey and career experience, if not, how can they improve?
One of our core values at Degreed is believing everyone deserves opportunities to learn and grow. That's why we created our Upskilling Strategy Audit, to help you see what's working, assess your biggest challenges and figure out solutions. In turn, we learned a lot and built a personalized pathway of content and tools to help you succeed. It's delivered directly to you. If you haven't already, you can still take the quiz!
The results of the audit reveal insights from companies large and small — including what's lacking, working and wanted. And that's where this three-part blog series comes in — to help you understand the L&D landscape so you can increase participation, maximize insights and provide your people with real-life learning opportunities. In this third and final part, let's focus on how you can improve career experience while increasing retention and mobility at your organization by using skill-based learning methods and embracing experiential learning opportunities.
Why Experiential Learning?
L&D is stepping up during this challenging time and looking at a new approach: filling the skill gap from within. By investing in upskilling and learning, the impact of L&D is at a historical high. But as we know, if people don't practice what they learn, they lose it. Investing in learning and upskilling is the first step to improving career experience. The next step is providing experiential learning opportunities.
What does that look like? Let's say someone wants to learn more about working with Microsoft Excel. They may first start by searching for articles, watching video tutorials and practicing on their own time. But if they're not continuously practicing the skill they've just learned, they won't improve and may even forget what they've learned. To truly build a skill and accomplish goals and expectations, experiential learning opportunities are needed. This can be a stretch assignment, a mentorship with an Excel expert, or the ability to apply those new skills on-the-job or out in the real world.
Research confirms the importance of experiential learning. "ELT (experiential learning theory) is a dynamic view of learning based on a learning cycle driven by the resolution of the dual dialectics of action/reflection and experience/abstraction. It's a holistic theory that defines learning as the major process of human adaptation involving the whole person," according to authors Alice Y. Kolb and David A. Kolb.
In short, that means experiential learning opportunities combine learning concepts, doing work, and reflecting on that work to help people accomplish the task at hand.
Even with these science-backed benefits of experiential learning opportunities, 58% of respondents to our audit to date don't have a standardized way of tracking learning on the job. Combine that with the 23% who have multiple systems in which employees can search for internal growth opportunities and it's clear a majority of respondents so far don't actively connect learning to opportunities.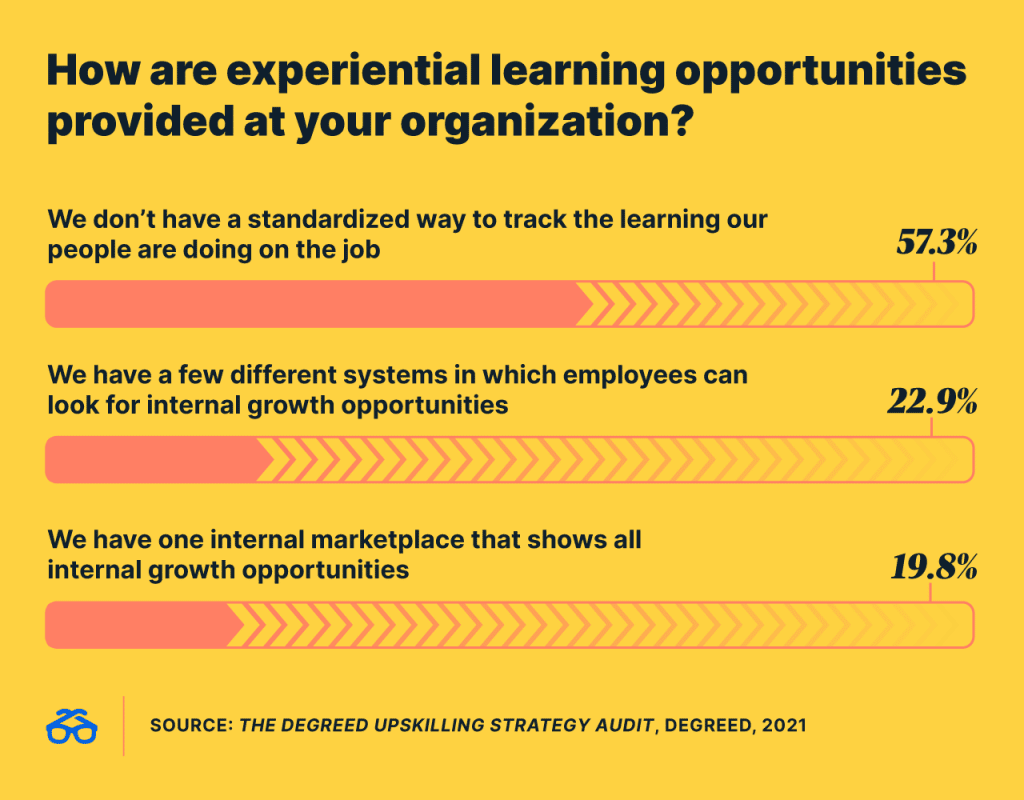 Studies have shown that people are more likely to click on the first ten results in a Google search. What does this mean? The more accessible and findable something is, the more likely someone will click and interact with it.
Apply this same concept to finding internal opportunities at your organization. How can you make it easier for your people to find opportunities that will improve their career experience? By creating an opportunity marketplace. It's a place where all your people get a chance to practice what they've learned while getting work done and also get immediate feedback from coaches, mentors, or managers they might otherwise never connect with.
And when the opportunity marketplace is intuitively connected to a smart platform like Degreed, the workload for L&D leaders is significantly reduced. Why? Your people are already learning in Degreed every day, making it easier for them to browse experiential learning opportunities in a habit they've already created. Aside from accessibility, a smart platform like Degreed makes it easier to connect your people to relevant and personalized opportunities based on their profiles.
Why Skills?
Part of ensuring that your people have access to the most opportunities to improve career experience is leveraging skill development and data. According to HR Technologist, "The primary responsibility of L&D at any organization is first to identify which skills employees need to develop to stay relevant to the business objectives. Then, they need to build an appropriate program to close this skill gap."
In systems that don't use data (or reliable data), people use informal experiences or word of mouth to determine who gets what opportunities at an organization. These non-scientific factors allow for recency bias to come into play.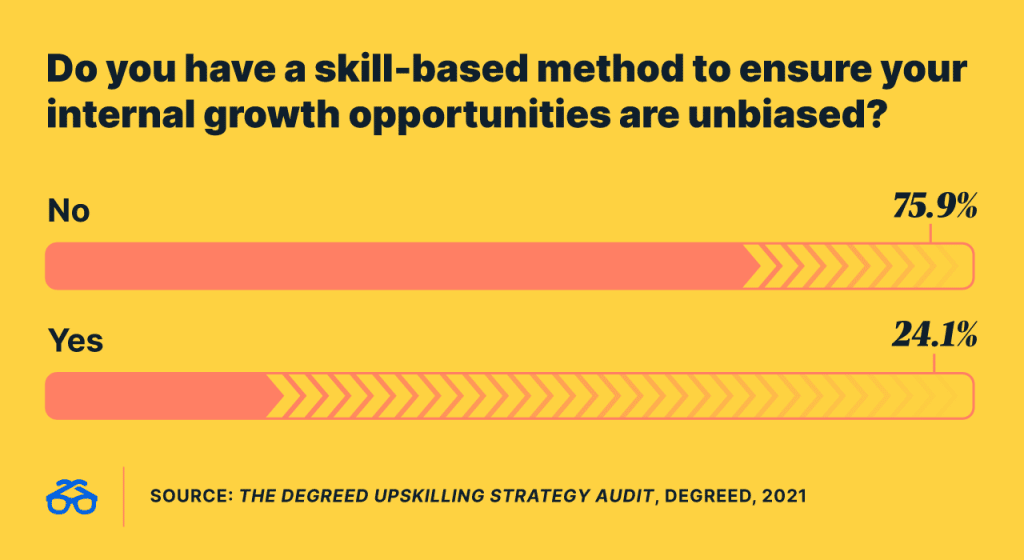 A majority of respondents are struggling with implementing a skill-based method to connect internal growth opportunities, with 76% responding they don't have a current method in place to do so. While many organizations are comfortable with their current models, such as a competency model, we've found that skill-based models can be better suited for the current career experience landscape.
What are the benefits of skills? Skills can be developed in a matter of days, weeks or months and improved in practice over time. Skills can be measured and standardized. Degreed uses a rating system designed by The Lumina Foundation. We can measure growth, track progress and match your people to on-the-job learning opportunities. Skills are transferable between companies, roles, projects and tasks.
Since skills are developed, measurable and transferable, there's no longer a need to rely on assumptions about what type of work someone does. You can see what their skills are. And when you have a platform like Degreed that routinely engages people through learning, skill-building and career opportunities, valuable skill data is already available for you to analyze.
Connecting Career Experience to Opportunities
Growth and development opportunities have increased in importance for workers, even more than compensation in some studies. Millennials are prioritizing this as they imagine their ideal career experience, with a majority prioritizing career mobility and opportunities to learn on the job, according to Gallup. Yet, only 39% of millennials strongly agreed that they learned something new in the past 30 days that they could use to do their jobs better.
What does that mean for you? Be more proactive about employee development and career experience.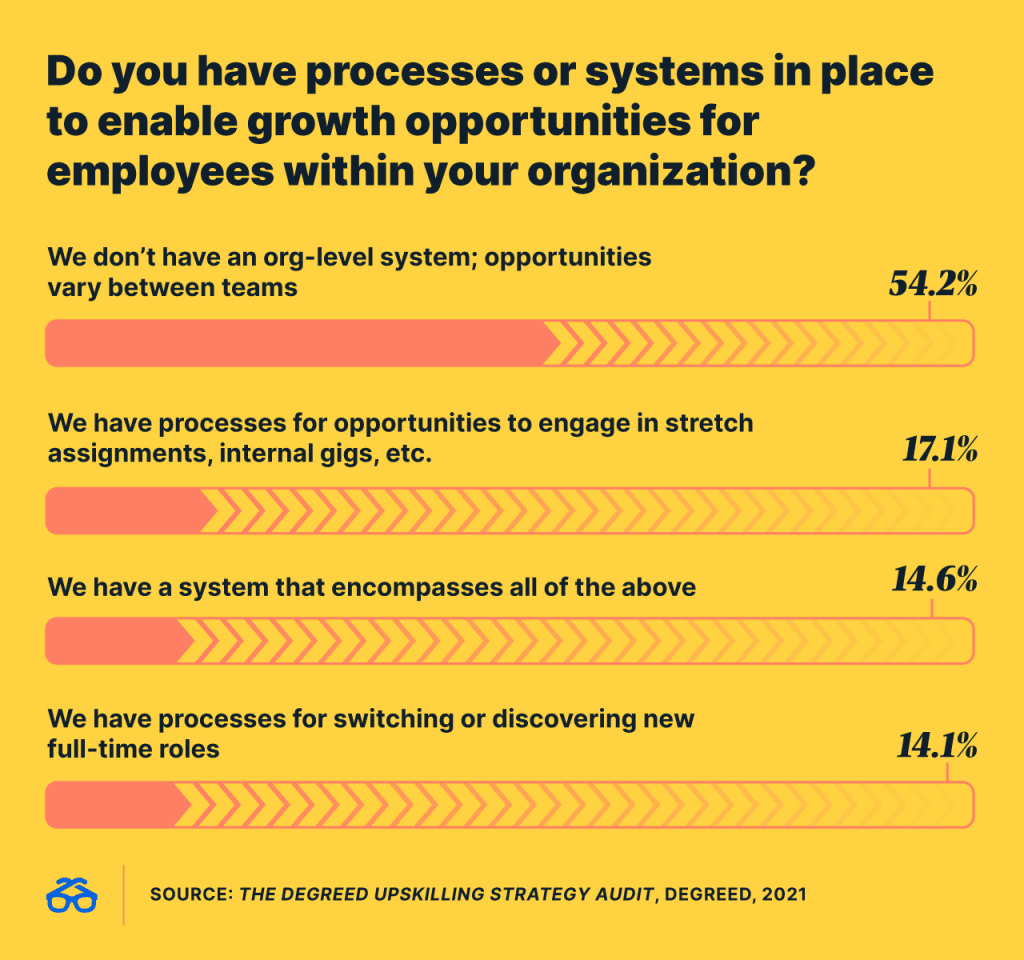 Despite the growing demand for growth opportunities and focus on career experience and development, a majority of respondents (54%) to our audit said they don't have processes in place to enable growth opportunities.
It's safe to say there's been a shift to new L&D models designed around investments in the data, tools and processes that prioritize employee learning, skills and opportunity. But what does it take for an organization to put this model to work?
Take a look at Tenaris SA, a global manufacturer and supplier of steel pipes. Tenaris gave its 22,000 employees across 30 countries more ownership of their learning and career experiences through mobility and saw immediate benefits to engagement and skill development.
Building skills isn't enough to improve people's career experiences and keep them at your company. Creating real business value happens when on-the-job learning is connected to experiential learning. This is at the core of what the future of L&D looks like, creating the right opportunities for learning and growth.
Want to Learn More?
Take our Upskilling Strategy Audit to gain insights on what you can do to help your L&D strategy thrive.
Download our new guide, 4 Ways Every Manager Can Create a Positive Learning Culture, to discover what managers can do to support their people like never before.