Ancora Imparo
These two words are often credited to Michelangelo, the great artist and architect whose work is still considered to be some of the finest in the world. Roughly translated, ancora imparo means 'and yet I learn' or 'still I am learning.' What's impressive about these words is that they came from Michelangelo when he was well into his 80s. He lived true to that mantra throughout his life.
Though he began painting the Sistine Chapel in his 30s, it wasn't until Michelangelo was in his 70s that he began working on the dome at St. Peter's Basilica. Thus, proving that the human capacity for excellence doesn't have to run dry with age.
As a human being only two years away from entering my 30s, I find it hard to stay hopeful as what seems like a constant barrage of stories about the young and successful fill my news feeds. As magazines and websites pump out their various "30 under 30" or "to watch" lists, it's hard not to feel depleted, like I missed my chance for greatness. Side note: Respect where respect is deserved: S/O to Degreed's own Kat Archibald for being named as one of Utah Business' 30 Women to Watch this year!
So if you miss the marks set by the world—if you're not a super successful mogul by 40—does life just flatline from there?
I know I'm being dramatic here. Obviously life doesn't flatline at 40. But when you feel like you still have so far to go, it's hard not to feel that way. Especially if you're going through a time of failure or stagnation. But never fear, it's never too late to learn and Malcolm Gladwell is here to help: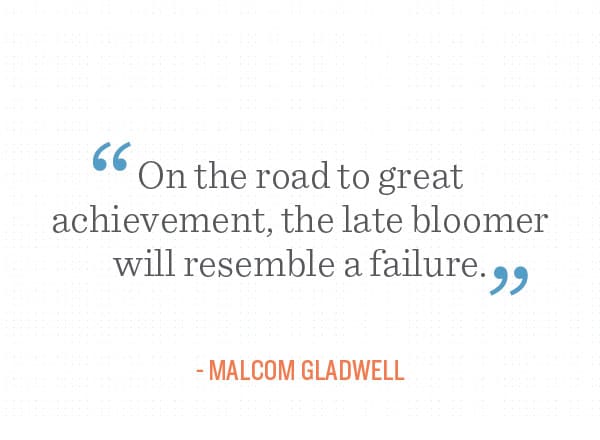 In his article, Late Bloomers, Gladwell unrolls the idea that there are two kinds of geniuses: prodigies, who bloom fast and bright; and late bloomers, who have to struggle through years of experience and failure before they achieve greatness.
For example, Picasso was a prodigy. He had innate talent from an early age and knew exactly what he wanted when he started a painting. On the other hand, the artist Cézanne, who started painting at about the same age Picasso did, was flat out horrible. People even told him so. But over the years, he began to improve. He had to experiment and put in much more time than Picasso did, but he eventually arrived at greatness. In a sense, he had to let his efforts and experience age like a fine wine.
History (and the present) is full of stories like Cézanne's and Michelangelo's. Stories of people who made great strides later in life. Stories the prove that those who continue to learn and progress will always have a bright future. That's the hope we all need to have if we're ever going to do our best work and make it through our failures. I'm here to tell you that hope is real. But you don't have to take my word for it!
Diana Nyad
Diana Nyad, who was breaking records in open water swimming left and right in her 20s and 30s, didn't accomplish her most coveted goal until she was 64 years old. As she stumbled out of the ocean and into the record books after a grueling 53-hour ocean swim, she managed to force these words out of her swollen mouth: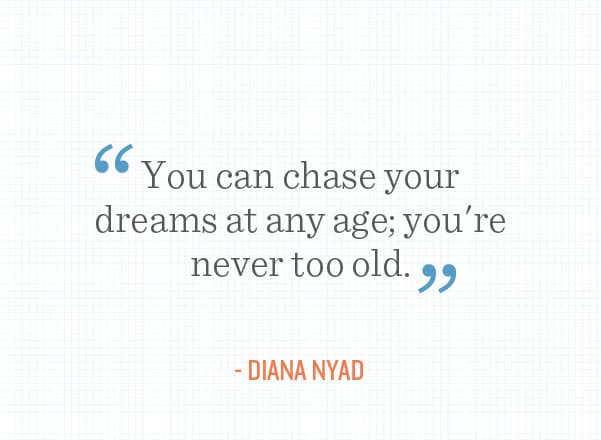 Harland Sanders
Sanders seems to be the most common name that pops up as a late-bloomer success story. Most know him better as Colonel Sanders. He had a slew of failures, including a failed restaurant, before he sold his first Kentucky Fried Chicken franchise. He was 65 years old.
Grandma Moses
Anna Mary Robertson Moses, nicknamed Grandma Moses, was an embroidery artist for many years. But at the age of 78, after arthritis made it difficult for her to continue embroidering, she began painting instead. She was entirely self-taught, using whatever she found around the house to paint her early paintings. It wasn't until age 90 that she was discovered and began exhibiting her work internationally.
Nola Ochs
When Nola Ochs became the world's oldest college graduate at the young age of 95, you would have thought she was done. Nope. Nola WENT BACK to school and completed a master's degree at the age of 98!
Harry Bernstein
Bernstein, who lived through incredible difficulty during his first 25 years of life, struggled as a writer for years. It wasn't until he was 96 that his writing took off on the heels of his memoir. But that's not all! He kept going and published two more volumes to his memoir in the following years.
Stan Lee
The comic world would be a very different place if it weren't for the comics written by Stan Lee. But it wasn't until Lee was almost 39 that he had his first hit with "The Fantastic Four." And in the years after that, he created all that is the Marvel Universe. As it stands, movie adaptations of Marvel's comics have grossed $8.3 billion.
Momofuku Ando
Though you may not recognize his name, if you've spent any time as a penniless college student, you're likely very familiar with his work. As a penniless 47-year-old man due to a bankruptcy, Ando invented what we now know as Cup Noodles and Top Ramen.
Vera Wang
Wang was a standout figure skater in college, placing fifth in two U.S. National Championships. She even spent 15 years in journalism at Vogue. But it wasn't until she was 40 that she really hit her stride in the fashion industry, opening her first bridal boutique. Today Wang is "arguably the most prominent designer of bridal wear in America."
We all have bright futures ahead if we just keep pushing ourselves to be better. If you don't hit your stride now, don't stress. You have plenty of time to get there, and it's never too late to learn.
"…sometimes genius is anything but rarefied; sometimes it's just the thing that emerges after twenty years of working at your kitchen table."
– Malcolm Gladwell
You just learned something, click the button below to add this article to your Degreed profile.