We're overwhelmed, we're tired, we're spread thin as U.S. employees. None of this is news to you. There is an absurd amount of distraction yet the need to expand our skill sets and grow professionally has never been more important as both the workforce and skill gaps grow. And it's not a small shortage of skills. A McKinsey Global Institute report predicts a potential global shortage of 38 to 40 million high-skilled workers in 2020.
With the new changes happening in the world, including the rise of digital and the way organizations are redesigning themselves to keep up, there comes the addition of L&D and HR responsibilities. This means our roles are more expansive and important than they've ever been!
Learning is not just providing training and education anymore. In many ways, we are also responsible for employee engagement, for change management, for culture, for employee longevity. You may also lead the career models and internal career mobility of people in your company.
This is a daunting reality- like we weren't busy before! But there is  an easy win. The first place to start? Ourselves.
At Degreed's Lens event in New York, Josh Bersin of Bersin by Deloitte Consulting boldly stated, "Today, if you want to be world-class in L&D, you have to have people with a whole range of skills." We have to build our own skills in L&D, train people and redevelop ourselves to meet the needs of today's workforce. This means understanding topics like curation, taxonomies, information architecture, design thinking and content management.
Here are 3 recommendations Degreed has to help you and your staff embrace and shifts in L&D:
Help your team or your people make time to add to their personal skill sets. This adds value for the new or expanding roles in L&D.
Embrace things like curation and design thinking so you can better succeed in getting people access to the information they need to do their jobs.
Embrace tools (yes, like Degreed) that allow you manage your learning and career, and continually improve.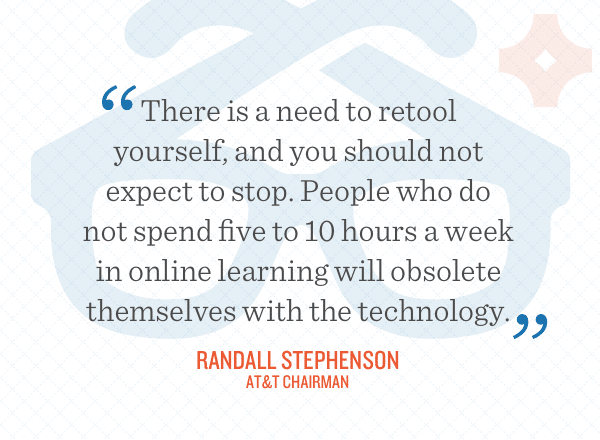 The importance of staying relevant, of up-skilling ourselves is probably best summed up in this quote from AT&T Chairman, Randall Stephenson. "There is a need to retool yourself, and you should not expect to stop. People who do not spend five to 10 hours a week in online learning will obsolete themselves with the technology."