To start, a glimpse into my family's daily learning ritual.
My family has a daily learning ritual that started when my kids were very young. I was in a graduate program, so everyday, I would come home from school and tell my kids what I had learned that day. They soon anticipated this conversation and started asking me, "What did you learn at school today?"
I progressed through the program, graduated and got a job. As I sat down at the dinner table after my first day of work, my 4 year old daughter asked, "What did you learn at school today, Dad?" I told her that I didn't go to school anymore – I now go to work. She responded, "Oh … so … what did you learn at work today?"
Her question caught me off-guard. I thought to myself, "Well, it was work, so I worked … I'm not really learning anymore, I'm producing." But then I realized I'd learned more at my first day of work than any single day in school. I ended up sharing what I learned about being a new employee, about company culture, about my new coworkers, and about the job I would be doing.
Every day at dinner since then, my children have asked "Dad, what did you learn at work today?"
I love two things about this ritual:
I pay more attention to my learning because because I know I'll be asked about it at dinner
I am able to share some good lessons with my children
Using Degreed to Supercharge your Learning
Degreed helps you record your answer to the question: "What did you learn?"
You can add a learning note when you complete an item on the site: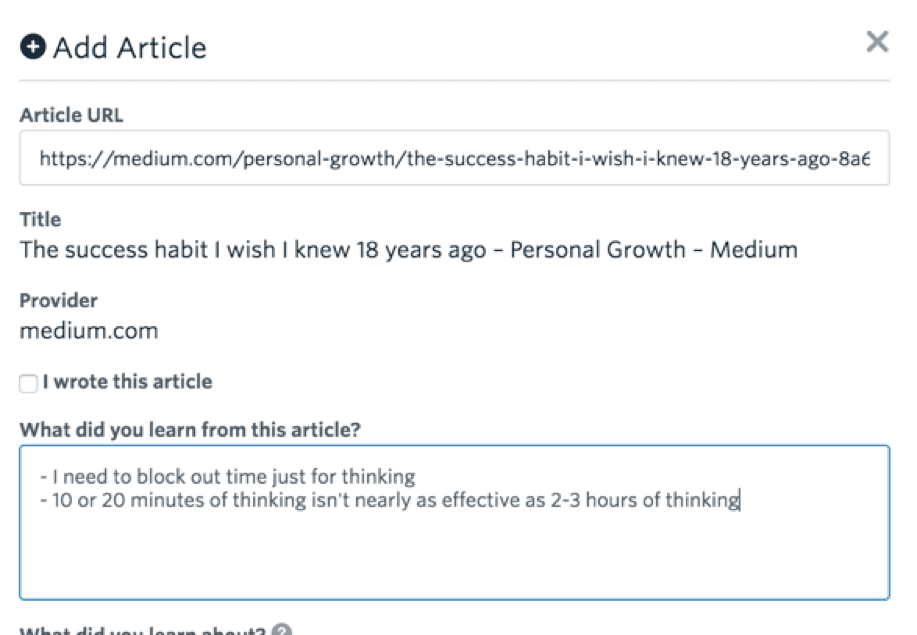 Or when you complete through the Degreed browser button:
When your peers add takeaways, you can see what others are learning.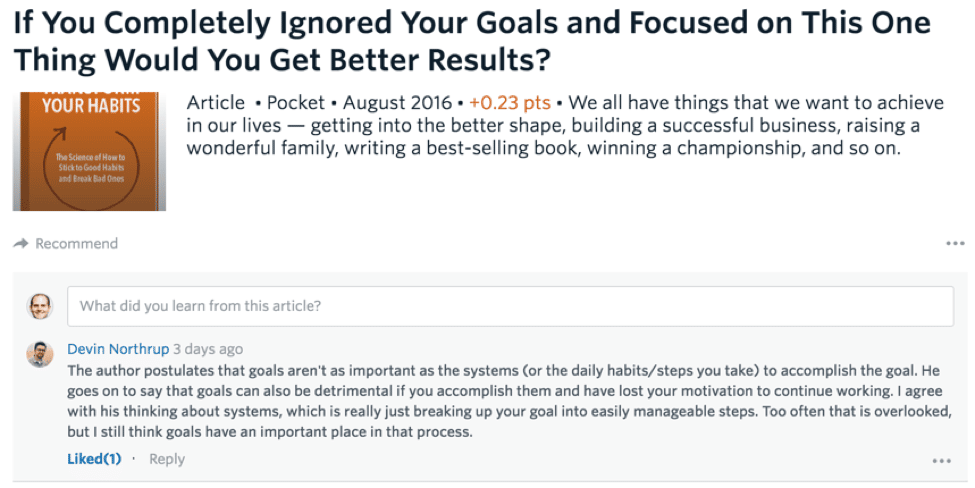 So, why take note of what you learned?
Takeaways help you learn more
Real learning is driven by questions. Reviewing is a powerful concept in learning, as is personal application. Thinking about what you learn(ed) provides space for both.
Takeaways support retention
It's sad to me how many times I think about what I learned after I read an article and I come up blank. I have to scan the article again, extract a meaningful quote or theme. Write down something I'm going to do differently or research more. And when I see that article again in the future, I have a wonderful summary of an important insight.
Takeaways improve collaboration
When I see articles and videos with a takeaway from someone I know, it fuels my learning. I have a chance to see a trusted review of what I'm about to learn. Sometimes that is enough, and I choose to move on. Other times it makes me want to learn more, so I dig in. This isn't just about a summary. It's getting to the essence of learning.
So, what did you learn? Click the button below to add this article to Degreed!