Never, Ever Give Up
"You can chase your dreams at any age; you're never too old."
Those were the words uttered from the swollen mouth of 64-year old Diana Nyad as she stumbled out of the ocean and into the record books after a grueling 53-hour swim in 2013.
The span between Cuba and Florida is an elusive stretch of water: 110 miles through the home sharks, the volatile Gulf Stream, and the most venomous creature in the ocean, the box jellyfish. No wonder those 110 miles have sent the greatest swimmers in the world packing since 1950. It wasn't until 1997 that Susie Maroney finally made it from shore to shore. But even then, the accomplishment came with an asterisk: she did it with the safety of a shark cage.
Fast forward to 2010. Diana Nyad was determined to do Susie one better: she wanted to be the first to complete the swim without a cage.
Record-Breaking Beginnings
In 1978, Nyad was at the top of her game. Three years earlier she broke the record for the fastest swim around Manhattan Island by almost a full hour. Now she was going for the elusive Cuba to Florida swim. Though she swam inside the safety of a shark cage, the barreling waves and jellyfish stings became too much. Her team realized it was a lost cause and got her out of the water.
Then, just a year later, at the age of 30, she broke the open-ocean world record (102 miles) by swimming from the Bahamas to Florida. And she did it without a shark cage. After securing that major accomplishment, she decided to hang up her swim cap (or whatever you do with swim caps). Nyad had officially retired from swimming.
Just Keep Swimming
 It wasn't until her mother died almost 30 years later—shortly before Nyad's 60th birthday—that she began to reevaluate her life goals. She didn't want to accept that her life had already been summed up. That's when she decided to awaken her long-dormant dream of swimming from Cuba to Florida.
After intense training, Nyad was ready to go for broke. In 2011 her dream was cut short after just 29 hours in the water. A severe asthma attack, chills, and dehydration ultimately became too much to push through. She thought her dream was over. Little did she know she would still have to give it three more tries.
Her next attempt was only six weeks later. Things seemed to be going better than they had previously until she felt a pain like she was "dipped in hot burning oil," and her "body [was] in flames." A swarm of the deadly box jellyfish had attacked her. An EMT from her team jumped in to help but got stung in the process and had to get back in the boat. After what had to be an unbelievably excruciating experience treading water until the pain dissipated enough to endure, she continued swimming. Not long after, she was attacked again. At this point, she was on the verge of losing her life. The crew had to pull her from the water in order to save her.
Not deterred in the least, Nyad set out again a year later. She wasn't going to lose to a jellyfish. This time she wore a protective mask, but the jellyfish again proved to be a formidable foe. The tentacles had found the only exposed spot on her face, her mouth. Still able to swim, Nyad pushed on. However, during this attempt, the heavens proved to be the most problematic. A massive storm circled overhead and churned the ocean waters. Nyad was stubborn and opted to continue through the storm. It wasn't until lightning threatened the safety of her crew that she relented and got in the boat.
Fifth Time's The Charm
In spite of endurance experts, neurologists, and even her own crew telling her it was impossible, Nyad stayed focused. She was not going to be conquered again.
She enlisted the help of the leading expert in box jellyfish and created a mask that would protect her entire face. The mask had a mouthpiece with two bite plates to defend her mouth from jellyfish tentacles. However, the mouthpiece wasn't perfect, and she swallowed a lot of ocean water because of it. The salt made her throat swell and upset her stomach causing her to vomit. Which is pretty annoying when you're trying to swim 110 miles, but at least it was better than dying from jellyfish stings.
At night, the crew couldn't use lights because light attracts sharks and jellyfish. In the pitch black of night, Nyad's crew relied only on the sound of her arms slapping the water to know she was still there. In those lonely, dark hours, she would sing songs to herself to keep her mind occupied.
Nyad was in the water for 53 hours straight. When she finally reached the shore, physically exhausted and elated at finally realizing her goal, she had three things to say to the crowd that had gathered:
1. Never, ever give up.

2. You can chase your dreams at any age; you're never too old.

3. It looks like the most solitary endeavor in the world, but it's a team.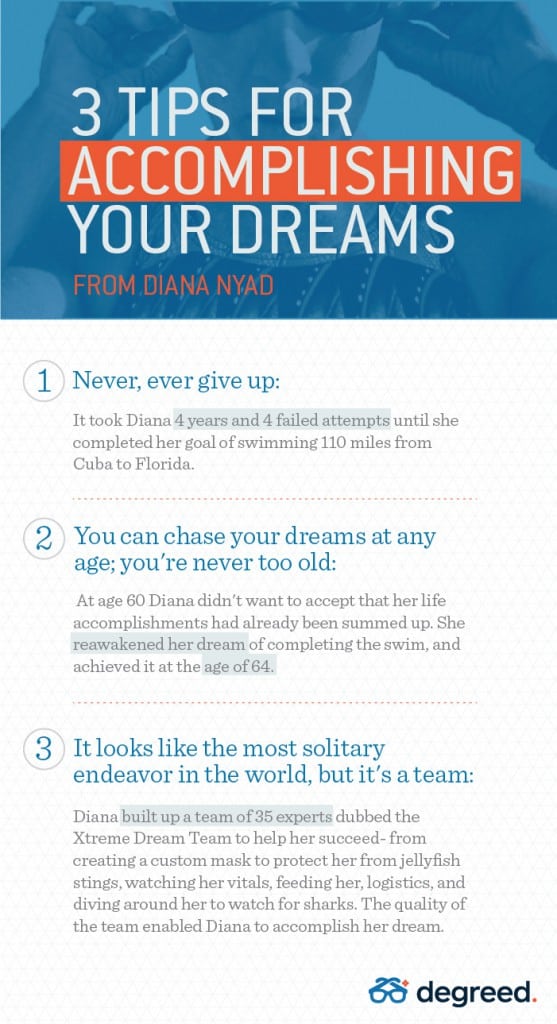 Nyad's words are a fresh reminder that no hour of our life should be wasted, and that no one can accomplish anything great alone.
In a TEDWomen talk from 2013, Nyad had the following to say about her accomplishment:
"It wasn't so much about the athletic accomplishment. It wasn't the ego of 'I want to be the first,' that's always there and it's undeniable. It was deeper. It was 'how much life is there left?' Let's face it; we're all on a one-way street. What are we going to do as we go forward to have no regrets looking back?"
What are you going to do to move forward with no regrets?
Tweet Braden your goals and how you plan to accomplish your dreams. You just learned about personal development, get credit on your Degreed profile.
Photo Credit: DianaNyad.com