Distance running has seen a surge in interest over the last few years. So much so that even as a self-proclaimed non-runner, I jumped on the bandwagon and ran a marathon. Previous to my training, I had never run more than the three-miles I was required to run in high school. But after months of training, I finally understood why so many people do distance running: it was strangely addicting and exhilarating. There is an undeniable sense of freedom that comes as you cover miles and miles of ground with nothing propelling you but your own two feet.
Recently I learned about a Czech man who had what is widely believed to be the greatest distance running performance at an Olympic Games. In 1940, as World War II was just getting started, Emil Zatopek completed his first run. He was 18 years old and had never run any distance before. The shoe company he worked for was sponsoring a 1500 meter run and he was convinced to race. Out of 100 participants, Zatopek came in 2nd. That's when he realized he might have some hidden potential worth looking into.
As it turns out, Zatopek wasn't just good at running; he was slowly becoming one of the best. By 1948 he had broken many Czech long-distance records and even had a gold medal in the 10,000m from the London Olympics under his belt.
Preparing for Greatness
The Triple Crown in horse racing is one of the most elusive accomplishments in all of sport. You have to win three races in the span of just five weeks. And you have to race against fresh horses, horses that only care about one thing: taking down potential Triple Crown winners. Until this year, no horse and jockey had achieved the goal for over 30 years. In fact, since 1919, only 12 horses have ever done it.
In 1952, Zatopek achieved a triple crown of sorts that is so rare, to this day he is still the only person to have accomplished the feat.
But to get to the Olymics, Zatopek had a relentless training regimen. In fact, he pioneered the use of interval training, which is widely used today. At the time, people thought he was crazy.
"Everyone said, 'Emil, you are a fool!' But when I first won the European Championship, they said: 'Emil you are a genius!"
His workouts were brutal. One of his favorites was to do fifty laps on a track with half lap jogs sprinkled in between for rest. If you can call that rest… He was basically sprinting a half marathon one lap at a time.
Zatopek was all grit and no grace. He became known for his "ugly" running style. He put everything he had into it, which you could easily tell by looking at his face when he ran.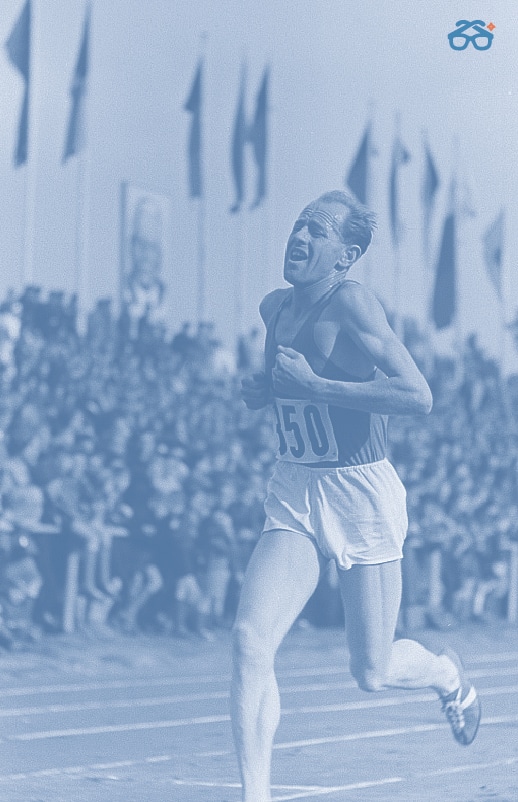 He looked like he was suffering through horrible pain, but he usually found a way to grind out a win, so he didn't care what he looked like.
"I shall learn to have a better style once they start judging races according to their beauty. So long as it's a question of speed, then my attention will be directed to seeing how fast I can cover the ground."
The Helsinki Olympics
"I was unable to walk for a whole week after that, so much did the race take out of me. But it was the most pleasant exhaustion I have ever known." -Emil Zatopek on his marathon win at Helsinki
All of Zatopek's ugly running and interval training led up to three incredible performances at the 1952 Helsinki Olympics.
His first race of the games was his bread and butter, the 10,000m. After all, he was the returning gold medalist from the previous Olympics. Just as many expected Zatopek took the 10,000m without much trouble. He even set an Olympic record while he was at it.
A few days later, he took on the 5,000m. This race gave Zatopek a little more trouble. He was not the favorite in the event and it all came down to the last 150 meters. Zatopek had four runners to beat in that span. When all was said and done, Zatopek had a second gold and another Olympic record to boot.
With two golds under his belt, Zatopek was feeling unstoppable. So much so, he decided to enter the marathon. But Zatopek had never run a marathon. His first crack at the distance was going to be on one of the biggest stages in the sport after already giving his all in two other races.
The man to beat in the marathon was Jim Peters, who had set the world record in the distance just six weeks prior. Since Zatopek had never run a marathon, he had no idea how to pace himself. Unafraid of appearing weak and incompetent, Zatopek asked Peters mid-run if the blistering pace they were already running was too fast. Peters thought he could tire out the inexperienced runner and told him the pace was actually too slow. Believing the words of the world record holder, Zatopek adjusted his pace. Peters would eventually collapse out of the race trying to keep up with Zatopek. Zatopek won by an astonishing margin of two and a half minutes.
Zatopek's triple gold in the 5,000m, 10,000m and marathon has yet to be matched.
As further proof of the magnitude of his feat, the International Olympic Committee put up a statue of Emil Zatopek at the Olympic Museum in Switzerland. He is the only athlete to have such an honor.
"If you want to run, run a mile. If you want to experience a different life, run a marathon." -Emil Zatopek
The Work
Though Zatopek may have had some natural talent, it was ultimately his grueling dedication to becoming better that gave him a championship edge. Zatopek is a prime example of what it takes to become the best. It takes a lot of grueling work that might look "ugly" from the outside, but in the end, it's hard work (not just natural talent), that gives way to great victories.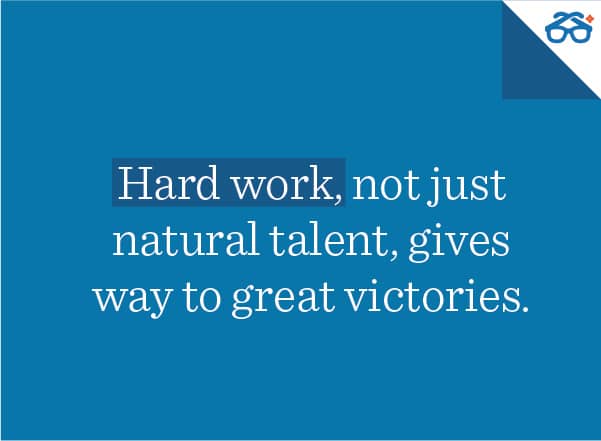 Photo source: Deutsche Fotothek