How do we find meaning in life? This is a question that has troubled humanity since the beginning of time. I find myself continually searching for more answers to this very question. As a self-proclaimed non-fiction aficionado, I have read the stories of many inspiring individuals who have found meaning and success in life. One of the most enlightening accounts I've come across concerning the matter is from Viktor Frankl.
Viktor was a prisoner in Nazi concentration camps for three years during World War II. His is a story similar to many others who were in these camps. However, his philosophies on finding meaning while in the depths of immense suffering helped him and many others survive the long and horrific ordeal.
"It is easy for the outsider to get the wrong conception of camp life, a conception mingled with sentiment and pity. Little does he know of the hard fight for existence which raged among the prisoners." –Viktor Frankl
Concentration camps were a death sentence for a large percentage of the prisoners who entered them, but Viktor found that even though death could come at any time, many prisoners did not abandon all hope.
Finding Meaning Without Possessions
When Viktor first entered the camp, he was shoved with 1500 other prisoners into a shed big enough for only 200 people. The prisoners were then corralled into an area where they were stripped naked and shaved from head to toe. All their possessions, their clothes and every hair on their bodies were taken from them. All that remained was their naked existence.
In addition, each prisoner was assigned a number and dehumanized even more. The numbers were either sewn onto their clothing or tattooed on their skin. Prisoners were never addressed by name. They were merely numbers. It would be difficult for anyone to feel a sense of worth in these circumstances. Viktor found hope by focusing on one thing that could never be taken away: his freedom to choose how to respond to the circumstances.
Even when we can't control what happens to us, we can always control what we do about it. While it may not offset our suffering, sometimes all we need to keep going is a sliver of hope to carry us through until a brighter day.
Finding Meaning Through Tension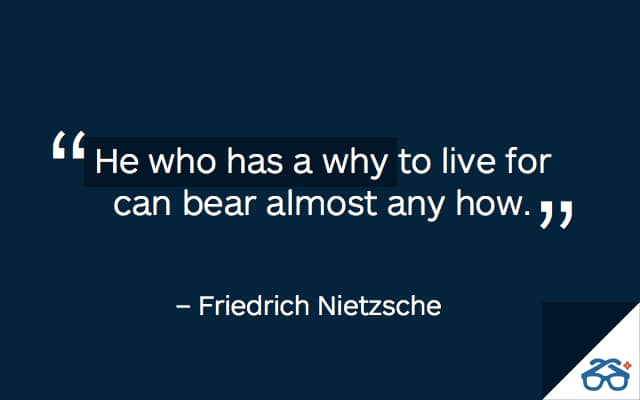 "He who has a why to live for can bear almost any how." – Friedrich Nietzsche
The prisoners who knew there was a task or a responsibility they had to complete were most likely to survive. When Viktor went into camp, he had with him a manuscript for a book he had written but not yet published. That manuscript represented his life's work. He did everything he could to preserve his work, but like everything else it was quickly taken from him.
For Viktor, knowing that he still had work to finish—rewriting the manuscript—meant he had something to keep him going. His dedication to finishing something that would live on after him was the motivation he needed to fight for his life. While in camp, he would jot down little notes on whatever he could find that would help him rewrite the manuscript once he was liberated.
Viktor believes that having his work stolen not only gave him a task to fulfill but also tension in his existence. It created a need for him to finish something and an obstacle to overcome.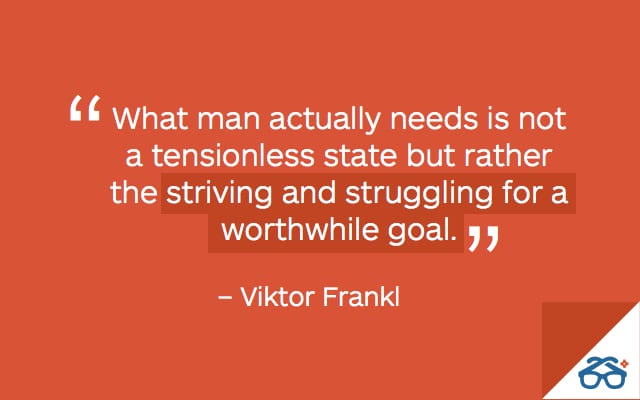 "What man actually needs is not a tensionless state but rather the striving and struggling for a worthwhile goal." – Viktor Frankl
Viktor likens this theory to strengthening a weakened arch. You do not strengthen the arch by removing weight; you strengthen it by adding weight. The more weight there is the tighter the arch holds itself together.
Finding Meaning Through Others
While suffering through his own tribulation, Viktor found strength in helping others. "Running into the wire" was a common camp slang for committing suicide. When the grim reality of their imprisonment became too much to bear, many prisoners would end their suffering by running into the electric fence that surrounded the camp. Viktor worked diligently to help other prisoners who were depressed and discouraged find something to give their lives meaning. He helped them find reasons to fight for survival instead of ending their lives for nothing.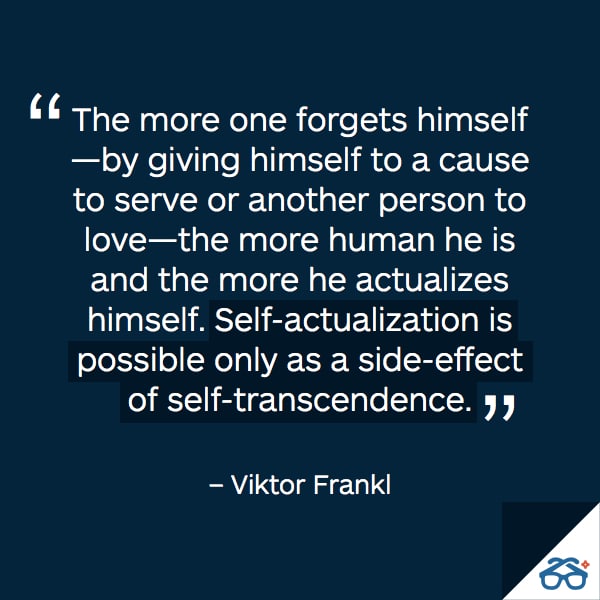 "The more one forgets himself—by giving himself to a cause to serve or another person to love—the more human he is and the more he actualizes himself. Self-actualization is possible only as a side-effect of self-transcendence." – Viktor Frankl
I love that quote. I have to really read it over and over just to grasp the depth of what he is saying. It reminds me of a similar quote I found while reading Into The Wild. Chris McCandless abandoned his family and ventured off on a solo, two-year adventure to find himself. However, just before he died—alone in the Alaskan wilderness—he wrote in his journal "happiness only real when shared." It took a long, lonely quest to realize that life is meant to be shared with others.
Viktor saved the lives of many prisoners as he helped them find meaning in their seemingly endless suffering, and in the process, saved his own.
Today, his work lives on. Viktor's book Man's Search For Meaning has sold millions of copies, and his thoughts are cemented into the hearts and minds of people all over the world. While our struggles in life will likely never compare to Viktor's, we can rest assured that no matter what happens to us, there will always be a way to find meaning.
Facts and quotes sourced from Man's Search For Meaning by Viktor Frankl