A few years ago I flipped my whole world around when I decided to run a marathon. Up until that point in my life, I had never run more than three miles at any given time. In fact, I hated running. But this was a goal that I set for myself to prove that I could do something difficult. So to make sure I followed through and actually completed the marathon, I made videos and blogged about the entire process.
I wanted to learn what it took to go from essentially zero to completing a marathon. And when I was successful, I would have a solid paper trail established for anyone who wanted to do the same.
However, as I made my every move publicly known, I experienced motivation atrophy. Essentially, as the likes, favorites and comments piled up on my social media posts, I began to feel the gratification that should only have come from finishing the goal. I was absorbing compliments from friends and family based on the idea of accomplishing the goal, not the actual accomplishment itself. If not kept in check, all that hollow gratification could easily collapse.
I found that all I had to do was post a picture on the trail and everyone would just assume I was out running and being amazing.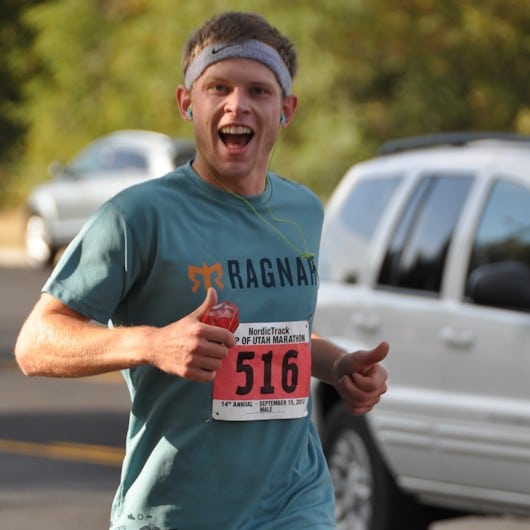 While I did complete my training and eventually the marathon, there were days when I definitely spent more time talking than I did actually doing. Yet, I still felt the same gratification.
Motivation Atrophy
I read a post on the Storyline blog a few weeks ago that talks about this idea. Donald Miller recounts a time he ran into someone who met the famous novelist, Norman Mailer, at an airport. The man asked him what he was working on. Mailer did not answer his question. His reasoning was simple: he did not like to talk about a book too much because it stole his motivation to write it.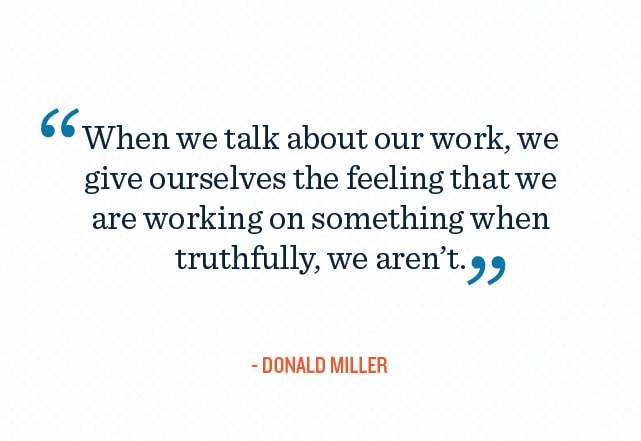 Credit Where Credit Isn't Due
Derek Sivers also backs up this idea in a TED talk given in 2010. Conventional wisdom says you should talk about your goals to your friends because then they can hold you accountable. That's one of the reasons I was so vocal about my marathon plans. However, Sivers gave an example of a study that showed why that may not work.
In the study, people wrote down a personal goal. Half of the people announced to the whole group the goals they had committed to. The other half kept their mouths shut. Then everyone was given 45 minutes to work on something that would help them accomplish that goal. They were told they could stop anytime.
The people who did not announce their goals worked the entire 45 minutes on average, and when asked about it, said they still felt like they had a long way to go. On the other hand, those who had announced their goals worked only 33 minutes on average. And their response to the same question afterward was that they felt much closer to achieving their goal.
"Repeated psychology tests have proven that telling someone your goal makes it less likely to happen."-Derek Sivers
You can effectively trick your mind into thinking you have done something, and that's a dangerous road to go down.
Be About That Action
One of my favorite athletes is Marshawn Lynch, the recently-retired running back for the Seattle Seahawks. You might know him from his press conferences—or lack thereof—during the Seahawks Super Bowl run in 2013-14. When the media tried to question Lynch about his games, he dodged their questions and sat in silence on the media stand. He was eventually fined for not talking. Then his answer to every question was "I'm just here so I don't get fined."
Whether you agree with the way Lynch handled things or not, his motives were essentially in line with the premise of this post. The football legend, Deion Sanders, was able to get Lynch to talk about why he chose to sit in silence.
Sanders: You kinda shy?
Lynch: Nah.
Sanders: You just don't wanna talk really?
Lynch: I'm just 'bout that action, boss.
Sanders: You 'bout to go get it. You just like to do it.
Lynch: I ain't never seen no talkin' win me nothin'. You want something, you go get it. Ain't no need to talk about it.
We can all take a page out of Lynch's book. If you want something to happen, go get it. Simple as that. Don't worry about broadcasting your intentions to everyone. You'll just end up making it harder on yourself. People will pay just as much attention when you've actually accomplished the goal. And that gratification won't be hollow.
Try it out for a week, and see how much more productive you are. This is usually the part where I ask you to tweet me about your progress, but I don't want you tweeting to me until you've finished something this time. Deal?
You can also follow me on Degreed here, and add this article to your Degreed profile by clicking the button below.