Skill data seems complicated. But it doesn't have to be.
When we sat down to plan the most recent installment of Degreed LENS Lite, we determined that our flagship virtual conference would provide some clarity.
We started with a question: what the hell is skill data? By definition, skill data includes data points that relate to the capability, demonstration, or definition of a skill. In short, it's the measurement of what your people can do. The insights we got from learning leaders at Novo Nordisk, Whirlpool, and FICO at the event showed us that how skill data is used can vary significantly between organizations. For their full presentations, watch the entire LENS Lite session on demand.
Novo Nordisk: Aligning Strengths to the Business
Skills at Novo Nordisk are vital. For nearly 100 years, the Denmark-based pharmaceutical company has translated the unmet medical needs of people living with serious diseases — diabetes, obesity, rare blood afflictions, and more — into innovative treatments. Workers there need to be engaged and at the cutting edge of what they do.
"They constantly have to be at the top of their games," said Derek Mitchell, Global Performance Data Lead. "They can't just 'let it be.'"
Deep appreciation for these dynamics means learning leaders at Novo Nordisk think about skill data as a way to understand:
The company's bench strength. Do people in analytics, for example, feel confident using visualization tools such as Power BI or Tableau?
How strengths and weaknesses align to strategic objectives. Regardless of role, leaders expect all workers to have certain skills (for example, skills in digitalization and sustainability). The company can quickly see which skills within a category people have — and where people need to upskill.
People's broader interests. Just because someone works in finance doesn't mean they're only interested in accounting-related skills. Perhaps they also have skills needed elsewhere by the business.
These insights enable cross-functional collaboration and support agile talent development, Mitchell said. "I often think about contact center environments, where we might have lots of people answering calls and webchat three days a week. Often within contact centers, we will have a significant student population, and so we'll have data science skills, psychology skills, business development skills. These are just sitting latent within our organizations untapped."
Using Degreed, Novo Nordisk L&D captures data on how people self rate their current skills and identify others they'd like to learn. By parsing this with information from HR systems — including region, business function, age, or any combination of the above — learning leaders can identify the strengths and weaknesses of a niche cohort in only three mouse clicks, Mitchell said. "This means we can be proactive in bringing solutions to the business. . . to be on the front foot with business stakeholders. We also use this data to power hyper-targeted campaigns."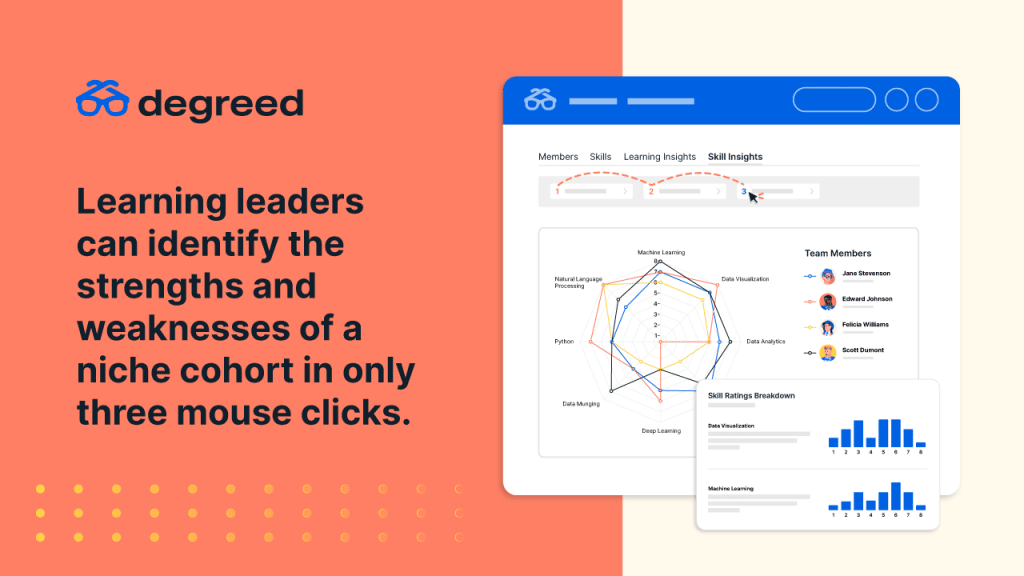 Whirlpool: Open and Honest Career Advancement
At Whirlpool, skill data is the lifeblood of a new way to approach learning and agile talent development. It informs L&D guidelines and helps the household appliances manufacturer fill skill gaps.
To infuse skill data into that process, L&D first determined the purpose of the Whirlpool learning experience, said Rayssa Mederios, L&D senior manager.
The skill development process at Whirlpool has several goals:
Give people opportunities to master the skills they need for their current roles
Provide more transparency around career advancement, so people understand the skills they need to move forward
Boost employee engagement by giving people a chance to share knowledge and learn from others
Capitalize on increased engagement to boost productivity, increase innovation, and grow the entire company
Recently, Whirlpool L&D conducted a pilot designed to capture skill data, engaging 300 workers, 70 managers, and 50 subject matter experts in research and development roles.
Using that data, L&D encouraged workers and leaders to have open and honest career conversations, to set more effective personal learning goals, and to create custom, actionable plans for achieving those goals. And using Degreed, L&D created Plans and Pathways customized for specific skill sets.
The early result? Customized personal development plans. New R&D learning targets. And improved resource allocation, Mederios told LENS Lite. "It's very good to have a third data point of an expert or a subject matter expert sharing their perspective on your skill proficiency… We want to expand."
FICO: Upskilling for the Future
At FICO, skill data is a tool for informing and creating targeted initiatives and personalized learning plans rooted in agile talent development. They're directly aligned with the strategic priorities of the global business, which is well known for its credit ratings and provides analytics software solutions to banks, insurance companies, telecommunications firms, retailers, and more.
Unlike skill data, traditional learning data often emphasizes course completions and time spent learning, Chrissy Chamberlain, Sr. Director of Digital Learning, told LENS Lite. "Raise your hand if you've ever tried to measure learning effectiveness and tie it directly to your business outcomes. It's notoriously difficult to achieve and even more difficult to sustain. Am I right? Learning data, in my experience, more often becomes a study of time and motion.
"The same can't be said of skill data. That's because business strategies at their core have a set of skill and talent requirements to achieve successful outcomes, not a set of training requirements. And skills are measurable. You can put a scale to it. You can wrap context around it. You can track an upskilling development journey from novice to intermediate to expert, and learning then becomes a supported activity within that journey."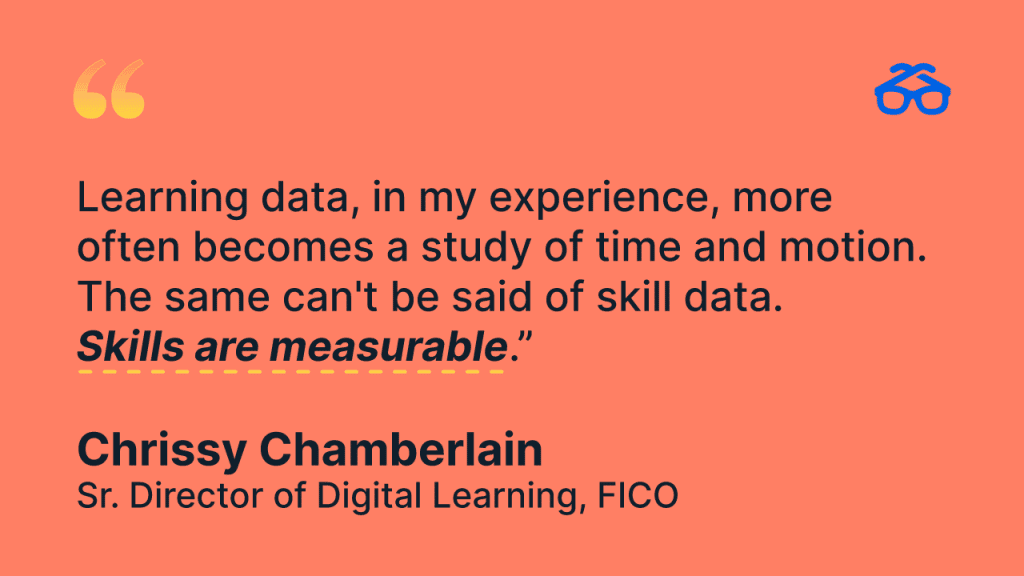 Because of this, skill development becomes a purpose of learning, Chamberlain said, and measuring skill movement over time becomes a critical metric to agile talent development and employee engagement strategies.
Focused on a handful of core use cases, FICO uses skill data to:
Target upskilling by consulting with leaders on emerging business priorities (for example, to increase analytics services, pivot to a new sales strategy, or advance female leaders).
Create skill plans to support upskilling initiatives and individualized development plans based on baseline and target skill ratings for specific roles.
Measure skill movement over time and report results like "We've accomplished a 15% increase in our capacity to do X."
Learning leaders enable this process by first creating a sense of psychological safety around skill ratings, Chamberlain said. "We remind colleagues that skills are not part of how we measure performance. We measure performance based on a combination of behaviors and performance-based outcomes. Your skills will be a contributing factor in meeting performance expectations, but they're not part of how performance is measured. This allows individuals to be very honest with where they are and where they need to go."
Want To Learn More?
You can find all the presenters mentioned above, and more, on our OnDemand page.
Join us in November for LENS LA 2021, where we'll explore the smartest ways to harness technology and data about the skills people have (or don't have), so you can make better investments in hiring, managing, and developing all of your workforce.