Jeopardy host: "For $200 in 'Corporate Learning,' this is the most used phrase in L&D."
Winning response: "What is 'Learning in the flow of work'?"
It's true "learning in the flow of work" is referenced a lot — in industry thought leadership, on vendor blogs like this one, in L&D team strategy sessions, and more — but it's for a good reason. Learning in the flow of work is a crucial concept that's central to the evolution of corporate learning, describing the seamless integration of professional development into an employee's daily tasks.
"People are busy," noted industry analyst and author Josh Bersin, Founder and CEO of the Josh Bersin Company. "They're stressed in their jobs. . . and they want their employer to help them grow. If you can deliver relevant learning opportunities (and this itself is complex) that help people grow, you're really moving the needle."
Of course, a big part of moving that needle means equipping your people with the right tools.
At Degreed, we strive to address the challenges our clients face head on. We're constantly innovating to ensure L&D teams have the right solutions to meet their employees where they are, foster engagement and, ultimately, enhance business performance. Our integration with Microsoft Teams is a prime example of how we help clients tackle the engagement challenge.
Activating Learning and Boosting Engagement
The Microsoft Teams app has 280 million daily active users, so if you're looking to meet your people where they're at, chances are you can find them on Teams.
"Through this partnership with Microsoft, Degreed is creating a tight integration and seamlessly consistent experience that allows your people to directly access the full Degreed LXP experience right in Teams," said Dawn Giovanniello, VP of Product Management, LXP at Degreed. "We know L&D leaders strive to make it as easy as possible for their people to learn, and that's exactly what this integration accomplishes.
"Employees no longer need to search for the right place to learn, because if they use Teams, the right place to learn is embedded directly inside an app they utilize in their everyday work. This easy access reduces the time people spend switching between applications, and it allows them to get what they need in those moments between meetings, calls or task completions."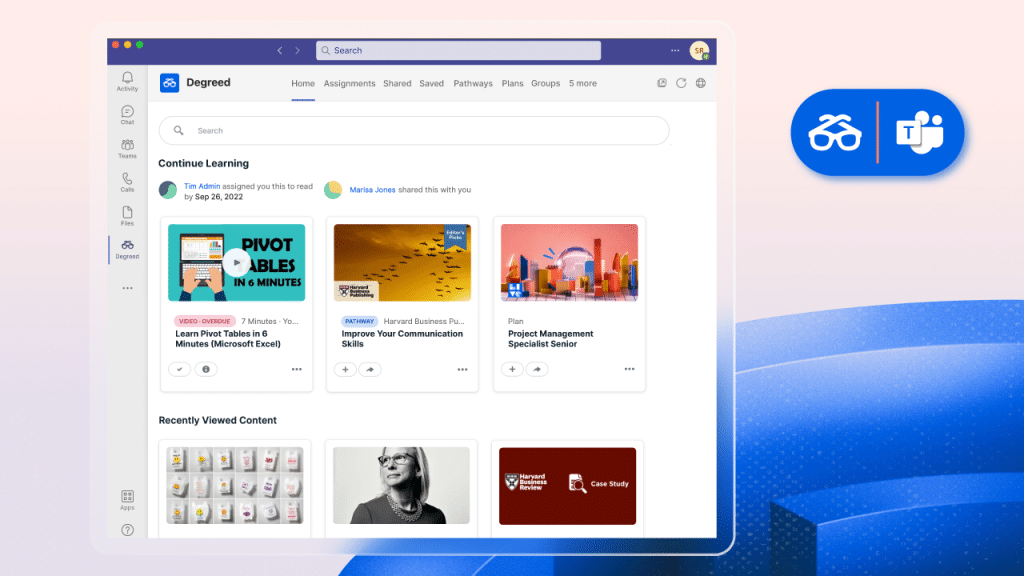 Let's take a look at some additional ways this integration increases engagement:
Personalizing Learning at Unique Homepages
To engage people, learning must be relevant. That's why the Degreed homepage provides personalized learning opportunities aligned to an individual's skills and interests. By combining the easy access to learning inside Microsoft Teams with the personalized learning made possible by the Degreed home page, learning becomes even more efficient and you're more likely to end up with an increase in active Degreed users.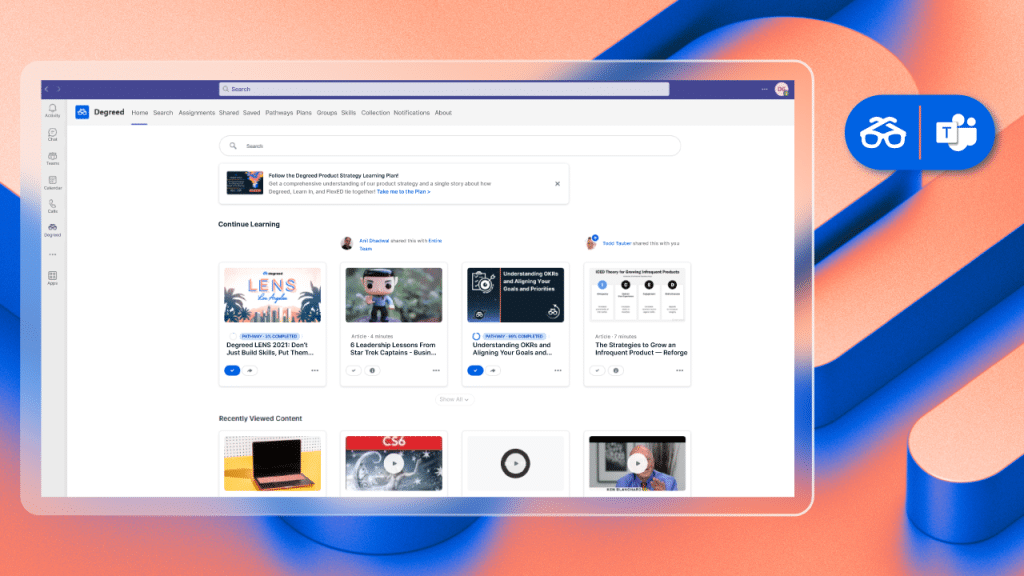 Sharing and Collaborating Inside Teams
Collaboration and social learning are powerful ways to drive knowledge sharing. In fact, a whopping 75% of employees prefer to work with a peer or colleague or in groups, according to the new Degreed 2023 How the Workforce Learns report. Embedding Degreed functionality to share and recommend content inside a collaboration platform like Teams sets your organization up for increased knowledge sharing that leads to more and better learning.
Helping Employees Keep Track of Their Learning
If your workforce is overwhelmed by learning assignments and content, it can be a struggle to stay on top of everything. Our Teams integration helps ease that burden by incorporating learning reminders from Degreed inside the Teams notification feed your employees already rely on. The goal is to facilitate more learning completions and improve skill building.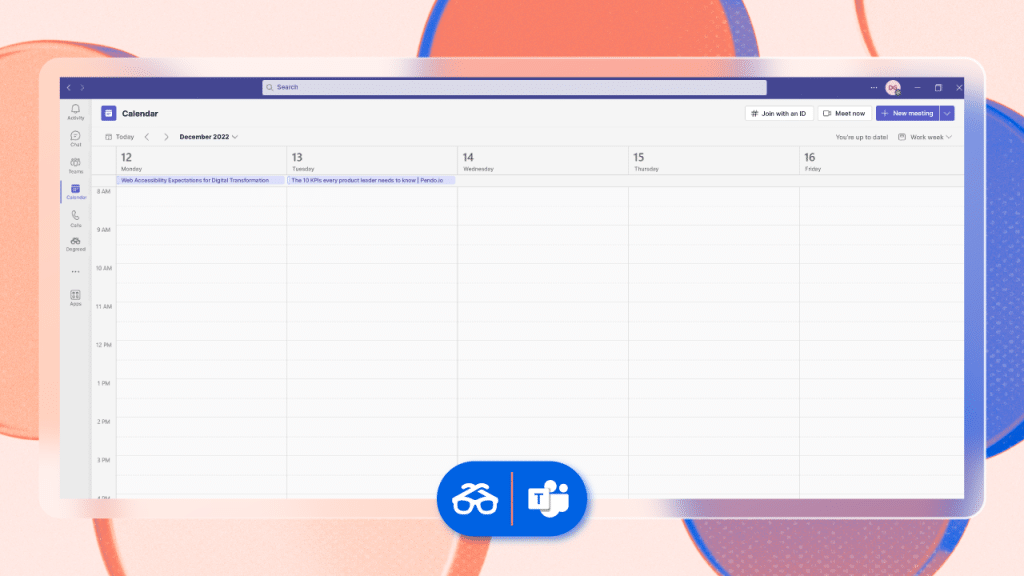 In addition to the notifications feed, any assigned learning automatically populates in the Teams calendar, so employees can keep track of important deadlines.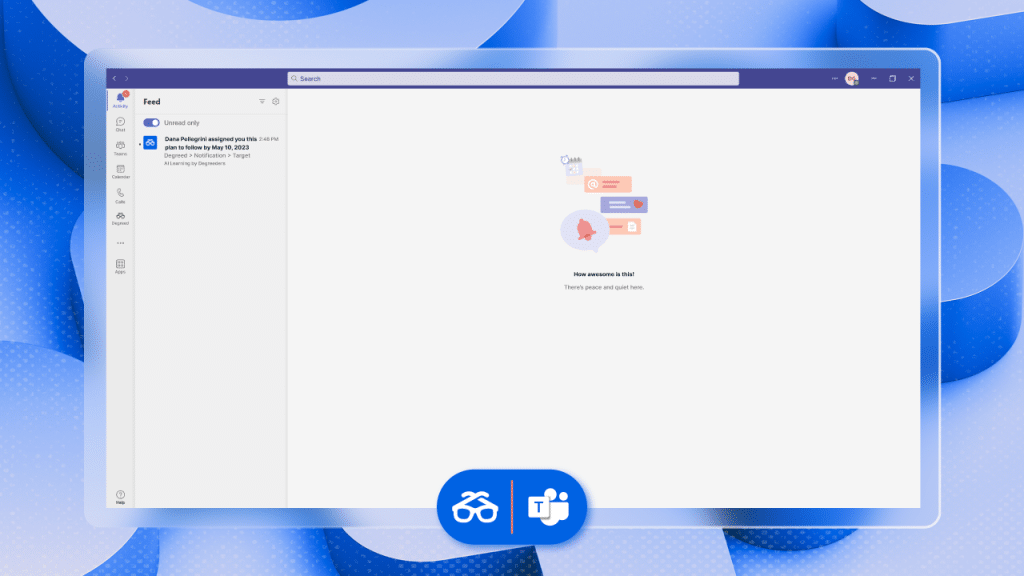 Enabling Mobile Learning
Your employees probably don't spend 100% of their workday at their desks, which means that meeting them where they are might mean meeting them on the go, or simply on the phone. With our Teams integration, your employees can find, track and share learning even when they're away from their computers.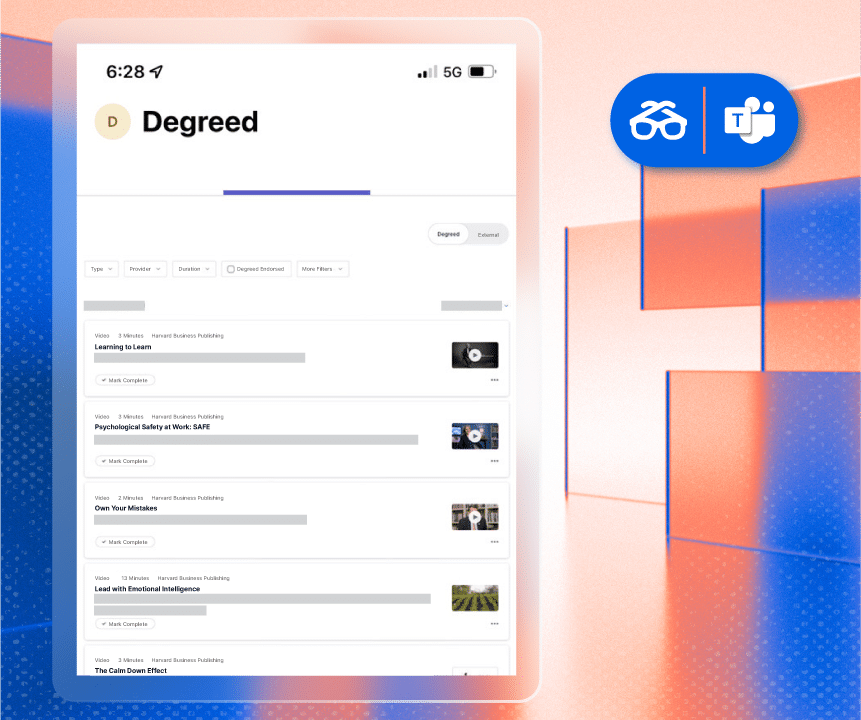 The Ultimate Objective: Business Success
Why all this emphasis on engagement? Because engagement has a tremendous impact on any business. According to the Gallup 2022 State of the Global Workplace report, business units with engaged workers have 23% higher profit.
When learning is strategically deployed and maximized, it can dramatically boost your business success. This can be accomplished through upskilling your workforce to accelerate key capabilities, strengthening future leaders through targeted learning, offering programs that improve retention, or focusing on other business critical goals.
Learning is far from a fluffy, nice-to-have perk — it's a powerful resource that drives growth. But none of this can happen, however, without a workforce that participates in learning, underlining the crucial need to enable learning in the flow of work.
The Grand Scheme: Engagement Through an Open Ecosystem
Our Teams integration would not be possible without an open ecosystem approach. Thanks to an inherent Degreed design that allows different services and platforms to interact, we're strategically positioned to continuously expand our existing partnerships in ways that meet our clients' needs. 
The flexibility of our open ecosystem doesn't end with integrating tools like Teams. On the contrary, it empowers you to integrate an LMS, content providers, program providers, and more. The end result is a flexible learning solution that lets you create personalized learning experiences at scale that drive employee engagement, upskilling, reskilling, retention and, ultimately, business success.
Find out more:
Curious how you can drive engagement and business results with Degreed? Contact us to learn more and check out our integrations.
Already a Degreed user? You can download our app in the Microsoft Teams store. Visit our Knowledge Center for download instructions, so you can start learning in the flow of work today.