Your friend books a trip to Mt. Everest. A tour company meets the excited climber at the airport in Nepal, hands over a map, and says, "Good luck!" Odds are your friend won't post a selfie from Hilary's step.
This scenario might sound nonsensical, but this is how many company leaders treat employees with upskilling and reskilling: They point to a learning content library and send employees on their way.
The good news is many companies do take upskilling and reskilling seriously. Their leaders know how critical employee development efforts are—to achieving breakneck digital transformations and overcoming the growing talent crisis.
For these reasons, upskilling and reskilling programs are on the rise; 72 percent of businesses offer reskilling programs. But it's not enough. The skills gap just gets bigger.
"Our systems of learning and work were not equipped to skill up and transition large numbers of workers to jobs that are in demand," noted researcher Michelle R. Weise, founder of the Strata Institute for The Future of Work and author of Long Life Learning: Preparing for Jobs That Don't Even Exist Yet.
So how can companies effectively support upskilling and reskilling efforts? Like climbing Mt. Everest—or reaching any lofty goal—upskilling and reskilling require time and guidance.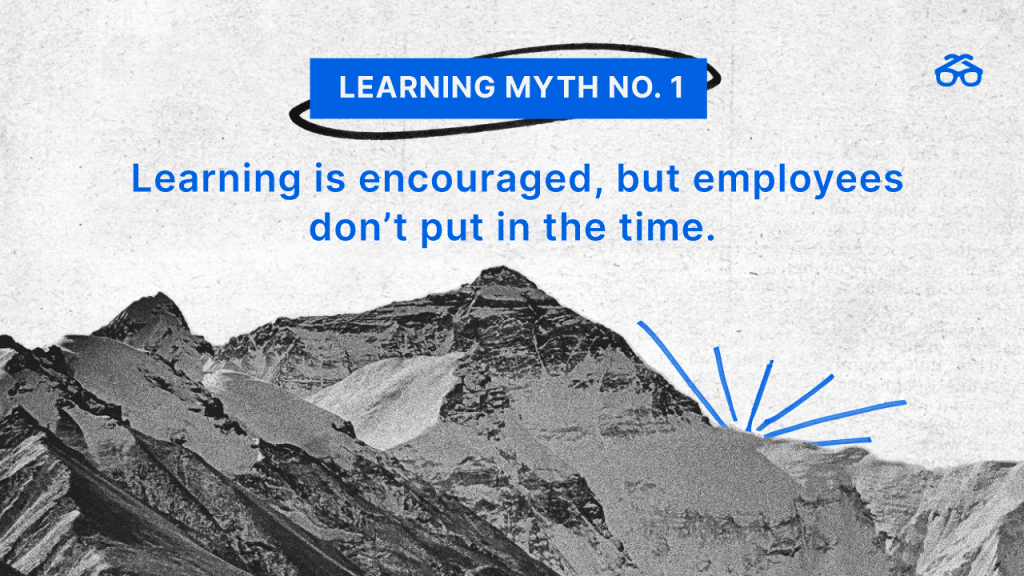 Employees want to learn but don't have the time.
IT team members have a 90-minute online class on data analytics scheduled for Thursday. It's on their calendars so their boss, who agreed to the course, can see it. But on the day of the class, their boss schedules a different meeting and says it takes priority.
It's the same old story.
Many companies today encourage learning, but they don't offer the time employees need to learn new skills. Survey after survey shows us that employees want to learn on the job, but time is a barrier. A LinkedIn Learning survey, for example, found lack of time is the number one reason employees don't develop.
Who's responsible for making time for learning? Many employers place the responsibility on their workers to upskill and reskill. But only a small, select group can afford this.

If your company maintains that employees are responsible for finding time to upskill, it's probably negatively impacting the many who are:
Primary caregivers
Parents or guardians
People with second jobs
People's lack of time and their need to earn money are underlying forces at play in why so many traditional learning programs, like tuition reimbursement, remain inequitable. So it comes as no surprise that a recent Randstad survey found upskilling and reskilling efforts often favor certain populations over others.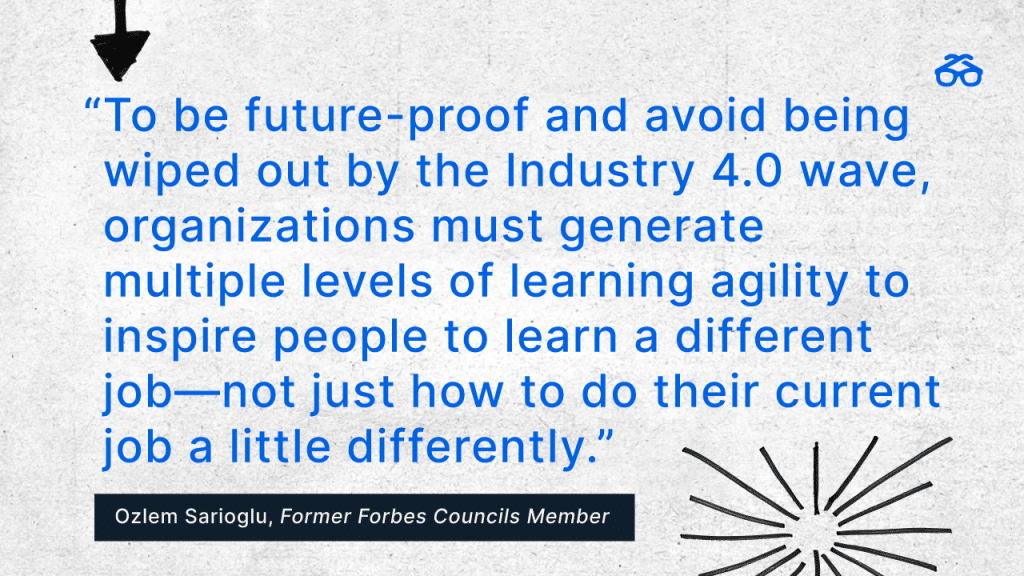 Ignoring the inequities of traditional learning programs hurts employees and their employers. This is especially true amid today's unrelenting digital transformation. Today's changes are so deep and wide that they're fueling a new era described as The Fourth Industrial Revolution and Industry 4.0. Soon businesses will need skills that haven't been invented yet. And they'll need those skills in bulk.
Almost every worker will need to upskill in today's new world of work. The skills gap isn't limited to tech jobs. It applies to chief executive officers, CEOs, HR employees, and data scientists alike. Businesses will pay dearly if only the employees who have the time and money to spare upskill and reskill.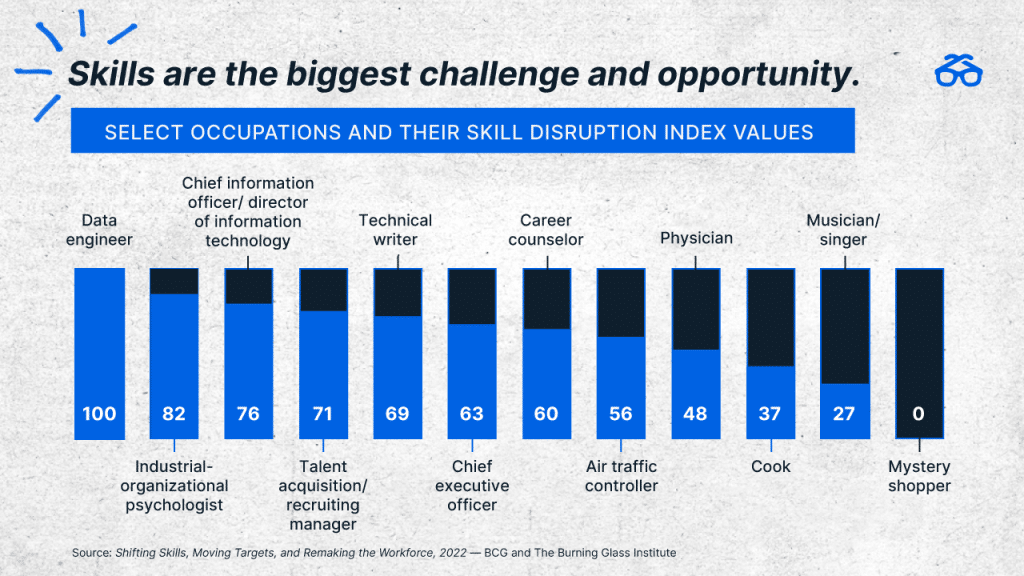 Companies must set aside time for employees to learn new skills.
You need to give workers time to learn—plain and simple. Weise understands the problem and how to fix it. She points out that "time is the biggest barrier" and "no skills-building initiative will work unless we solve for this limit factor of time."
Giving employees time to learn is particularly important for skill building. This is because learning a skill is different from acquiring knowledge. It's the difference between learning about climbing Mt. Everest and being able to actually do it. For example, if your friend visiting Nepal only watched hundreds of climbing videos from their sofa to prepare, the skills to summit simply won't be there. Learning a skill, especially specialized or complex skills, requires more learning time than any other type of learning.
In terms of time commitments, the journey to summit a mountain is comparable to an upskilling and reskilling journey. Some estimates say it takes 480 hours on average to learn a new skill. Of course, the number of hours depends on the skill. An employee could devote at least 10 hours to developing a simple skill. To build complicated skills or obtain a college degree? A person might need as many as 5,000 hours.
As companies move toward establishing new upskilling and reskilling initiatives, they must reevaluate how much work time is dedicated to learning. Keep in mind how much time your upskilling and reskilling efforts require. If your leaders find learning time is lacking, they can mandate learning happen on a weekly or monthly basis and hold managers or employees accountable for taking time to learn.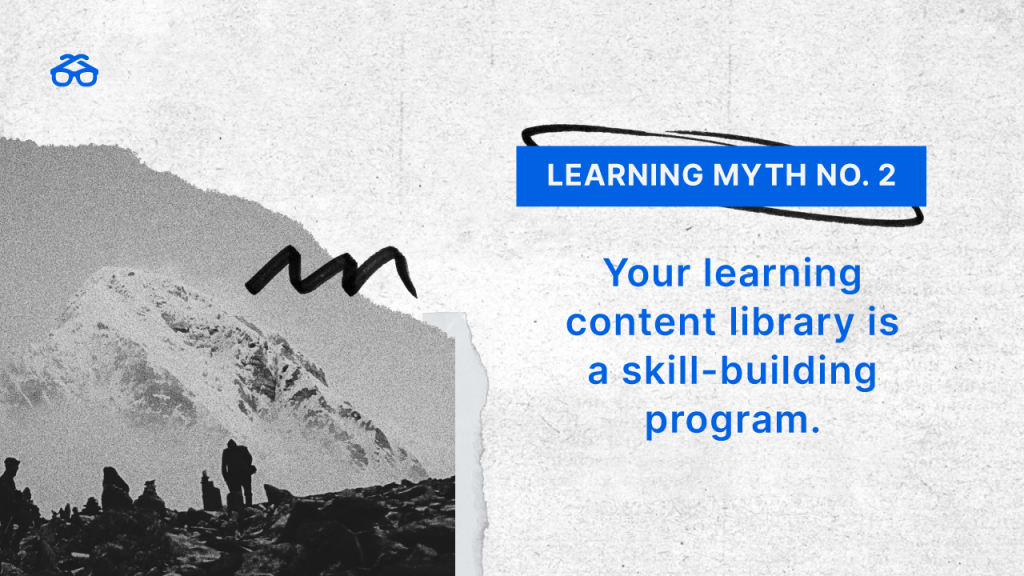 Employees want to learn new skills but don't have support.
Proactive engineers want to learn a new programming language, and their manager recommends finding a course in your company's content library. So they peruse and complete the two Python courses that they manage to find. But after consuming about 30 hours of content, the employees still don't feel confident enough to tackle a project that requires Python skills.
It's the same old story.
Paying for learning resources doesn't guarantee your company's upskilling and reskilling success. L&D focuses a lot on content, but you can't expect a content library to provide people with the guidance they need to effectively develop the right skills.
Consider the Python example above. The employees' company might not even need another Python engineer. Gartner found that 70 percent of employees haven't mastered the digital skills they need for their jobs, and it's likely those same employees or managers don't necessarily know which skills to focus on. The Harvard Business Review calls this "unconscious incompetence."
Workers don't know what they don't know. Managers and leaders aren't much better off. In the Brandon Hall Group 2020 Learning Strategy Study, almost every company (87%) expressed the need to align learning and goals, but only 13% said they were capable of doing it.
Most content libraries don't provide the tools needed to align skills with business outcomes. Even if by some miracle employees implicitly know the right skills to learn, most content libraries don't provide them with the right experiences or resources for learning those skills. Consider once again our Python example. Consuming all 30 hours of a content library's Python videos won't make employees experts, and it won't necessarily make them ready to deploy new Python skills successfully.
A study of 14,000 businesses found that 63 percent of managers aren't equipped with the right upskilling resources. This is because many legacy learning content libraries focus on learning resources for training and everyday learning. These bite-size learning resources don't provide the specialized, in-depth content that deep upskilling requires.
Companies must provide a skills infrastructure.
Employees need hundreds of hours to develop skills, and they also need expertise and an infrastructure to guide their skills journey. For this reason, 91 percent of the thousands of employees and HR pros surveyed in Randstad Risemart's 2021 Survey of Skills said that skilling initiatives would be more effective with expert guidance.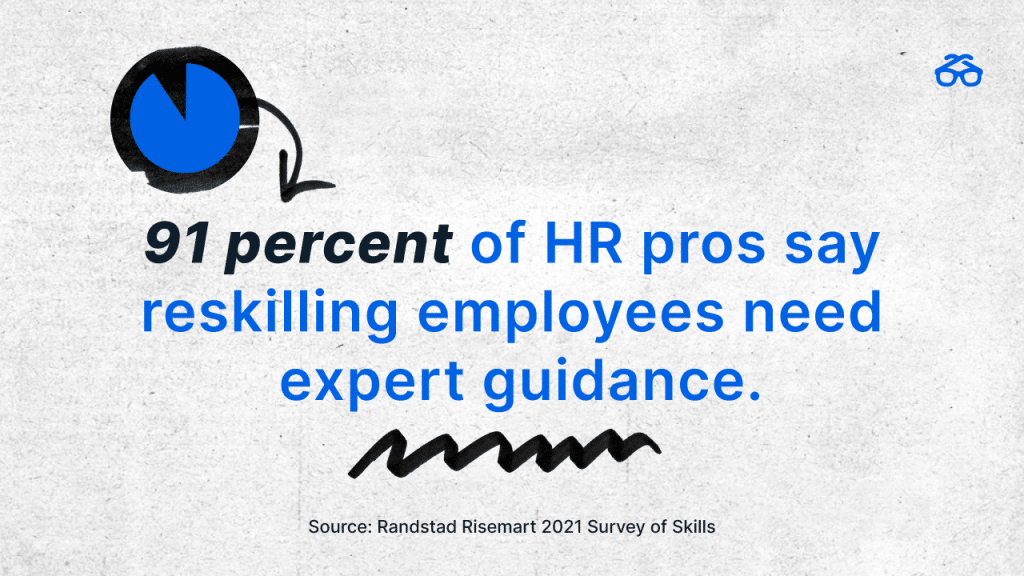 What does "expert guidance" mean? When HR professionals were asked what would have helped employees make better choices about which courses to take or which on-the-job experiential learning opportunities to seek, top responses included:
Assessments of skills, career interests, and possible career paths
Access to a broad view of learning opportunities, including courses, certifications, academic degrees, and experiential learning
Advice on the best-fit skilling options
Insights into in-demand skills
If you value this list, stop providing your people with a login to a learning content library and expect business-aligned skill-building to take place. Meeting your upskilling and reskilling challenges requires an ecosystem of human guides and technology working in concert to deliver the right content and experiences to the right employees at the right times.
Your company can build this infrastructure internally and take advantage of external third-party programs. One popular practice today is to turn to external programs for the learning portion of skill development. These can take several forms. Bootcamps, seminars, and academies provide participants with specialized, in-depth content, experiences practicing a skill, and feedback from experts.
Companies must guide employees along their upskilling and reskilling journeys.
It's been said that if you don't know where you're going, you're already there. In other words, you're lost. Being lost isn't an ideal state for businesses looking to thrive in an era in which the shelf life of skills is down to only three years.
If you're lost on the upskilling and reskilling mountain, get a guide. With something as complex and critical as upskilling and reskilling, companies can't afford to point their employees to a content library and wish them good luck.
Building skills is the most complex and time-consuming type of learning there is. Take time and offer guidance. Provide your people adequate time to learn new skills, and give them a comprehensive skill-building solution.
To learn more about how learning academies can support your upskilling and reskilling efforts, read "Academies 101: Everything You Need to Know."