For the past seven years, Degreed has been building a platform to develop and measure the in-demand skills people need for the future. We believe that data about the skills people have (or don't have) can help organizations make smarter decisions about how they hire, manage, and develop talent.
We've come a long way. The business has quadrupled over the last two years and the number of people using our platform has tripled in the last year alone. We've built a more engaging platform, which helps our customers unlock new insights about the supply of skills within their companies. That's why one-third of the Fortune 50 companies are using Degreed today to put their employees' needs first.
The next step is helping our customers identify and respond to shifts in the skills that are in demand. So today, we're pleased to announce that we have acquired Adepto to complete our vision and empower our customers to bridge the divide between the supply and demand for skills.
Where We've Been
Seven years ago, we realized that the HCM suites had forgotten about the end-user. Across the board, the existing platforms focused more on HR and administrative requirements than on the value delivered to employees.
So, we set out to build a different type of product — one that's enterprise-class, meaning it's scalable, secure, and most importantly, impactful — by being laser-focused on the needs of the employee.
Degreed is both platform- and content- agnostic, so you and your people can learn your way. It also includes a simple yet powerful toolkit that enables both users and administrators to personalize the experience based on everyone's unique skill sets, interests, and ambitions. And by focusing on what the users really need, Degreed is able to generate a unique and valuable dataset on the learning and skills of your workforce.
The Demand to Our Supply
Listening to our clients, we consistently hear one thing loud and clear: they need more than inconsistent or inferred data sets from their HCM systems or yearly performance reviews. They want a system that not only promotes continuous user engagement, but also offers insight into how their people's skills match with projects, career opportunities, and business priorities — and helps people bridge those gaps. This is where the acquisition of Adepto comes in.
Adepto enables organizations to build private Total Talent networks that intelligently match internal and external workers to open projects, gigs, and job opportunities that fit their abilities and career goals. It also provides business leaders with easy-to-use tools to track and access the skill sets of their entire pool of available talent, including current and past employees, as well as contractors, freelancers, consultants, and potential new hires.
Through the acquisition, Degreed will become the destination for business executives, team managers (as well as talent and HR leaders) to understand and manage the supply and demand for skills inside their organizations. Paired with Degreed's award-winning Learning Experience Platform, Adepto's technology will give our customers a talent marketplace to enable internal mobility along with the visibility and capabilities to respond to shifts in the demand for skills as they're happening.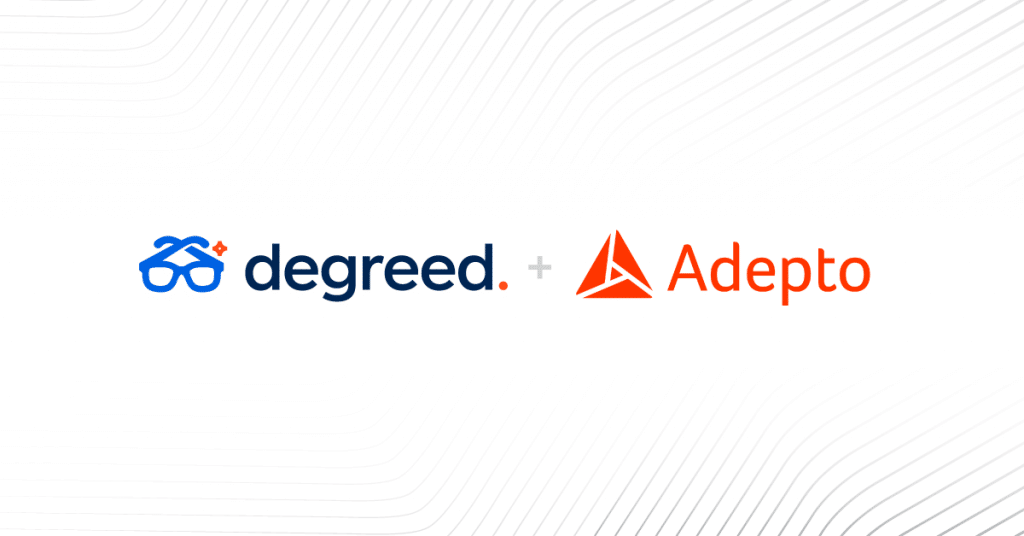 Adepto at a Glance:
Offices in London, UK, Brisbane, Australia, and New York, USA
41 employees
Leadership team includes Chris Milligan (Founder/CEO), Linda Davies (Financial Controller), Brenton Worley (CTO), Joel Luther (Head of Product), Vicky Holdsworth (VP, Marketing and Partnerships), Oli Meager (VP, Sales, and EMEA), Louise Anderson (VP, Solutions, and APAC), April Lea (Head of Delivery), and James Griffin (VP Customers)
The company has grown by 150% per year for three consecutive years
Clients include Atos, Capita, and Cisco, as well as public sector employers, such as the Queensland Government.
Where We're Going
With our expanded set of resources and capabilities, we will combine Adepto's technology and data with the core parts of Degreed. That will include:
Enhancing our core LXP features, such as Search, personalized recommendations, and on-the-job development opportunities.
Expanding our integration capabilities to include the broader HCM and work ecosystem.
Enriching our analytics, reporting, and decision-making functionalities.
The acquisition also expands Degreed's ability to serve our global and multinational organizations with 40+ new product, professional services, and commercial teams on the ground in Europe and Australia.
Delivering the most comprehensive, user-first learning and skills platform remains our north star and we are proud to add Adepto on this journey.
To be clear, Degreed is still an open, integrated ecosystem. If our customers have content or data stored on a different platform, we will always allow users to access and utilize it.
Our partnership with Adepto is simply another critical step to demonstrate our dedication to ensuring no one becomes irrelevant due to lack of new skills, and that organizations have the ability and insights to support their growth.
If you have any questions or thoughts to share, we would love to speak to you and offer a variety of avenues to reach us. Read our press release, get in touch with your Degreed or Adepto contact or visit the Degreed blog.