You might have a picture of how learning and development fits into your organization, or at least how you want it to fit in. But life happens. You hit roadblocks. Then what?
Your L&D strategy should be agile and flexible for whatever's ahead, and we can help you get it there.
This year, Degreed is celebrating its 10th anniversary. A decade ago, we sought to give people a way to explore and log many kinds of traditional, modern and experiential learning.
Over the years, Degreed has become the global changemaker in learning technology and continues to empower innovation.
As our CEO Dan Levin said, "We believe that learning is essential to a better future for all. So as we celebrate our 10th anniversary, we look at the tangible business results our clients have achieved so far through Degreed and what is possible in the future. Workers need to feel empowered to learn and change."
That's why we've created Degreed Insight, a two-hour, complimentary virtual event that's all about reimagining L&D. Because learning doesn't always fit neatly into the box you created for it. Especially when challenges arise. But if you embrace the messiness with proactive agility and creativity, you can welcome new roadblocks as valuable business opportunities.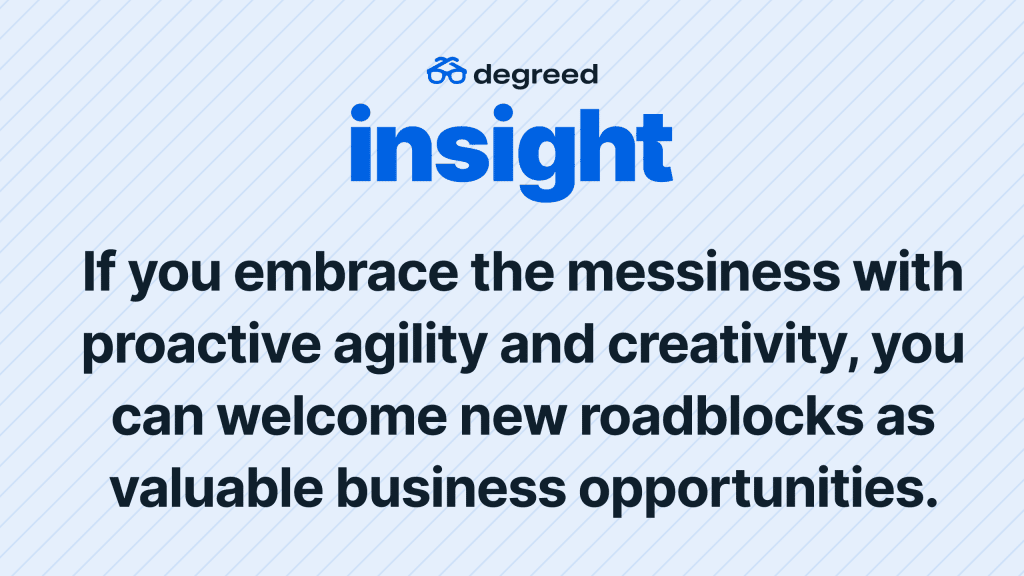 We're offering two regional versions — one for North America on Thursday, April 7, and one for Europe on Tuesday, April 19. The content in both versions will be presented in English. Join us for deep discussions on the future of learning.
Although it's virtual, Insight will be interactive. You can expect expert-led sessions, a panel discussion and Q&A with industry pros, and the option to attend personalized breakouts to continue the conversation.
Expert-led Sessions: Quick Deep Dives
Our speakers have diverse backgrounds in L&D and leadership.
At our North America event, you'll hear from:
Seth Mattison, Founder & CEO of Future Sight Labs
Vidya Krishnan, ​​Chief Learning Officer, Global Head of Learning & Development at Ericsson
Peter Sheppard, Head of Global L&D Ecosystem at Ericsson
Josh Bersin, Global Industry Analyst and CEO of the Josh Bersin Company
Janice Burns, Chief People Officer at Degreed & Former Chief Learning Officer at Mastercard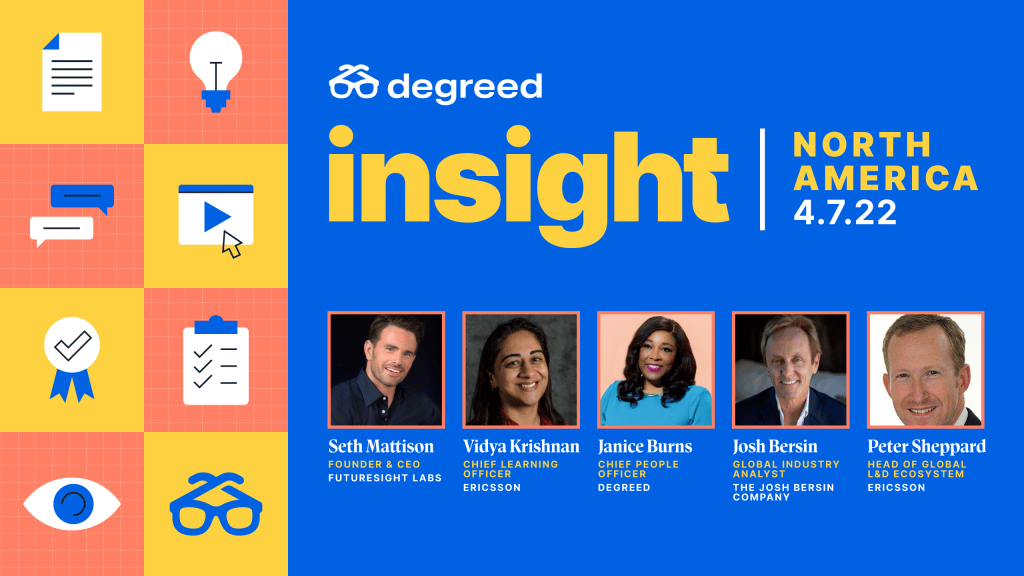 At our Europe event, you'll hear from:
Lucy Voss-Price, Group Head of Learning at Standard Bank Group
Donald Taylor, Research and Chair for Learning Technologies Conference
Fiona Leteney, Senior Analyst for Learning Systems at Fosway Group
Kelly Palmer, Chief Learning and Talent Officer at Degreed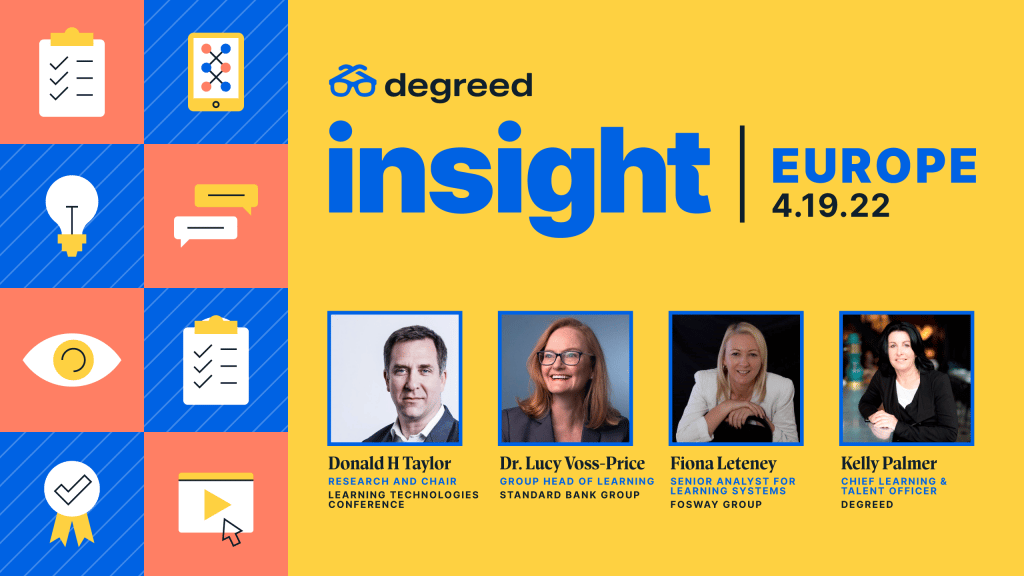 By design, each session is less than 25 minutes long. Why? Because we know that attention spans are short, and we want to keep you engaged for more active learning.
Insight will focus on the ever-evolving role of learning and development in business. From sessions on How to Integrate Learning in the Flow of Work to Navigating What's Next: Insights on the Future of Work and Talent, this event is designed to help you answer questions like "How can I make my organization's L&D strategy more adaptable?" and "How can learning culture impact future company goals and outcomes?"
Panel Discussion: Ask Industry Pros
Understanding different perspectives can help you brainstorm and innovate, so several Insight speakers are also participating in interactive panel discussions. These will be moderated by industry analysts and will include a live audience Q&A.
The Insight North America panel will be moderated by Josh Bersin, Global Industry Analyst and CEO of The Josh Bersin Company. Vidya Krishnan, Peter Sheppard and Janice Burns will join as fellow panelists.
The Insight Europe panel will be moderated by Fiona Leteney, Senior Analyst for Learning Systems at Fosway Group. Donald Taylor, Lucy Voss-Price and Kelly Palmer will join as fellow panelists.
So, have your questions ready and use all these bright minds working together to your advantage.
Personalized Breakouts: Connect with Industry Peers
Collaboration and reflection are important parts of an event that often aren't incorporated into traditional webinars. But no one understands your professional challenges like your peers, and that's why curated breakout sessions are a big part of Insight.
You can choose to participate in a breakout when you register. A moderator will guide the conversation, and the floor will be open for you to share your thoughts and experiences — so you can get feedback and advice from other industry professionals. You can also use this time as an opportunity to build learning and development industry connections.
The Details
Virtual doesn't have to mean impersonal. Degreed Insight is designed to fit your unique learning needs and busy schedule, and to address specific pain points your organization may be facing. So join Degreed and other industry experts to reimagine learning and development across your business.
Don't Forget to Register
Be sure to resister today for Insight North America or Insight Europe to tune into these expert-led sessions and interactive panels.
Got more L&D questions? Reach out to a Degreed representative today.