Have you forgotten what interacting with real humans is like? We have, too. The quarantine is definitely cramping our in-person vibe, but safety is our first priority. So while we've had to slow down our event schedule to keep you and our teams socially distanced, we haven't slowed down on thought leadership, workshops, or speaking with our most innovative clients.
Until we can get our award-winning events up and running at full steam once more, we've had to lean into other ways to continue connecting and helping our audiences. That's why today we're introducing Degreed On Demand, a convenient catalog of our most timely, popular, and helpful virtual events and webinars. Watch any event, anytime, anywhere — on your schedule and on your couch.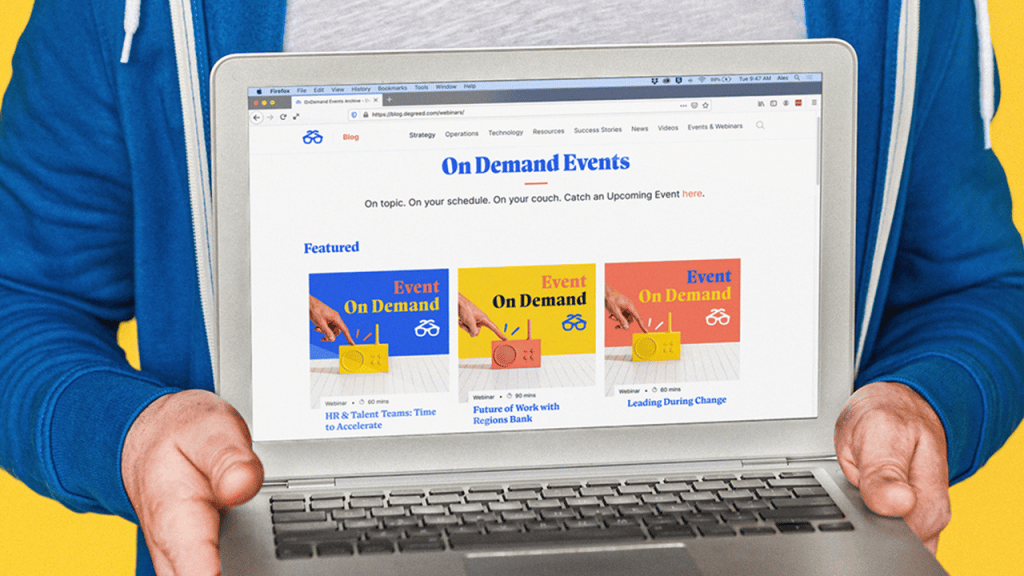 Tune into key 2020 events that address subjects like leading during change, how to prepare for the future of work, and the best ways to utilize skill data. We feature speakers from all industries and regions, including innovators like Shopify, Ford Motor Company, Grant Thornton, Ericsson, Verizon, TD Bank, and more.
Plus, learn more about Degreed's strategy with sessions from our leaders, including Chris McCarthy, CEO; Kelly Palmer, CLO; and Sarah Danzl, Head of Communications and Client Advocacy.
Find all our recorded virtual events at our On Demand page. Want to see us cover a topic we haven't addressed yet? We're all ears! Contact us at events@degreed.com.