One of the core attributes of Degreed is our open ecosystem. This open ecosystem enables and encourages integration with third-party technologies and learning content providers, allowing our customers to connect their existing resources to the Degreed LXP. Our open ecosystem also allows us to continuously add new premium partner content and applications so customers can enjoy and personalize their learning experiences.
Recently, we added a new content partner and two new platform partners to help our customers continue building and customizing extraordinary learning capabilities:
TED@Work for Degreed
TED@Work connects people using Degreed to an ever-growing library of TED Talks curated for work. Using an Ideas-into-Action framework, TED@Work inspires new ways of working at the individual and team level.
Organizations look to TED@Work to infuse learning programs with uplifting, mind-shifting and trusted content from leading thinkers and doers. Learning leaders love the bold ideas and power of the TED brand but wanted TED Talks to be even more actionable for learning at work. Over 500 TED Talks and TED-Ed Animations have been reimagined with an Ideas Into Action framework that inspires learners to put an idea into action in their work.
This is the first partnership built natively within the Degreed platform to create an immersive and engaging experience for workers and learning teams. TED@Work for Degreed is a joint solution available through enterprise subscriptions.
Filtered
Filtered helps organizations get the best return on learning spending, including, saving them as much as 30% on content, programs and systems.
Without organization and alignment, skill data becomes jumbled and scattered across learning and talent management systems. Filtered helps companies create evidence-informed, appropriate skill definitions at scale. It can provide a faster and 33% more accurate way to tag skills in Degreed. And users see improved content search results.
After analyzing which content will be best to build the targeted skills, the system filters out the rest and tags only applicable content. In addition, the system expands tags available for user searches. The combination also identifies cost savings on annual content library spending and much faster content curation. One mutual customer reported a 10-times faster ability to curate quality and relevant Degreed Pathways using content intelligence.
Eightfold
Degreed customers requested more talent intelligence capabilities, and we listened.
The Eightfold Talent Intelligence Platform is built for enterprises to address talent acquisition and management — using artificial intelligence (AI) to provide recommendations on matching people to the right opportunities based on their underlying skills, adjacent skills and learnability.
The platform integration between Eightfold and Degreed seamlessly enables data on an individual's skills, gaps and goals to help recommend relevant learning content. The collaboration and integration ultimately improves learning outcomes and helps people progress in their career journeys.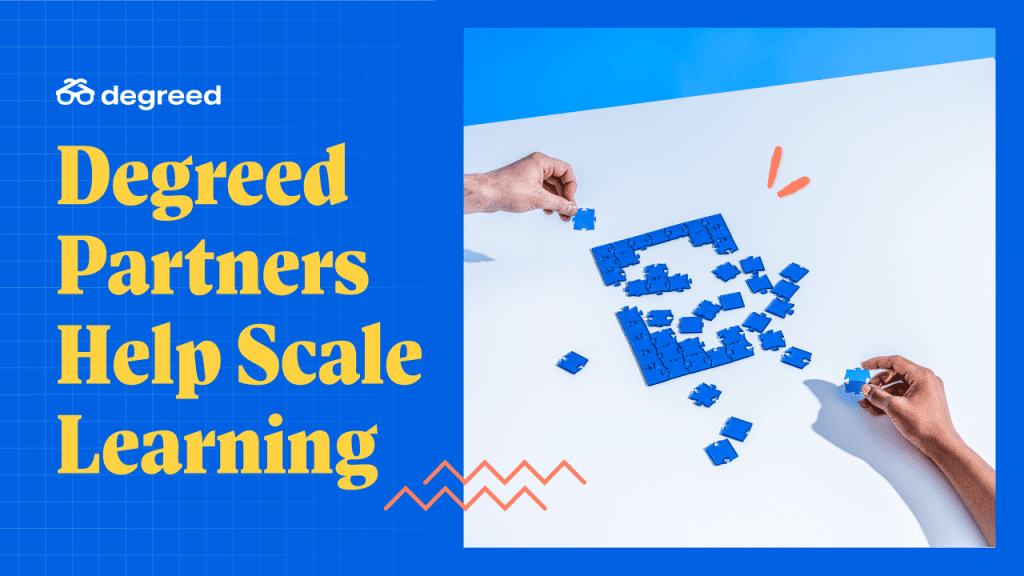 Want To Learn More?
Contact a Degreed representative to request a demo or get help accessing content providers today.