Despite the cheesiness, there's wisdom in the phrase: teamwork makes the dream work. And this is especially the case when it comes to our teamwork with Degreed partners.
At Degreed, our mission is to jailbreak the degree. We realized early on that we couldn't accomplish this mammoth goal for our customers on our own. We needed partners. And after working with Degreed partners for the past five years, I can honestly say Degreed is an exceptional LXP because of our partners and how we partner with them.

How Our Degreed Partners Make Us Exceptional
What makes the Degreed LXP best of breed in L&D is the sheer number and diversity of our partners. As of today, Degreed has 80 content sources, 14 LMS providers, and 12 platform integrations. We believe in maintaining a wide range of partnerships so our clients have access to the best tools and resources from like-minded partners, like TED@Work. TED@Work uses TEDTalks to create discussion-based learning programs for business environments.
"We want clients to have the best advantage in building their learning and development tech ecosystems. Businesses should lean on tools and content that will efficiently scale with their organizations' needs to advance employee engagement through learning and deep skill-building. With a variety of partners across the ecosystem, we are committed to working with the best tools, platforms, and content providers to help our clients meet their evolving needs as their organizations continue to grow."

— Yael Kaufmann, Head of Partnerships at Degreed
An Open and Flexible Ecosystem
With one of the industry's largest and most well-rounded partner programs, we help our clients create flexible learning technology ecosystems. Lots of vendors define their ecosystems as "open," but some are more open than others. The Degreed ecosystem is more than open — it's flexible.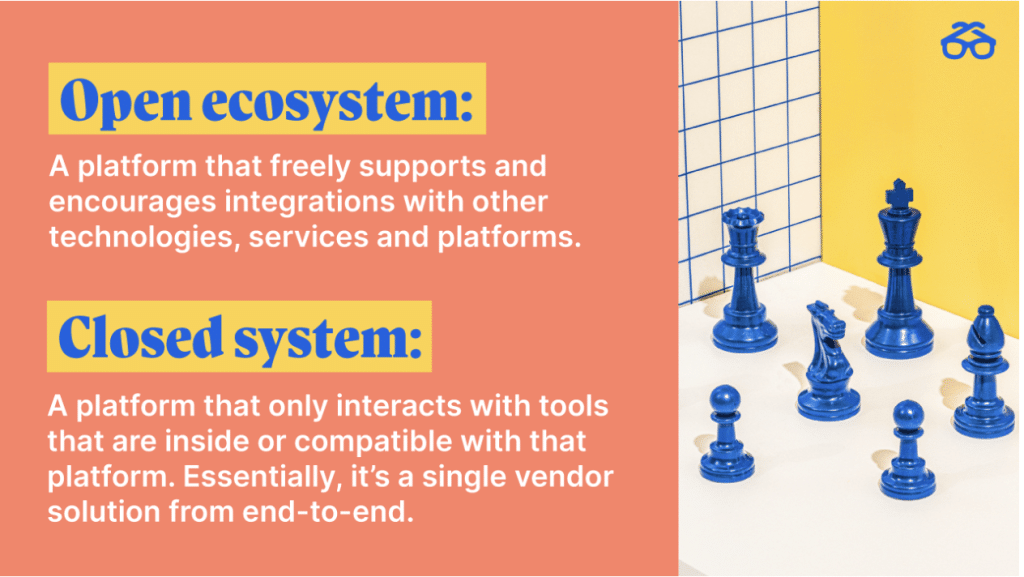 What does it mean to have a flexible ecosystem? And more importantly, how does it help our customers? Some vendors stick with their preferred partners and expect customers to fit into established ecosystems. But Degreed is a co-collaborator. We can support you in building the best ecosystem for your business, largely through our extensive partnerships, and we're willing to explore working with whomever you need us to. (Don't worry, flexible doesn't mean loose. We ensure any transfer of data is protected and data integrity is safeguarded.)
We pride ourselves on our flexibility because it benefits our clients. As my coworker Dan Carlson, Senior Manager of Ecosystem Insights recently said, "Much like a stock portfolio, the more diversified your tech partner's ecosystem is, the more easily you'll be able to adapt and grow your own system to your advantage." And as we've all witnessed in the past few years (thanks to COVID, the Great Resignation, the emergence of generative AI, and other big changes in the world of work), any company needs flexibility to adapt and remain competitive.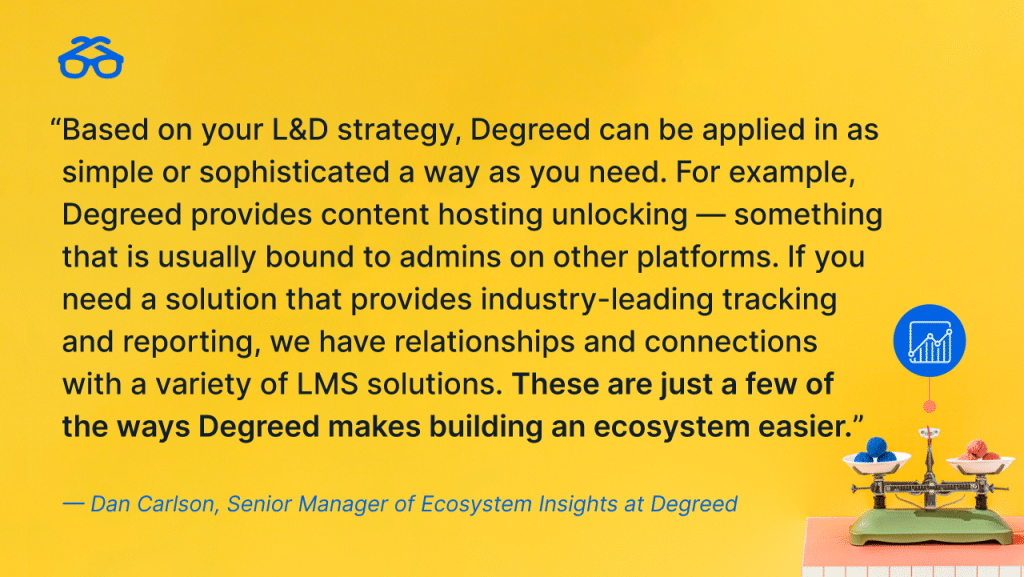 How Our Approach to Partnerships Is Exceptional
How did Degreed come to have such a flexible ecosystem and extensive partnerships? Our outlook. When it comes to Degreed partnerships, we focus on three things: our mission, clients, and partners.
Our Mission Focus
Every company has a mission, but Degreed really prioritizes its mission to jailbreak the degree. This matters because it creates more opportunities for partnerships than competition. Many other vendors compete against each other's learning products and across product verticals (like recruiting and talent acquisition, performance management, compensation, and learning). By focusing on our mission, unlike many other vendors, our decision-making framework isn't limited by our own product verticals.
Rather than try to build everything ourselves, we remain committed to our areas of expertise, and we let other experts pursue that same path within their areas of expertise. So instead of limiting our partners and siloing ourselves against competitors, our mission-focused approach allows us to maintain a broad partnership base across LMS, CMS, LRS, HCM, talent intelligence platforms, career navigation platforms, content providers, and other skills-based vendors.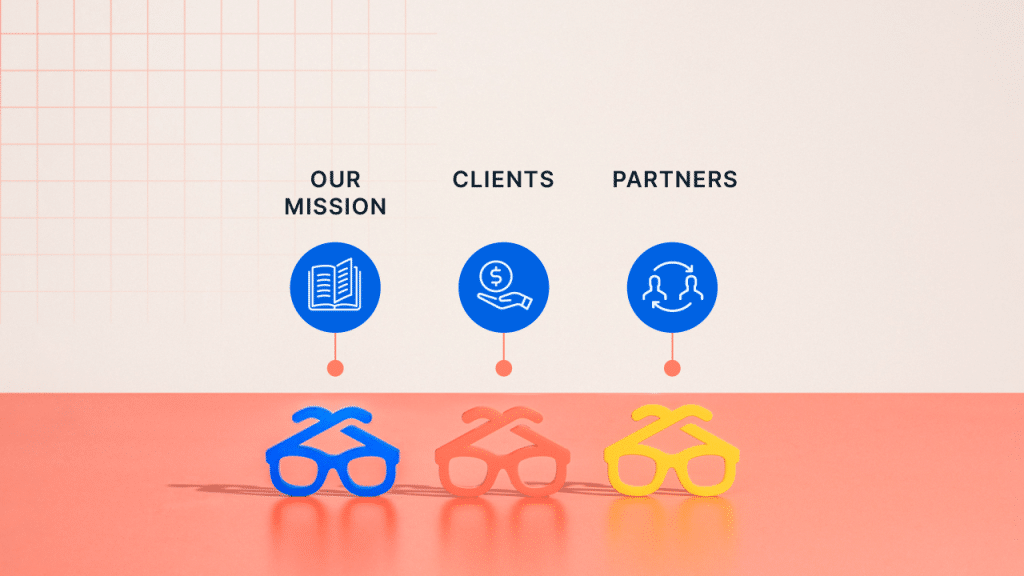 Our Client Focus
"It is not just a client-vendor partnership. We really feel a degree of co-creation."

—Ericsson CLO and Global Head of L&D, Vidya Krishnan
When we select Degreed partners, we put our customer's needs first. When asked how we pick our Degreed partners, I say, "Our customers tell us who they want us to work with." We realize every organization has different needs, and no one vendor has it all. That's why we connect with companies making impacts in our industry — so our clients can have it all without sacrificing anything. 
Our clients tell us they need ways to tie skills to external opportunities, so we work with providers like Eightfold and Phenom. All types of learning in Degreed together with career advancement opportunities in talent management systems create a clear, self-directed path for your employees to grow and stretch themselves, with minimal effort from business leaders.
And we don't just provide one solution. We give clients the opportunity to choose who they want to work with. For example, SAP and Workday are both human capital management systems with an LMS. We connect with and have established integrations with both. The synchronization of data we have with each modernizes the once time-consuming and burdensome task of combining people and learning data through automation.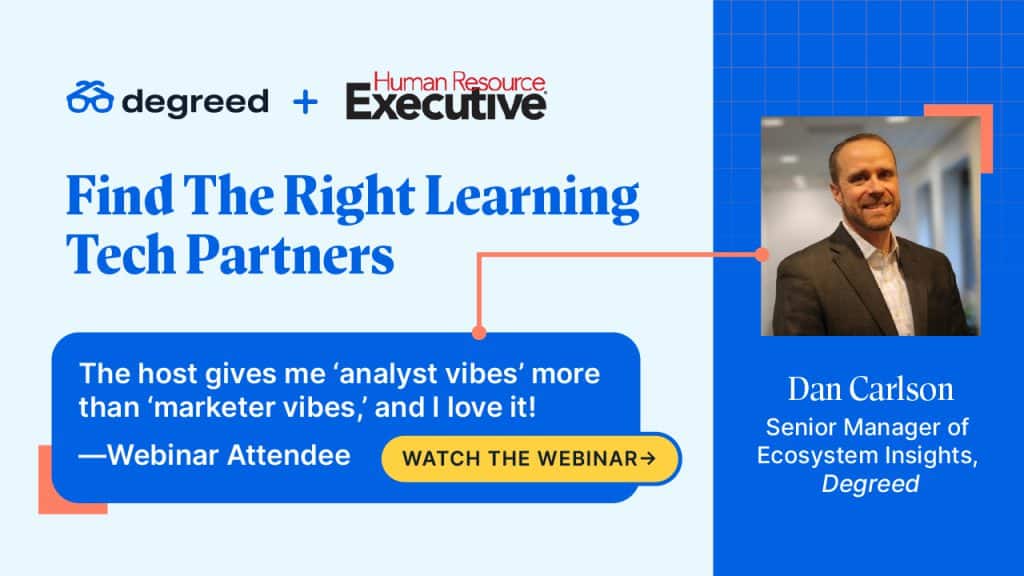 Our Partner Focus
Of course, our partnerships are also special because of how we grow and work with our partners. A great way to illustrate this is to tell you a bit about how Degreed connected with one of its earliest partners, CredSpark, an assessment creation tool. The connection began at an industry networking event. Straight away, we recognized that assessments play an integral way in signaling the depth of knowledge of skills learned. We recognized the strength of CredSpark. They recognized our strengths. And we both envisioned working together to provide clients with more data and engaging experiences. This became a way to provide access to tools without having to onboard another system since we're united.
Degreed and Credspark have grown together. Since the start of our relationship, CredSpark has created an enterprise product for our customers called CredSpark+ and partnered directly with Credly, which is a Degreed badging tool partner.
Want to learn more?
So while we may all cringe when someone says, "Teamwork makes the dream work," I can't help but agree — especially when I think about our Degreed partners. Teamwork is the best way forward. No one has all the answers or capabilities, so we need to rely on each other — especially if we're going to jailbreak the degree.
To find out more about our exceptional Degreed partners, check out our Degreed Ecosystem Directory.