Our true blue and orange colors are shining through. Degreed has been recognized as one of the 50 Highest Rated Private Cloud Computing Companies To Work For in a list released by Battery Ventures, a global investment firm, and cloud investor. They determine these rankings from data specifically provided by Glassdoor, one of the world's largest job and recruiting sites.

The list highlights 50 privately held companies where employees report the highest levels of satisfaction at work, according to employee feedback shared on Glassdoor. And we made the list, along with some really amazing companies like Slack, Asana, and Lever. Read the full press release here.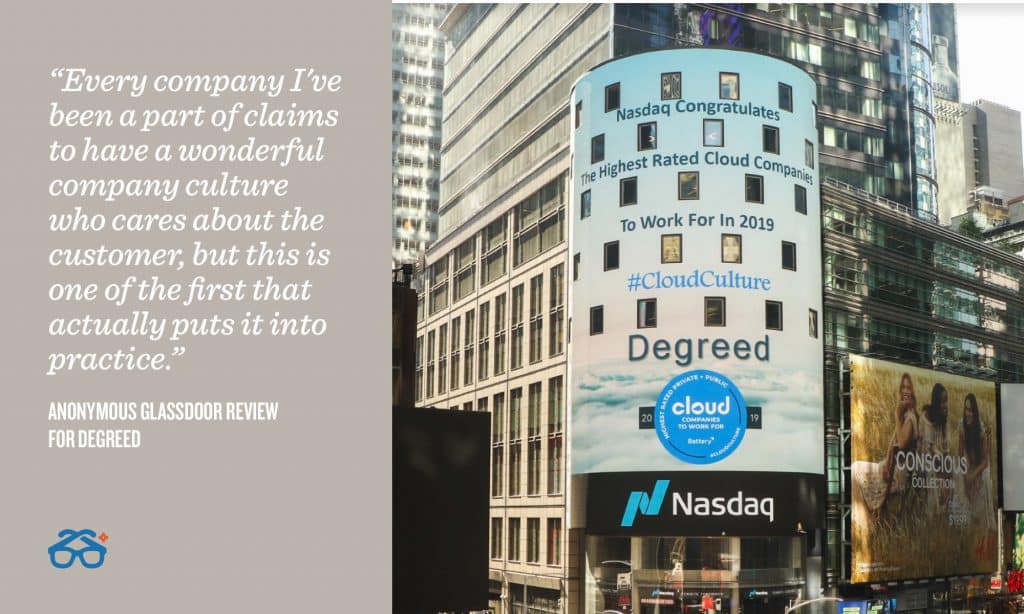 We're believers that books shouldn't be judged by their covers… but judging a company by its anonymous Glassdoor reviews is totally fair game. Here's what a few fine folks had to say:

"Empowering environment with a strong 'life balance' philosophy!"
"Best employer I've ever had. A tremendous amount of employee trust, support, and empowerment. Excellent benefits, brilliant mission, and an amazing team of talented colleagues."
"Parenting, while "jail-breaking the degree." …Because I'm well cared for as a parent, I'm unleashed to serve with higher impact. I naturally operate in this mindset with clients, who consume both our product and our philosophies. It's incredibly meaningful work."
"Degreed goes above and beyond to make sure it's employees are happy."
"The genuine passion this company has for its mission and for doing everything possible to support its customers is absolutely real…"
"This company really cares about its employees and their lives. Not only from a professional standpoint, but from a personal standpoint as well."
"Every company I've been a part of claims to have a wonderful company culture who cares about the customer, but this is one of the first that actually puts it into practice."
"The nicest people work here – at all levels. The Executive Leadership team really makes an effort to connect with all employees. I feel very valued on a personal level."
Degreed is here for a reason. Our dedication lies in our mission to move people forward and better their lives through lifelong learning — our employees are what make this mission attainable.

We also believe that a day on the job should consist of feeling both challenged and supported — to grow, learn, and succeed. It's why we offer unlimited PTO, learning stipend for personal education pursuits, child care reimbursement, true work-life balance, competitive benefits, and access to leadership at all levels.

And the best part? We're hiring! Join us and see what all the hype is about.
To learn more about the 50 Highest Rated Private Cloud Computing Companies To Work For, click here.