Editor's note: This post was written and contributed by RedThread Research.
Earlier this year, we started our inquiry into a fundamental question:
What skills contribute to DEIB (diversity, equity, inclusion, and belonging), specifically fostering diversity, creating equity, enabling people to feel included, and building a culture of belonging in the workplace?
We're now about 70+ articles, 20+ interviews, and 2 roundtables with ~50 people each into this project, so we thought it worthwhile to pull up and summarize what we've learned so far. Here are four insights we've identified to date:
The roles of senior leaders, managers, and employees differ
Lots of skills appear to be important
Skills increase by level
Same skills, different context
The roles of senior leaders, managers, & employees differ
We asked a wide range of folks about the specific roles and responsibilities that different employees have in fostering a culture of DEIB—focusing specifically on how those roles and responsibilities vary by level.
Senior Leaders
So far, we've consistently heard that the role of senior leaders is to set the tone and reinforce appropriate skills and behaviors. Some of the specific responsibilities include the following:
Champion, vocally support, endorse, and promote DEIB efforts
Drive the agenda for culture change, set goals, and create accountability
Develop policies, procedures, and practices by seeking input from a diverse group of employees to build structures for DEIB culture
Model the behaviors of the DEIB culture and foster an environment in which people feel safe
Challenge organizational / systemic / policy disparities
Evaluate DEIB initiatives and change programs periodically to assess their effectiveness
Managers
Managers, by contrast, are responsible for creating the conditions that allow a culture of DEIB to thrive. Some of the specific responsibilities in doing that include:
Create psychological safety within their teams that's required for DEIB to be a reality
Set clear expectations for employees and hold them accountable
Model appropriate behaviors for employees
Foster an inclusive workplace by raising awareness for the needs of team members, ensuring equitable practices and development of their teams
Proactively seek out different perspectives, understand people's challenges, and find solutions with their interests in mind
Employees
As you might expect, employees are generally expected to focus on activities within their control, such as improving themselves and engaging in appropriate behaviors. But, interestingly, even though we've heard about the power of grassroots efforts with DEIB, starting or engaging in those efforts isn't an explicit expectation we've heard anyone mention.
Here are some of the specific responsibilities we've heard:
Identify opportunities to learn about DEIB and improve their level of understanding
Engage and participate in DEIB initiatives at the workplace
Provide honest and useful feedback about DEIB initiatives
Proactively take initiative to advance DEIB (e.g., improving DEIB communication, avoiding microaggressions, and showing empathy)
Feel safe in exhibiting vulnerability in how they show up in the workplace
Lots of skills appear to be important
After establishing the DEIB roles/responsibilities of employees at different levels, we then asked folks to identify the skills that these different groups need to fulfill those responsibilities. As you might expect, this exercise generated a LONG list of skills—at one point, we had more than 75 discrete skills identified as critical to creating a culture of DEIB!
Which skills have been mentioned most frequently? They include:
Communication skills (including listening, storytelling, nonverbal communication, etc.)
Empathy
Giving feedback
Flexibility
Self-awareness
But there are a lot more than that. We will not share the comprehensive list because we will be testing that list in our upcoming survey. And we don't want to bias you too much before you take our survey on this topic, which you can take RIGHT HERE. (Sneaky how I did that, wasn't it?!)
This exercise, though, has generated 2 primary insights:
1. The issue of whether something is a skill or competency seems to really trip people up. Based on our previous research, Skills vs. Competencies, we know a lot of folks struggle to articulate the difference between a skill, a competency, a behavior, and a trait. So we addressed this issue in that report, saying it doesn't really matter as long as everyone in your org knows what you're talking about.
However, for this study, we're finding that people haven't thought about the basic building blocks for creating a culture of DEIB. Instead, they've focused on more abstract competencies (e.g., inclusive leadership) or outcomes (e.g., everyone feels included). Therefore, when we ask them to identify the skills to create that culture of DEIB, they struggle to answer it succinctly.
2. There's no real clarity on which skills are most critical. While this is a core reason we started this research, the breadth of perspectives on critical skills for DEIB is remarkable. This could be due to:
Unique org-specific factors that influence DEIB skills (e.g., culture, leader type, individuals' perceptions)
A lack of deep thought about the skills that drive DEIB
A challenge in separating DEIB skills and knowledge
Or some other factor
We're continuing to explore this subject through our survey.
Skills increase by level
When we began this research, we saw several skills frameworks implying that the DEIB-related skill sets of employees, managers, and senior leaders may somewhat overlap, but are largely discrete, such as shown below: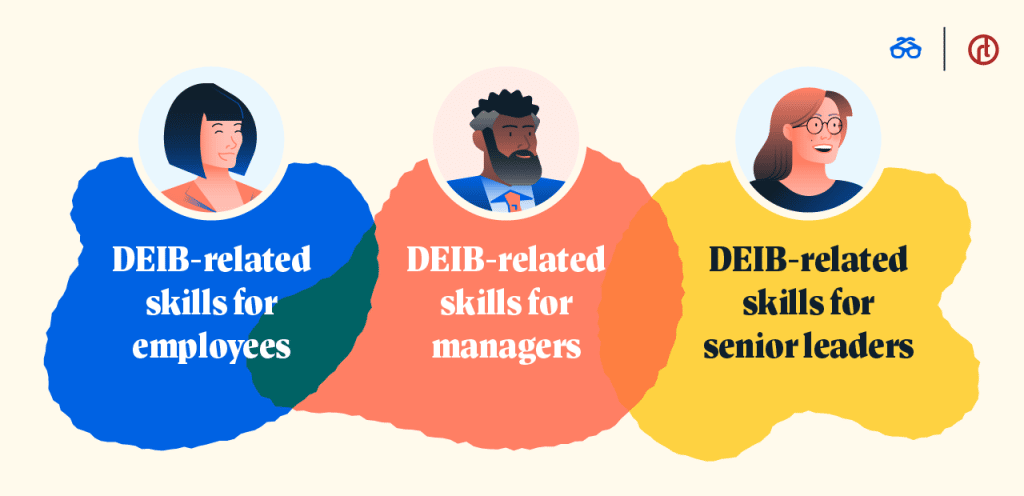 However, this was not reaffirmed by our interviews. Instead, we consistently heard from folks that DEIB skills build by level—and rarely are any skills subtracted. In other words, the skills sets are additive, whereby managers need more skills than employees, and senior leaders more skills than managers. We've illustrated this concept in this graphic below: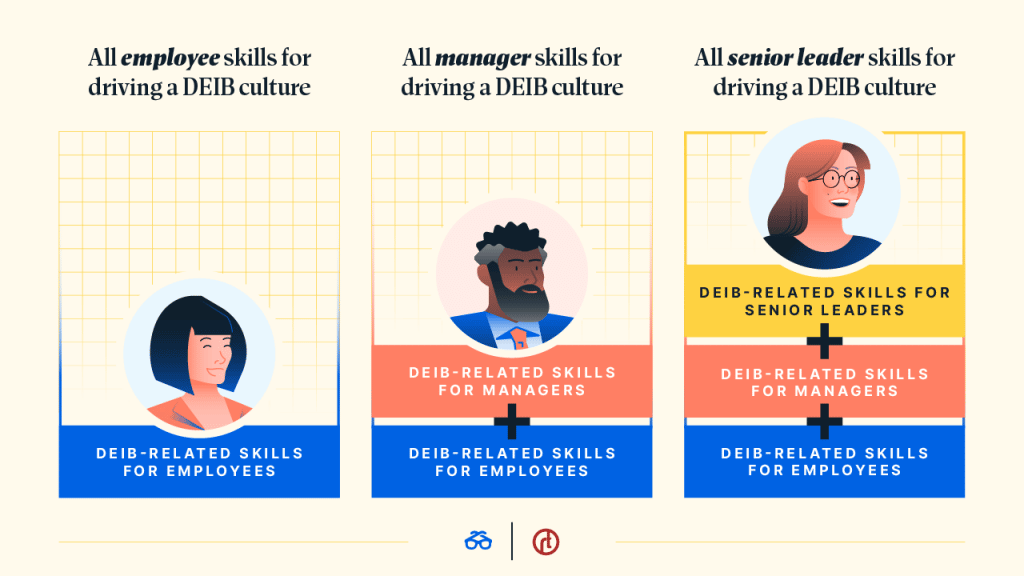 The idea of additive skills is incredibly helpful, because it can influence how we construct expectations of employees by level and how we teach these skills.
Same skills, different contexts
We've also consistently heard that DEIB skills shouldn't be taught separately from other leadership skills—but that's exactly how they've been taught for decades in many orgs. Some of the reasons we heard for this contradiction include:
All DEIB-related training was done by groups outside the learning or leadership function (i.e., provided by a centralized D&I team or employee resource groups)
The learning or leadership development team's lack of knowledge about relevant DEIB-specific contexts to build into existing leadership training
The lack of a mandate for learning or leadership development teams to integrate DEIB-specific content into existing leadership training
We heard loud and clear that this approach needs to stop—as it makes DEIB "another" thing that people must do. Instead, leaders should be integrating DEIB contexts into existing leadership skills trainings, which will then normalize the everyday use of skills that help create a culture of DEIB.
What happens next?
Well, there you have it: 4 initial findings. As mentioned above, this blog is a progress update—not a final report—on what we've seen to date, so these are not our final findings. However, we like to "think out loud" with our research process and share where we are at the moment.
The next step in our process is to get quantitative data to understand this topic at a larger scale. We have conducted a survey, with anyone employed at an org with more than 100 people eligible. Now that the survey is closed, we'll analyze the data, conduct some additional final interviews, and publish our final report in September.
We're looking forward to unveiling our conclusive research this fall!