New year, new… staff? The end of 2021 left companies scrambling to recruit top talent, backfill positions, and manage the growing consequences of The Great Resignation. But it's not all bad news: this challenge could make 2022 your biggest opportunity yet to realize significant ROI from investing in your people. And here's a New Year's resolution to help: enhance your employee experience.
Helping you slow staff departures is why we held two sessions at Degreed LENS 2021 — led by marketing and leadership experts Neil Bedwell and Jason Averbook — that zeroed in on prioritizing the people who make your organization thrive. The topic was timely; a Microsoft study found 41% of workers globally are likely to consider leaving their current employers within the next year.
"Employee experience matters more than ever," said Averbook, CEO and Co-Founder at Leapgen.
Give Your People What They Want
How? Listen. Connect. Empathize. The answers to people problems aren't always technical or scientific. They can be psychological and emotional — human.
"People don't work for companies. Companies are people," said Bedwell, Founding Partner at LOCAL.
Acknowledging your organization is a collection of emotion-driven humans with goals and aspirations — just like you — can help you figure out how to improve the employee experience.
People want connections. They want to feel valued. They want to feel fulfilled by the work they do. And if they don't, they have options in today's booming, employee-driven job market.
The focus on employee needs isn't just for their benefit. It's for the good of your company. Keeping workers satisfied can grow revenue. Companies with lower turnover rates average profits four times higher than those with high turnover.
Happy Employees Lead to Happy Customers
You might be thinking if there's extra money and time to invest, it needs to go toward enhancing the prospect and customer experience. But what if you could do that by investing in your employees?
For decades, companies have tried to curate the "perfect" customer experience, with that ideal determined and dictated to employees by leadership. Often this results in rules and procedures that outline how employees should interact with consumers — controlling how workers dress, what they say and more.
But that's just addressing symptoms of a poor consumer experience, not the roots.
You can win clients with expensive marketing, a fantastic product and a well-dressed employee. But interactions with one unengaged, unfulfilled worker can ruin all of that. Consider this: if your people don't want to be at work, why would customers want to work with your organization?
Engaged employees are more likely to improve customer relations, driving 20% higher sales, according to Gallup. When your people feel as valued as the customers they're supporting, it helps deliver a better experience.
As Bedwell reminded us, your employees create customer experiences — positive or negative. In fact, "employee experience is probably the biggest driver," he said.
If your people believe in your company, then your customers will too. So market to them. Emulate and reiterate the mission and purpose of your organization regularly. Be honest and involve them in decisions so they're invested in outcomes. Provide people-centric benefits that show you care.
Then you can see what a dedicated group of happy people can do.
"Your employees are an audience worth winning," Bedwell said.
How can you win your people over?
1. Fulfill emotional needs.
For many years, it's been an expectation (albeit a misdirected one) that emotions be left at the office door. But ignoring that workers have emotions doesn't stop them from feeling. And it impacts their work life. This is why many people are joining companies that prioritize well-being.
Maybe you want to do that too but don't know where to start.
In an Achievers study, 74% of respondents cited interesting work as a top motivation to stay with their current employers and 69% cited recognition and rewards. In addition, 76% of respondents cited a positive corporate culture as important or very important. "Compensation was seen as a lower priority for the workers surveyed," according to the study, "ranking below positive corporate culture and opportunities for career advancement."
Why? Because they're people. They crave recognition, fulfillment, personal growth and positivity.
Bedwell summed this up well: "Happiness at work is actually driven by emotional needs."
To ring in the new year, check in with your employees, acknowledge their hard work and promote positivity.
2. Help people learn and grow.
Our State of Skills research report found nearly half (46%) of workers said they're more likely to leave their employer if they don't see a commitment to upskilling and reskilling.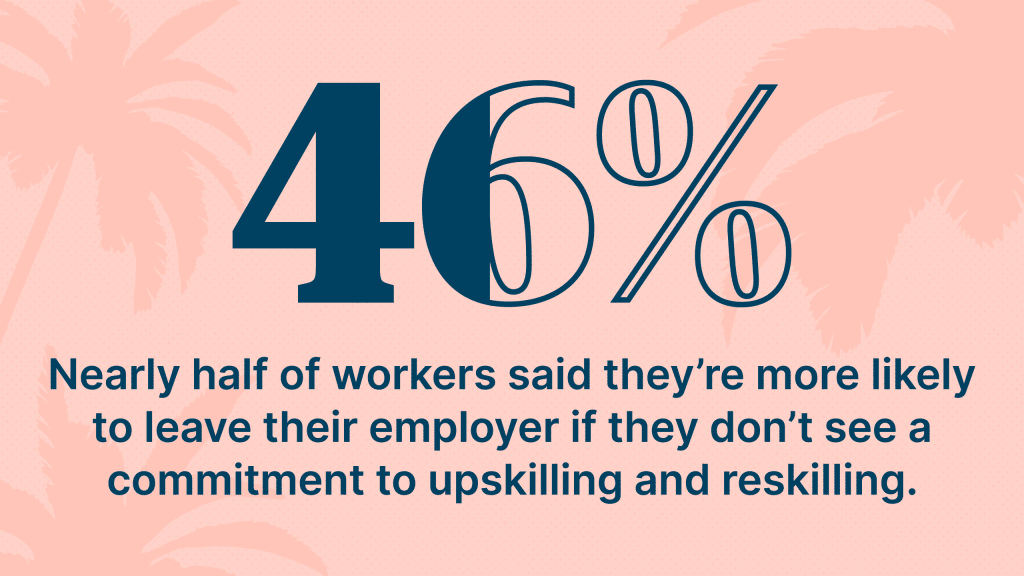 "Employees are demanding to be developed to be empowered. And if they aren't, they will leave," Kat Kennedy, Chief Experience Officer at Degreed, told LENS attendees.
We're seeing that happen in real-time. But learning isn't just advantageous for workers. It can be a big-time differentiator for business.
The benefit of learning is two-fold. Personal growth opportunities give workers reasons to stay and give your company competitive advantages — like new skills and the potential to increase clientele. Give your people opportunities to stretch themselves and you might be surprised what they can achieve.
When people engage with meaningful things, they can evolve and so can your organization. Sebastian Terry, Founder of 100Things, reminded us of this in his LENS keynote:
"If we evolve as individuals within a community of people who are all doing the same thing, then individual growth leads to collective growth."
3. Trust your workers.
Bedwell highlighted that efforts to control employees often prove more costly than simply trusting them to do the right thing.
In one example he gave, a company that tracked and monitored employee expenses to eliminate fraudulent claims decided to cut that program. Why? Because more money was spent on micromanaging people than lost from people cheating the system.
It can be scary to relinquish a hold like that. But if you don't think your people are good or you can't trust them, then why are they there? Believe in your people so they can believe in you.
The employee experience you create can inspire your people to not only stay but drive results and advocate for your organization. If you can create it, you'll retain more satisfied and hard-working employees during this era of loss.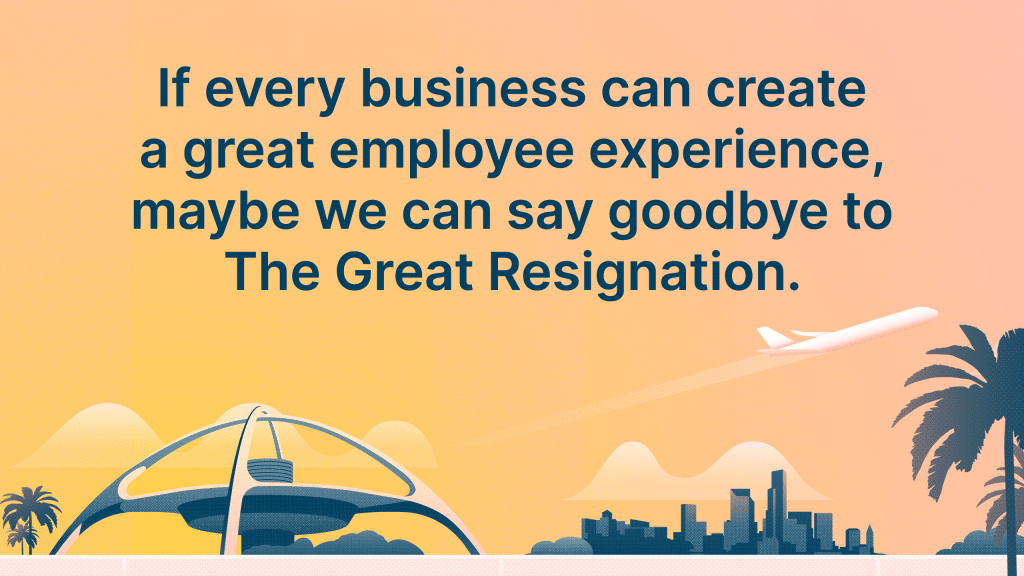 And if every business can create a great employee experience, maybe we could all wave goodbye to The Great Resignation in 2022 and welcome a more pleasant era: The Employee Enlightenment.
Want to Learn More?
Session recordings from our annual conference, Degreed LENS, are available on-demand now. Explore topics like these and more when you sign up for access.
Don't forget to download our new guide, 4 Ways Every Manager Can Create a Positive Learning Culture, to discover what managers can do to build a positive learning culture.