Being an L&D leader in 2023 is rough. The C-Suite expects more and more, and the learning technology solutions available to meet those expectations seem endless. Understandably, so many challenges lead to serious growing pains:
Low learner engagement
A lack of personalized learning
Unfilled skill gaps
These can make the connection between L&D and business outcomes ambiguous at best, but most of today's L&D struggles are symptoms of a larger, systemic problem: a constrained learning technology ecosystem.
Unlocking your underperforming ecosystem may be the best solution. Let's explore how an interconnected, varied, and unrestricted ecosystem alleviates today's most common L&D growing pains.

What's a learning ecosystem?
Fuzzy on the exact definition? No worries. Let's look at the basics and catch you up. If you're already familiar (or you're an ecosystem groupie), feel free to skip ahead.
A learning ecosystem comprises people, content, technology, and culture. When they're humming along in fine working order, these components harmoniously create a comprehensive learning environment from your employees' first days to their last. Technology is the connector. It details how well the processes and solutions are working to solve your company's critical learning needs.
Now this is not a new topic. In fact, Degreed and many others have been talking about the learning ecosystem for years. But despite the conversations, it's still a challenge many L&D organizations wrestle with because of the problems that come with a disconnected, unvaried, and restricted ecosystem.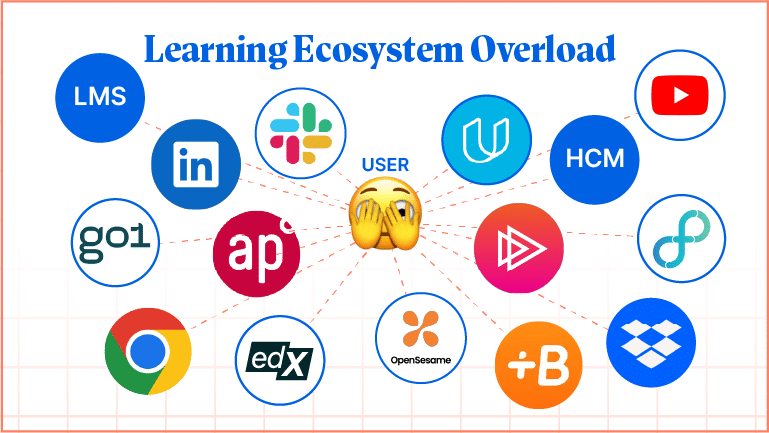 Problem No. 1: Low Learner Engagement
If your learner engagement dips, a disconnected, wild, and unruly ecosystem may be the reason why.
The marketplace for learning tech is wild and unruly, and this chaos can easily permeate your learning tech ecosystem. New tools, platforms, and vendors seem to pop up every day, and integration challenges abound. So as you shop for content and partner with various vendors for specific problems, after a while you end up with an unplanned and disjointed collection of vendors and tools. Throwing more resources at a problem without an approach to organize those resources and make them easy to navigate only exacerbates the problem of too much of a good thing can be a bad thing.
For example, let's say you use four different technology solutions, and each requires employees to input their current skill sets. Will your employees actually enter their skills into four different programs? It's unlikely, and probably even more so when you consider that, one, the input process for each program will be different and, two, their skill taxonomies likely vary. Fragmented content and tools lead to poor employee experiences and low engagement.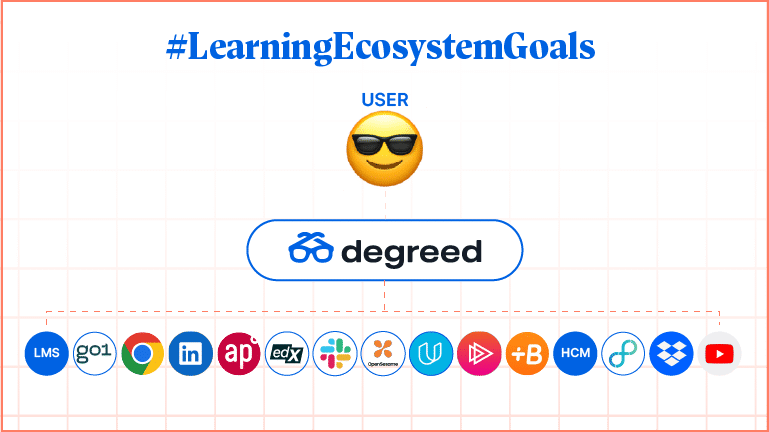 Solution: Streamline and interconnect your ecosystem.
Studies show employees want to learn and upskill. Low engagement doesn't mean employees don't want to learn; it means they're hitting barriers on their learning journey. These impediments often include finances, accessibility, time, and a labyrinth-like learning experience. 
As you can imagine, when various technologies speak the same language and share data, it makes for a streamlined and smooth learning experience. In an interconnected ecosystem, tech platforms and tools can share data like skill lists, skill taxonomies, and the overall progress of learning. For example, skills data gathered by HR during a hiring process can be shared from one platform to another. Sounds magical, right?
A specific strategy to interconnect your ecosystem is to focus on the right vendors. For example, the lowest watermark to measure any learning experience platform (LXP) is that it should be a single place to discover and connect to content (e.g. internal proprietary content, premium third party content, and free content from across the web). So if your main partners are good vendors, then streamlining should be an easier task.
For more specific techniques to interconnect your current ecosystem, download our free whitepaper: Building Your Learning Tech Ecosystem: Open, Diverse, Flexible, and Interconnected. 
Problem No. 2: Not-So-Personalized Learning Experiences
If you don't have personalized learning, it's time to diversify your learning tech ecosystem.
Another common growing pain for L&D is meeting the demand for personalized learning. According to David Perring, an analyst at Fosway, "The need for better, more personalized learning is accelerating — not declining." But personalized learning requires companies to support a diversity of learning needs. These include purpose-driven content, flexible platforms, and adaptable learning preferences. 
Solution: Diversify your ecosystem.
Offering more personalized learning experiences sounds complex and expensive, but it comes down to a simple ecosystem change: diversification. Diversifying, or filling the gaps in your ecosystem, simply means plugging in the right learning tech tools, platforms, or vendors. To expand personalization, consider adding technology that appeals to all the different ways people like to learn. This could mean plugging in adaptive learning platforms, data integrations, mobile learning, gamification, virtual reality, and more based on your organization's specific needs.
Problem No. 3: Unfilled Skill Gaps
To fill company skill gaps, first fill the gaps in your learning tech ecosystem.
Many companies struggle to identify, and subsequently fill, company and departmental skill gaps. In the past, most filled these gaps by hiring new talent. However, study after study has shown that defaulting to hiring external talent is expensive, takes too long, and is simply unsustainable. So, companies are increasingly turning to the approach of reskilling from within or borrowing talent via gigs and internships.
Many business leaders are turning to L&D to meet this critical learning need for deep upskilling and reskilling. As Fosway analyst Perring explains, "The learning platform market is also shifting, with many organizations looking to be 'skills based.'" This shift means most existing learning tech ecosystems are missing this deep upskilling and reskilling component.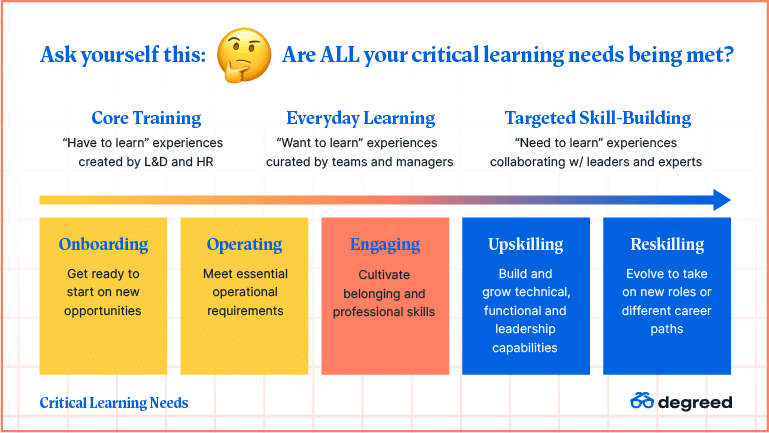 Currently, most legacy learning tech ecosystems meet the following critical learning needs: onboarding, performance training, and basic skill learning. To put it simply, you need to find a learning tech solution that drives employee engagement and enables deep upskilling and reskilling.
Solution: Keep diversifying.
To meet your critical deep upskilling and reskilling needs, the most promising solutions are long-term programs that support collaborative and project-based learning. Many experts in the field, like Bersin, refer to these skill-building programs as talent academies, academies, or capability academies. Again, finding the proper learning tech tools, platforms, and vendors is critical. For deep skill building, consider a vendor-comprehensive solution.
Problem No. 4: Difficulty Diversifying & Expanding Learning Experiences
If you already know you have an ecosystem problem, but you're struggling to fix it, you're likely suffering from a restrictive ecosystem.
Let's say you want to add a new gamification app to your ecosystem. You present some excellent options to your LMS, LXP, or other major vendors. When you ask them to work on the integration, they say they will look into it or simply decline. This is what a restrictive ecosystem looks like.
Solution: Work with unrestrictive vendors.
While many vendors have ecosystems that claim to be open, they can be limited in their available integrations (like flat file feeds, webhooks, and APIs) or their capacity to take on developing new ones, which limits what you can do within their ecosystem. If your ecosystem feels restrictive, a way to change is to switch to vendors with a demonstrated willingness to integrate with other new and exciting learning tech solutions.
A quick way to gauge a vendor's willingness is to simply evaluate how many integrations they've actually developed over the years. And don't just look at content providers. Look at various HCMs, LMSs, and talent intelligence/marketplaces. Unrestricted vendors will go beyond the learning ecosystem and expand their reach across the larger HR tech stack.
Leaving Your L&D Growing Pains Behind
When you take a big step back and look at your problems, you'll realize that most L&D growing pains — a proliferation of options, gaps in personalization, low learner engagement, skill-building challenges, and more — stem from restricted ecosystem practices. To overcome these difficulties and survive, you need an interconnected, varied, and unrestrictive ecosystem that unlocks learner engagement and personalization and helps you fill all the skill gaps at your company.
If you want to know exactly how to create an interconnected, varied, and unrestrictive learning tech ecosystem, check out our whitepaper for strategies and actionable tips.