When companies in recent decades tackled the global skills shortage, they recruited new talent and hired contingent workers, essentially buying and borrowing the skills they needed.
Here's the rub: That approach isn't sustainable. There are only so many workers with the right skills to be hired in this world. And ultimately, contract work is a short-term investment. It may put out fires, but it does nothing for fire prevention.
The worldwide war for talent is bigger than ever, which begs a couple questions: Have business leaders in recent decades failed to appreciate the risk that a skills shortage poses to their organizations' survival? And have they done enough to help?
More and more, L&D is embracing a new solution: filling the skill gap from within. How? Through upskilling. And the most effective way to upskill your people is through experiential learning opportunities.
How We Learn Matters
"As working adults, we learn in a number of ways," said Charles Jennings, Co-founder of 70:20:10 Institute. "We learn through structured development, we learn through interaction with other people — maybe informally, informal coaches, informal mentors, maybe formal structures. We learn through having a good network.
"And lastly, we learn mostly through experience and practice," Jennings said. "We learn through the opportunity to practice… And we learn through taking the time out for reflective practice, to reflect on what we've done and how we've done it. High performers have usually had thousands and thousands of hours of practice in the context of work."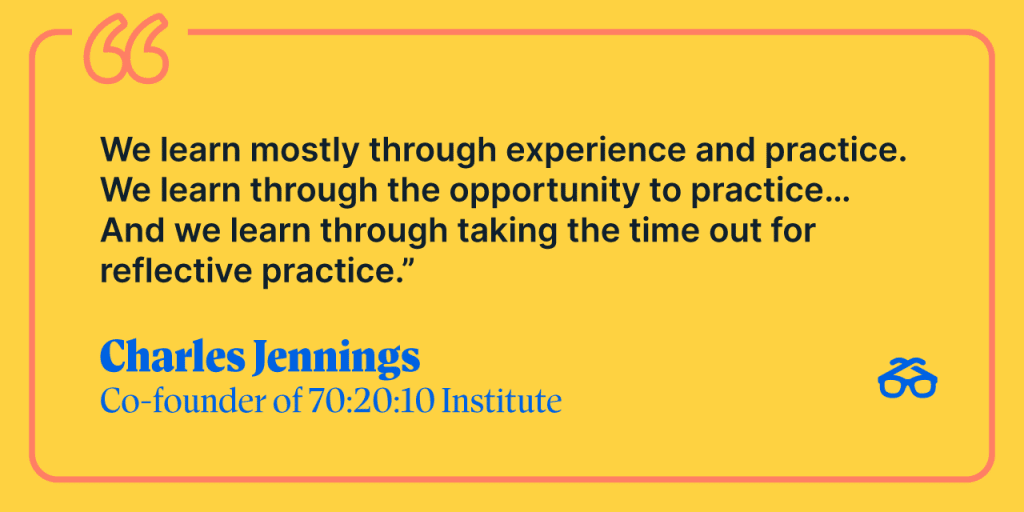 Consider this example: If Mona is asked to analyze sales data but has never done that before, she might watch several instructional videos about it. Perhaps a learning experience platform (LXP) recommends that video content, and that's great. It's a personalized approach to scaled corporate learning that Degreed pioneered. And now, we think that L&D can give Mona even more — to reinforce further what she's learned. It helps immensely if Mona can stretch herself and apply her new skills — on the job, in the real world — occasionally making mistakes along the way and learning from them.
An experiential learning opportunity to apply her new knowledge and practice the concepts she's learned can help ensure she's fully capable of doing the work that needs to get done.
Research backs this up. "ELT (experiential learning theory) is a dynamic view of learning based on a learning cycle driven by the resolution of the dual dialectics of action/reflection and experience/abstraction. It's a holistic theory that defines learning as the major process of human adaptation involving the whole person," according to authors Alice Y. Kolb and David A. Kolb.
What does that mean in plain English? It means that experiential learning opportunities combine learning concepts, doing work, and reflecting on that work to help people accomplish the task at hand.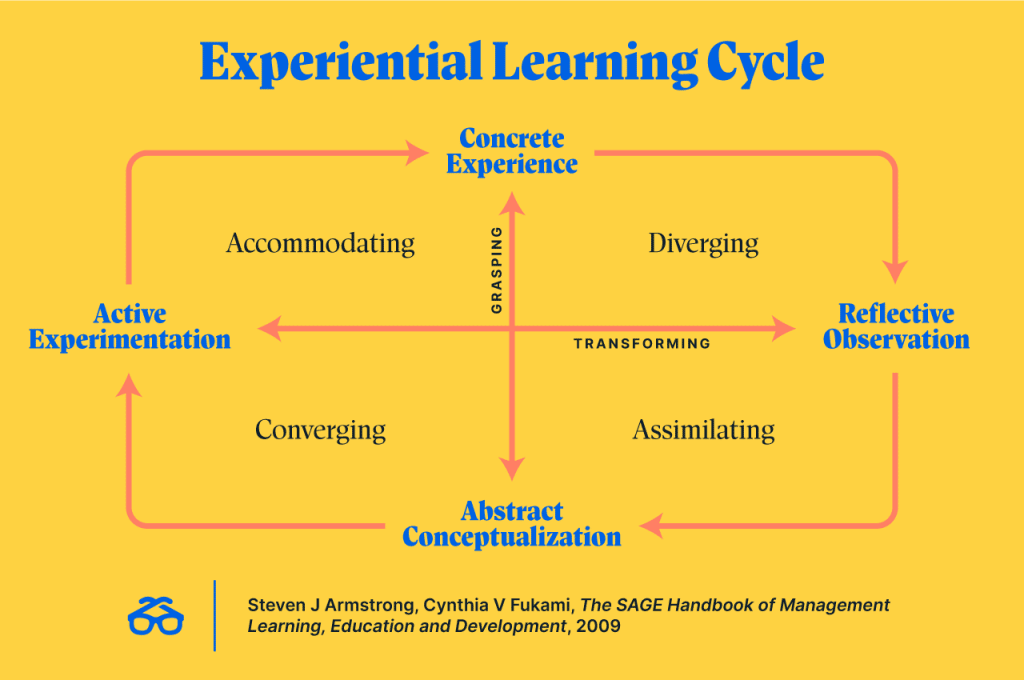 This idea isn't exactly new. On the contrary, it's what the 70:20:10 corporate learning model (70% challenging experiences and assignments, 20% developmental relationships, and 10% coursework and training) is based on. Let's break the formula down, and then let's look at how we at Degreed are thinking about it in new ways — and reshaping our platform as a result.
Understanding 70:20:10
The 10% and 20% parts of the formula provide people with access to learning content as well as developmental feedback from colleagues, respectively. But because these elements don't inherently create space for people to apply their new knowledge, your organization might not benefit as much as it needs from the effort.
To support the 70% part of the formula — the experiential part — companies have traditionally embraced rotational programs, in which small percentages of people identified as high performers get to do new types of work. And let's face it: While these programs are impactful, they can be cumbersome — in fact, a huge lift. L&D and HR often have to create these programs front to back, get stakeholder buy-in, find the work for people to do, get managers to provide feedback, and then take people away from their regular jobs for weeks at a time to participate.
These types of rotational programs aren't scalable. There's a better way to go about upskilling. A way that brings opportunity to a much wider population. A way that can be hugely impactful.
The Opportunity Marketplace
An intuitive opportunity marketplace can help just about any company scale experiential learning opportunities to a large population of workers. The 70:20:10 ecosystem remains, but the 70% part of the formula looks a lot different than those cumbersome rotational programs available to only a select few.
While talent marketplaces have been around for years conceptually, opportunity marketplaces are relatively new. And their advancement is driven by new technologies.
By scaling opportunity, an opportunity marketplace gives everybody the chance to apply new skills in a real-world, on-the-job context. It's a place where all your people get a chance to practice what they've learned while getting work done and also get immediate feedback from coaches, mentors, or managers they might otherwise never connect with.
And when your people engage with an opportunity marketplace like Degreed, the lift for L&D is lightened. Why? Because, unlike other platforms, Degreed excels at getting workers directly into its opportunity marketplace. When your people are using an LXP like Degreed to learn and upskill, they're already on the learning experience part of the platform. Making good use of the marketplace is easy, because they're already there, and they can browse it every day.
Equally important is the connection between what your people are learning and the types of experiential learning opportunities they get to explore. If they're using Degreed to learn new skills, the opportunities they see are aligned with that learning. And that means their opportunities are personalized, relevant, and changing over time as their skills grow.
Thus, experiential learning with an opportunity marketplace solves two problems. One, it provides context and meaning to learning for everybody. And two, it provides a different modality for learning — by giving everybody the chance to develop themselves by doing work that needs to get done.
Want to Learn More?
To read more about opportunity marketplace strategies and implementation, download the full report, Career Mobility: Mindset Over Movement.
Contact us to learn more about how Degreed can help you engage employees by connecting skills to new opportunities.