Danny Peebles had only begun to make his mark as an NFL wide receiver when a harrowing on-field collision ended his athletics career.
"I'll never forget it," he said. "It was the first year of Sunday Night Football on ESPN."
A graduate of North Carolina State University and the second round 1989 draft pick of the Tampa Bay Buccaneers, Peebles was playing for the Cleveland Browns against the rival Houston Oilers on Nov. 17, 1991, when the helmet-to-helmet hit compressed his neck into his shoulders, fractured in his C3 vertebrae, and temporarily paralyzed him from the neck down.
"I was at the top of my game, at the height of my powers. And in one play, it was over. But once we realized I was going to regain mobility, I wasn't in panic mode about my next steps."
Danny didn't panic because he'd always put learning first. In fact, we learned this week he's never given up on the lifelong learning mindset he's embraced since childhood. As our Q&A affirms, it's a mindset that's guided Danny throughout his nearly 20-year career in L&D and HR tech—and every day here at Degreed, where he works as a Raleigh-based Enterprise Sales Director.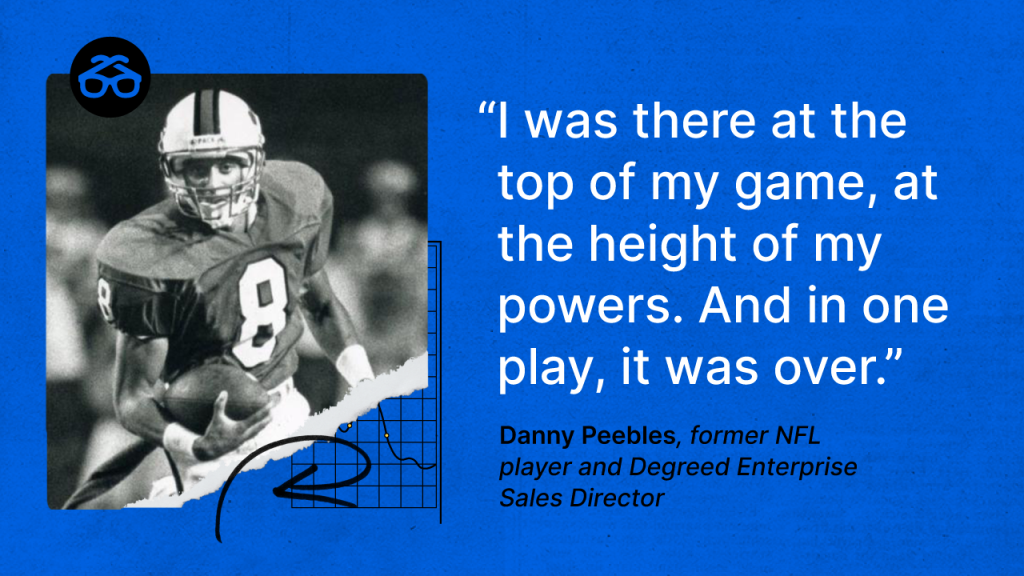 Degreed: Working in the world of L&D, you obviously understand the importance of building new skills. Where did that appreciation originate?
Danny: I come from a family of educators. My mother was a math teacher. My oldest daughter is a teacher. My grandparents, my mom's parents, were college professors: My grandfather was a math teacher. My grandmother was an English teacher. So math and science are kind of what I lean toward. I just happened to be good at sports. In fact, my nickname through middle school was "The Professor."
I started off at North Carolina State in computer science, and the challenge in computer science at that time was it was all mainframes. There were 25 seats in the computer lab. After I got out of football practice, sometimes I'd be waiting until 2 or 3 in the morning to get a seat to do my punch cards and things of that nature. And I was like, I can't. Do you know what I mean? I can't survive doing this.
I studied biology. But eventually I was like, "What am I going to do with a biology degree?" I've always been a logical, practical thinker, but I was ignorant at the time of the Raleigh pharmaceutical research triangle right in my backyard.
I had a cousin who was a partner at that time at [accounting firm] Arthur Andersen. We had a conversation. I switched my major and made the decision to get a degree in accounting, and I got a second degree in business management. One of my advisors was like, "You're only two classes away from getting a second degree." So while I was prepping for the NFL draft, I went ahead and did two more classes. That's how important school was to me. The draft was the night before my finals. When I showed up for my exams the next day, they were perplexed.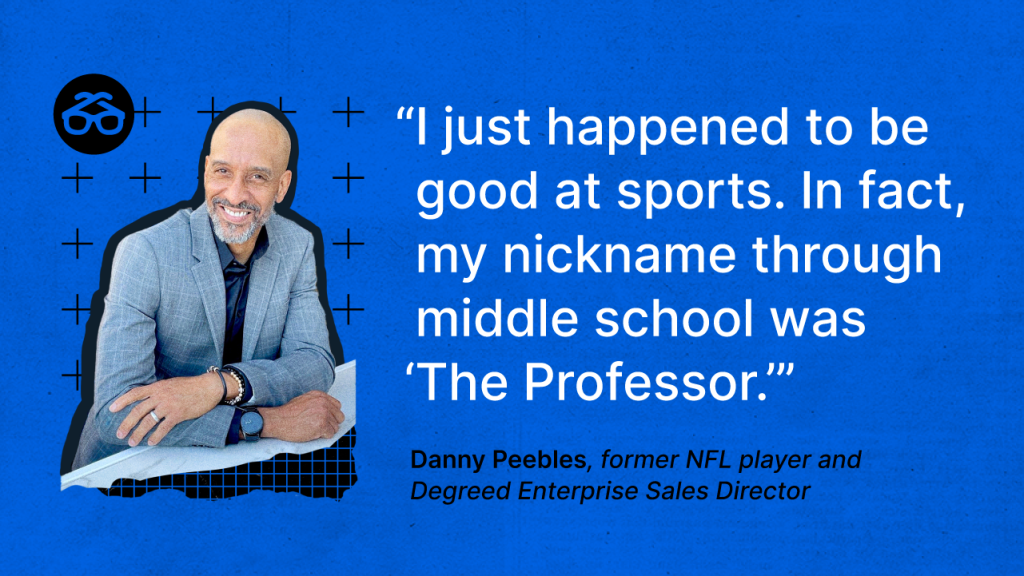 Degreed: You say you "happened" to be good at sports, but there's got to be more to it than that. What did your path to the pros look like?
Danny: Coming out of high school, I got recruited for both track and football by some top schools. I was probably actually better at track than I was at football. NC State is seven minutes from my house where I grew up. So I grew up an NC State fan. Honestly, the reason I ended up at NC State is because I thought, "If I go to school and get on the field and play, it'll be easy for me to get a job." That was my mentality coming out of high school. I wasn't thinking, "I'll be in the NFL."
Nowadays, I mentor kids and go speak. In middle school, they're saying, "I'm going to the NFL." When I was that age, I didn't have any preconceived notion that would be the case. I always thought that if I didn't get drafted before the fourth round, I was going to do other work. The money you could make in football as a late-round pick back then wasn't like it is today. I already had other job offers coming out of college. But during my senior year, I started moving up the charts to the point where they were talking about me as a potential late first-round, early second-round pick. That changed the dynamic.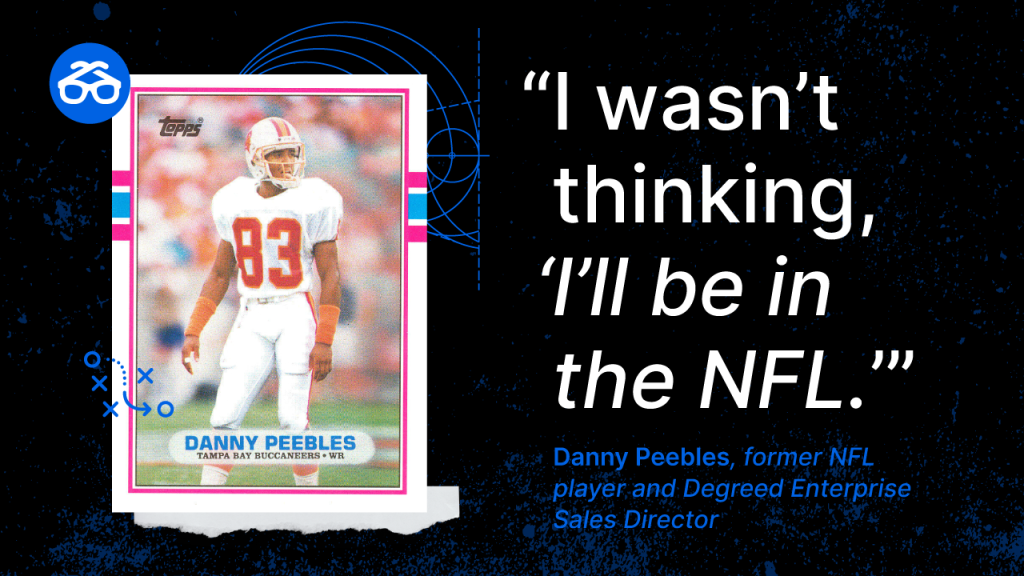 Degreed: You played running back in high school, but you weren't big enough for that position in college or the pros. How did you adjust?
Danny: I naturally was a running back and defensive back, but I knew I wasn't going to be big enough. Back then, if you were fast, you played running back. So literally almost my entire career until my senior year in high school, I played running back. I had to learn to be a receiver. It wasn't as instinctive for me. I forced my high school coach to move me to receiver my senior year. I probably caught 15 passes my senior year. I had more interceptions. But it was vital.
We didn't call it "skilling" then, but that's what I had to do. I had to refine my skill set. I had to upskill myself. The path to success in any field requires continuous growth and a relentless pursuit of improvement. It's about making a choice to invest in yourself, even when it's not easy.
I've always wanted to push myself forward to be relevant. Take the role I have today. Sales was a learned skill for me. As a kid, we had to sell raffle tickets and stuff to raise money, and I wasn't going to ask anybody for anything. You would've never in a million years convinced me I was going to be a salesperson. But it works for me today because I've upskilled, and I believe in what we do.
Degreed: How does your personal career journey inform your conversations with L&D leaders, our customers, and prospective Degreed clients?
Danny: I see the learning and business leaders I sell to as coaches. I often talk to them as If I'm talking to a coach about empowering a team. When I'm talking to prospects, I like to talk about their individual employee's journeys. I talk about my own journey too.
In my first year with access to an LXP, I learned more than I had in the previous 20 years of my professional career. I'm always trying to hone my skills. I'm so grateful for platforms like Degreed that provide a comprehensive solution for skill-building and continuous learning. It's like having a personal coach and mentor right at your fingertips. I'm currently learning a lot about generative AI and Chat GPT. And I'm always keeping current from a business development standpoint.
When I'm talking to prospects, I like to talk about how they can improve the individual employee's learning journey because it's going to help the business reduce turnover, which improves the bottom line. It's going to help boost career mobility. It helps business leaders keep the people they want to keep.
The beauty of the LXP to me, versus an LMS, for example, is the experience. I'm passionate about that with the people I'm talking with because of what's in it for them. And if you watch me demo, most of the time I'm demoing from the passion of the person, the employee, the learner.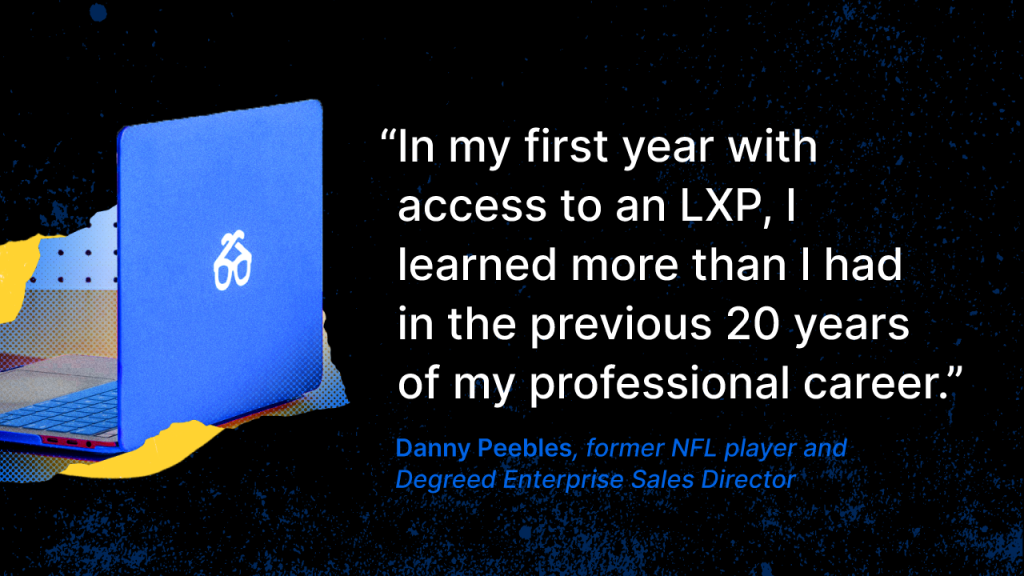 Degreed: You enjoy mentoring kids, and mentioned they often dream of the NFL. They can't all make it. How do you talk to them about other options?

Danny: I'm not going to kill anybody's dream. I always say, "Chase it 100 miles an hour, but don't just have one basket. You need to have something not as a Plan B but as a parallel."

Presuming they do make it, a good education is going to help them be more engaged in their affairs, finances, and things of that nature. I point that out.

But the most important thing I say is, "I was right there where you want to be. One play, one hit, took it all away. So just because you get there doesn't mean you're going to stay there."

That message, that's where I think I actually make the biggest headway.