If your endgame is to change the way people learn, designing your solution with your employees at the center of your strategy is critical. It's certainly much easier to develop your solution within the confines and expertise of a learning team, but that's a recipe for your new learning initiative to remain on the shelf, unused. And it's far less rewarding.
Instead, it's imperative to investigate the way things are — exploring the needs, goals, aspirations and perspectives of all your people — out in the wild, beyond the four walls of your L&D department.
From there, you can develop people-centered strategies that proactively guide your people to new ways of learning.
Let's look at how you can gain a global understanding of the way things currently are at your company. It's actionable, and it'll provide you with a framework you can use to put natural, people-centric learning into practice.
Understanding your people drives engagement.
L&D pros often share a common vision — that employees can meet their learning needs, access all their learning content from one place, and connect with experts inside your business who can support their professional growth.
Let's say you're considering implementing a learning experience platform (LXP), because people have made it clear they want a more modern and speedy way to learn.
Before you even begin to design your solution, you must first understand how your workforce learns and what those learning experiences look like. What do people want from their learning experience? What makes them dissatisfied? What do people value in your current solution? 

From there you can design your solution to support specific, real-life objectives. Now, you might have some objections to this approach: "We've already chosen our solution, and we're ready to implement it" or "We've already implemented a solution, and we need to drive adoption."
Spending time understanding how your workforce currently learns — no matter what stage you're at — is critical. Gaining this understanding will help you engage the right people so you can:
Implement your solution successfully
Know how to continually evolve in your strategy
Clearly and convincingly articulate the benefits of your new learning solution to stakeholders from the C-suite on down.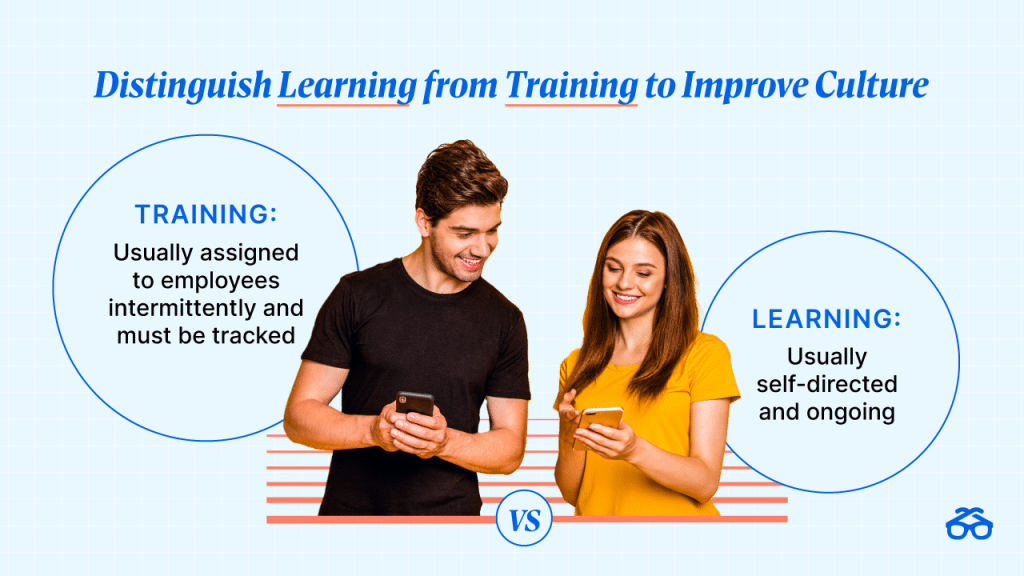 An example is the common complaint made by employees at many companies today, who feel they "don't have the time to learn."
Amritha Murali, Head of Learning and Development for Group Functions at the London-based multinational mining company Anglo American, found this very much to be true when trying to promote learning opportunities to her businesses. Murali believes people don't "find time" to figure out how to solve a pressing problem; they do it to meet a need or address a new priority.
Murali also believes people learn for themselves and their own careers, not to tick a box.
But Murali dug deeper and made some interesting discoveries:
Employees view corporate learning as different from real-world learning, even though they're one and the same.
Employees think learning and mandatory training are the same, even though they're not. While there's an element of learning in training — particularly compliance and safety training — it needs to be tracked and pushed to employees intermittently. Learning, on the other hand, is ongoing and often self-directed.
L&D professionals use the term 'learning' to refer to training. In a company where mandatory training is considerable, this can be detrimental to the creation of a positive company learning culture.
Only 13% of learning on the Anglo American learning platform was self-directed in June 2022, while the rest was pushed in the form of mandatory training. It should be noted that, as a part of the mining industry, the company has considerable mandatory training requirements to ensure people operate in safe, sustainable, responsible, and business appropriate ways.
All of this led to a key finding: Pushing learning and platforms without highlighting a clear need reinforces the idea that corporate learning is an endless training and completions tracking exercise, not a mechanism for personal and professional growth. When positioning any new learning solution, the problem L&D is trying to solve needs to be made abundantly clear, as do the benefits of using the platform.
As a result, Anglo American put a huge amount of work into differentiating training, to encourage employees to spend more time on personal and professional learning and development. This means using separate platforms, communication channels, and tracking methods.
Learning in the Wild — Do's and Don'ts
It's tempting to skip connecting with employees, and it's easy to make assumptions about what works when it comes to learning. However, we all know the pitfalls of assumptions, and it's unlikely everyone is learning in the ways you think they are.
Moreover, connecting is fun. Getting to know employees to understand their worlds and how they work has always been the highlight of any change project I've delivered.
It's critical to consider a cross-section of people that represents the diversity of your audience. Consider departmental lenses (Sales, Finance, IT, and so on), regional lenses (Asia Pacific, Europe, North America), and role-based lenses (individual contributors, team leaders, senior management). Other key lenses include gender, ethnicity, age, tenure, and ability.
Ten people is a good number to start with. Ask business groups for suggestions of who to include, and aim for people you have not met before. It would be wise to keep this group of people engaged and consulted throughout your design process as well, so you're continually designing for people you expect to use your solution. Involving end users in design has consistently been shown to improve adoption.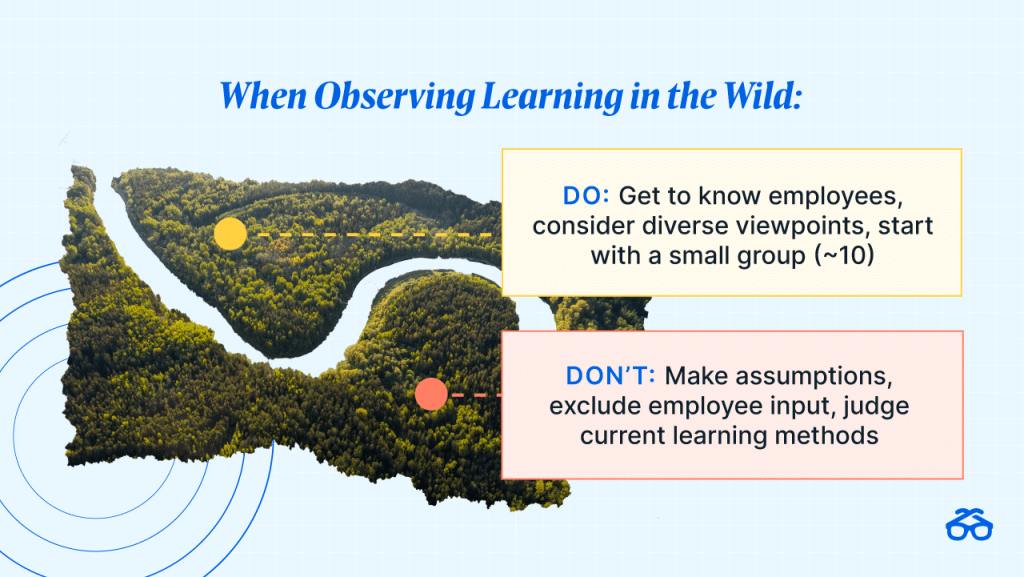 Observing with Clarity
As you embark on your discoveries, imagine you're broadcaster David Attenborough, the famed broadcaster, biologist, natural historian and author.* By showing his audience wildlife as it is, Attenborough doesn't interfere with his subjects, which helps ensure their behaviors are authentic.
When observing your learners, aim to not intervene or judge. Understand as much as you can by asking them to show you how they learn today, and by prompting them with questions when needed. Rely as much as possible on them showing you how they learn, instead of asking them to tell you.
Some prompts that may be helpful to use in interviews include:
Understanding how people enjoy learning in their personal life:

Imagine you've just decided to learn something in your personal life. How do you go about it? Do you search online, listen to a podcast, read a book? Can you show me how you do this?

Understanding how people approach learning at work:

How do you approach a big learning need (e.g. I need to improve my skills at giving feedback)? Do you look through your company resources, speak with your manager, prepare for a presentation…? Can you share an example and describe the approach you took?
How do you approach a situation when you need to complete a work task in a moment of need and you're not sure how to do it?

Understanding positive learning experiences

Think about a positive learning experience you have had. What made it positive for you?
What do you like about the learning methods you're currently using? Can you show me?

Understanding negative learning experiences

Think about a negative learning experience you have had. What made it negative for you? Are there other barriers you experience to learning?
What's your biggest frustration with the way we learn today? Can you show me what you mean?
By observing a good cross-section of your business, you'll establish a sense of how people are learning today and their preferences for meeting their learning needs.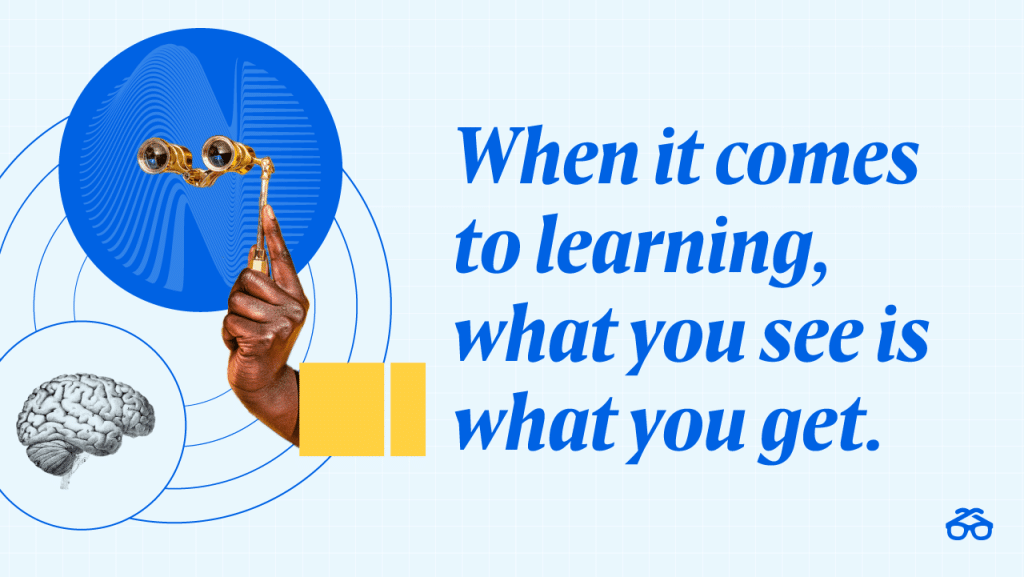 Once you've defined the way people learn today, you'll be ready to begin designing your solution, identifying opportunities and risks, and defining your measures of success.
You can also use this method to assess how an existing solution is being adopted. Observe your learners and consider:
Are people using your solution how you expected?
Are your observations aligned to what your learning data is telling you? Where are there discrepancies and how can they be explained?
What adaptations to your engagement and enablement strategies need to take place to help users make use of the full solution?
What adjustments could be made to the current solution to better support your learners?
If you embrace learning in the wild and try these strategies, I'd love to hear from you via email at slyras@degreed.com. What surprised you in your observations? How did a deeper understanding of the current state of learning help you?
One last note: Two of my favorite experts in learner-centered design are Ashley Sinclair and Neil Bedwell. Check out some of their work to learn more!
Stephanie is the Director, Change Management, Engagement and Adoption within the Degreed Professional Services practice. She partners with our clients to successfully manage the exciting changes Degreed brings, and to increase engagement and adoption.
* Sir David Frederick Attenborough is an English broadcaster, biologist, natural historian and author. This particular video I have linked is one of my favorites from him – it shows how hermit crabs navigate housing by collaborating to exchange shells as they grow.