Companies often struggle to establish a learning culture. Changing an entire work environment can be a long and challenging process. It can mean adjusting people's attitudes, day-to-day work life, and job descriptions. And it's different for every business.
That's why we sought to provide as many insightful perspectives as possible at Degreed VIEW: Creating a Learning Culture. The first in our new on-demand series meant to bring insights to L&D professionals at all stages of the upskilling journey, was hosted by Kelly Palmer, Chief Learning and Talent Officer at Degreed. She was also joined by leaders from Cargill.
From its unexpected start at the beginning of the COVID-19 pandemic, the upskilling journey at Cargill has been wildly successful. Julie Dervin, Head of Global Learning and Development at the global energy company, and Shawn Stavseth, Digital Learning Experience Lead, shared how Degreed has surpassed goals and provided learning leaders with an abundance of useful skill data.
With all this expertise in one place, attendees were bound to have good questions. Lots of 'em. These are 12 of our favorites (and the ones we thought you'd like too):
1. What are some ways to assess how learners are feeling when moving to a different learning culture?
Degreed: Employee satisfaction surveys can be helpful to establish a baseline of how people perceive current learning opportunities. Ask your learners what they want and need.
2. What can we do to encourage people to reskill and upskill when many of them feel like they don't have the time, resources, or just the overall interest and motivation to engage in learning?
Degreed: A key to that is providing a "What's in it for me?" for upskilling. One way to do that is to provide opportunities for people to move up in their careers using the new skills they've learned. This can be with stretch assignments or even full-time roles. Connect upskilling to career mobility.
3. In a digital learning space, how do we close the gap between content and experience?
Degreed: Content should be part of the experience. We know that users want a few core things: guidance, diverse experiences, feedback, insights, and content. It's about finding balance and the right combination.
The above information was taken from our recent research report, How the Workforce Learns. Download the full report for more!
4. What are your thoughts on upskilling vs. job opportunities?
Degreed: Job opportunities are key to successful upskilling. Similarly, application and practice are important parts of learning and perfecting new skills.
If you're interested in learning more about developing on-the-job opportunities across your organization, our Vice President of Degreed Opportunities, Oli Meager, addresses this during his Degreed VIEW session: How to Create an Opportunity Marketplace.
It's also important to think about "job opportunities" differently. A new job opportunity isn't necessarily a full-time job. It helps to put short-term projects, mentorships, coaching, and more into the mix. For more information, check out our blog on the differences between a talent marketplace and opportunity marketplace.
5. How does one develop a learning culture in an organization with people from very diverse and unequal backgrounds where some cohorts have not had access to technology?
Degreed: Creating a learning culture starts with the culture itself and the example set by leadership. Technology is secondary to that. You can start by meeting your people where they are and creating an environment for social learning and peer mentoring using whatever communication tools you have in place.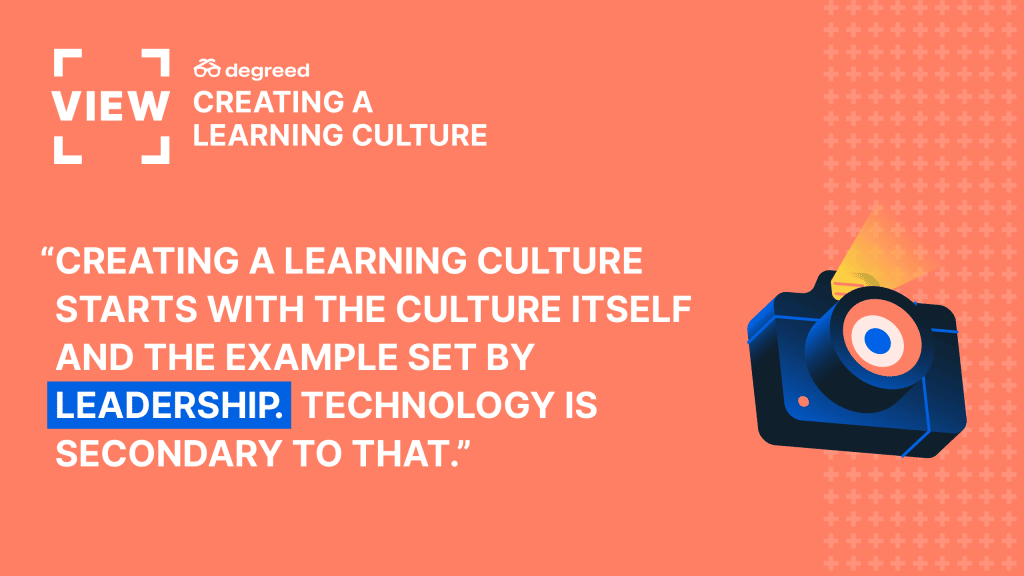 6. Aside from gaining buy-in from employees, how do you gain executive stakeholder buy-in for building a learning culture?
Degreed: Demonstrate the connection between having a strong learning culture and the benefits to your business's bottom line. When your people are proactively upskilling themselves, they then channel those improved skills toward contributions to the business.
7. What role does "demand generation" play? Or how do you get people to care enough to come and participate in your learning programs?
Degreed: It's incredibly important. Marketing and end-user adoption are key to the success of any upskilling program. We encourage ongoing campaigns that tie back to the purpose and the "What's in it for me" idea.
8. How do you address soft or human skills?
Cargill: In our skills work, we're differentiating between human skills and specialized skills. We continue to explore the best ways to go about gathering meaningful skill data on each, as we believe both are important for the success of our businesses and functions. We have several learning experiences, both collaborative (cohort-based) and self-guided (curated), that people can engage in to improve their human skills.
9. With your leaders being strong enablers, did you have to prep or train them?
Cargill: Our L&D lead partnered with leaders who were ready and willing to engage in our newly developed learning strategy and vision. We also engaged these leaders in creating learning personas and conducting hackathons to make them part of the process.
In addition, we launched a new senior leadership development experience using the new digital learning technology to help them quickly realize the benefits of learning in this new way. With each of these engagements, they became more assured that our efforts were in the best interest of Cargill and its employees, and they became champions on our behalf with other leaders.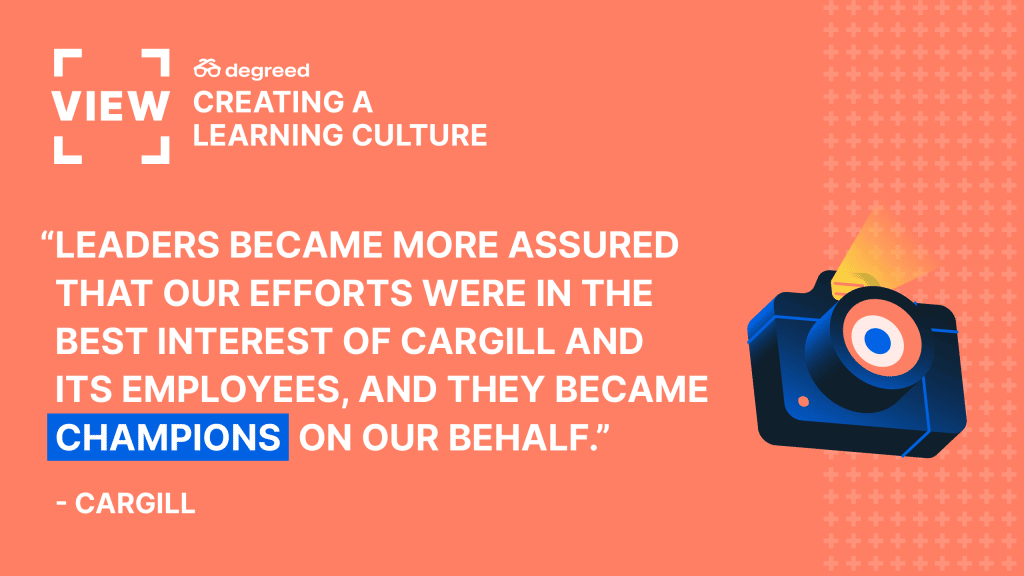 10. When moving from spoon-fed to self-led, do you just rip the bandage off, or is "going slow" and transitioning employees to a new learning culture better?
Cargill: No matter how quickly you want to go, creating a learning culture takes time. Some people embrace it right away, and others hold tight to the old ways of doing things. To help late adopters, we created several assets that illustrate the benefits of switching to a new way of learning, such as video success stories, written case studies, and participant testimonials. Each of these resources shares a different aspect of how the person or team leveraged the new technology to build their skills or solve a business challenge.
11. What's the benchmark for exact data? Are you successful if you have 15% active learners? Is 50% returning users average, good, excellent?
Cargill: We track first-time, return, and repeat visitors as well as adoption and active learner metrics. We benchmark these metrics against similar companies in industry, size, and more. But the true benchmark will be when we've built an invisible L&D program — where businesses and functions are equipped to design, develop, and deliver their own learning experiences and employees drive their own skill-building to remain relevant and competitive in their careers.
12. Was language an issue for Cargill trainings across the globe? How did you manage it?
Cargill: We value people and thus meet them where they're at to ensure they feel included. Having content available in multiple languages and learning modes is critically important. Therefore, translation isn't an afterthought. Rather, we begin our content build with translation in mind to ensure it can be easily translated or applied in different learning modes.
One of our most successful learning experiences included creating interactive overviews, short courses, job aids, and learner and facilitator guides in HTML. The HTML design has the clean look and feel of web pages, and learners can easily navigate through the content. A key benefit of HTML is that all content can be auto-translated using the Microsoft Edge Translate Tool. This feature makes the content instantly accessible in over 50 languages.
__
Creating a learning culture can be a huge undertaking, but the time and effort can reward your organization with improved employee engagement, a growing inventory of skill data, and a more experienced workforce.