Here's the thing: at Degreed we've created an awesome learning platform that gives people the power to track, validate and find learning from any source. We wouldn't be able to do a really good job at building that without being obsessed with learning ourselves. We were thinking, what if we gave you a clear picture of how real people actually learn at Degreed? So we're doing just that- by diving into our own habits and learning goals.
Before we start, you should know that at Degreed, each employee receives $100 a month to learn whatever they want, and unlimited additional dollars if the learning is job related. This benefit is called FlexED, you'll hear more about that below. Without further ado,  let's meet Taylor.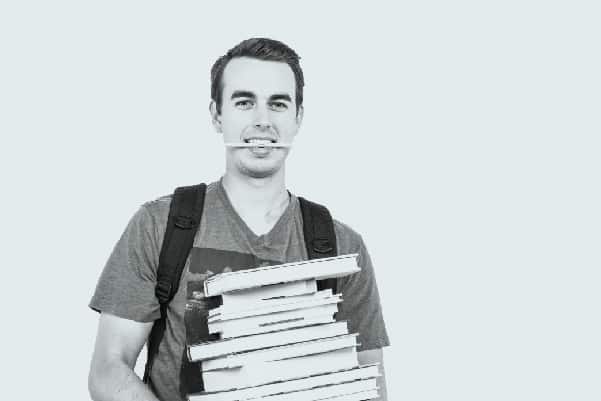 Meet Taylor Blake
Taylor Blake is a product manager who's been with Degreed for 3 years. Taylor lives in Salt Lake City, and is interested in innovation, politics, history and solving complex problems. This is how Taylor learns:
Degreed: What topics or skills are you interested in learning about?
Taylor: Effective learning and product management
Degreed: How do you like to learn? 
Taylor: I learn with books, podcasts, audio books, traditional classes, MOOCs, articles, online reading, hands on experience, and conferences.
Degreed: As a Degreed employee, you receive $100 a month for learning as FlexED, how do you like to use your FlexED? 
Taylor: I buy the occasional book, but mostly save it up for MOOC certificates.
Degreed: Who is your favorite expert?
Taylor: I quite like Clayton Christensen. He has a way of uncovering insights through developing strong theories and frameworks.
Degreed: What's the biggest takeaway from what you've learned in the last 6 months? 
Taylor: I've been trying to learn a lot about learning.  I've learned a lot about how to learn more effectively which mostly comes down to using recall and schemas to solidify learning. For example, I've noticed the time I spend reading things online is less effective when I don't take the time to reflect on or incorporate the things I've read. Using the 'skills' on Degreed helps me summarize and retain to make it more effective.
Taylor: I also really enjoyed a book I read recently called "How to Measure Anything" which was really thorough in outlining how to measure things you previously thought weren't measurable and how to calculate the value of information so you know where to spend time measuring. I also just finished a prototype course module from HBX on effective decision making. In the past, when faced with a team decision, it seems we often just wing it and use our intuition to come to a decision. I learned that there are clear, well researched methods for improving decision making.
Degreed: How have your learning habits changed since joining Degreed? 
Taylor: I consume more information and am always looking to learn more things. I'm working on retaining more of my learning by summarizing and saving the most important things I learn. I use skills on Degreed to summarize things I learn, and I use pathways to organize the most important articles and videos related to the skills I'm trying to develop.
Degreed: Favorite problems to solve: 
Taylor: I like solving big system problems. I like the macro view. I also like solving problems that will really help other people.
Degreed: How does making the effort to learn something help you personally and at work? 
Taylor: When you're trying to learn something you are forced to be deliberate, be self-aware, and get outside your comfort zone. While those things can be exhausting they also create rewarding, memorable experiences. I've seen that be true at work and personally.
Degreed: What's the most useful skill you've ever learned?
Taylor: A skill I've been working on recently, which I think will pay big dividends, is to learn how to create and break habits to make the most of each day. Certain things I try to accomplish during the day suck a large portion of my willpower such as cleaning the apartment or exercising. Making those a habit so they don't drain my willpower or mental energy would be great.
Similarly, the are certain things that I don't want to be routine, such as the activities I do with my family when I get home from work. By breaking those routines it helps slow time down, helps you make more and deeper memories, and helps you appreciate each moment. It's still a work in progress.
Degreed: Learning goal for 2016:
Taylor: Retain more of what I learn. Complete a Coursera specialization or Edx X-series.
Degreed: Taylor's Degreed Stats:
Taylor: 49 courses
56 books
3,161 articles
343 videos
Most active skills; business, product management, education.
You can follow Taylor on Degreed here. You can also get credit for reading this article by clicking the button below. Throughout this "How We Learn" blog series we'll be giving you a closer look at how we learn at Degreed, but we also want to know how you learn- so tweet us at @degreed and tell us what works best for you!