At Degreed, we have one overarching vision: enable people to continuously grow and advance their careers based on their skills. And we do that by building products that focus on the personalized needs of your employees.
That's why today we're announcing the arrival of Degreed Career Mobility — a new tool designed to make skill-building and career development even easier for you and your people.
Tools for publishing career opportunities have existed for years. The problem is they're rarely used by workers because there hasn't been an effective way for anyone to find those opportunities. All too often, opportunities are buried in the same places people go to enroll in benefits, complete their performance reviews, or request time off. These are systems that workers use infrequently. They're built for the administrator to standardize and automate processes, not for the workforce.
There also hasn't been a simple, easy, fast, or flexible way for team managers and business leaders to share opportunities. They've had to work through talent acquisition teams more focused on — and better equipped for — recruiting candidates from outside for full-time roles. Or worse, access to those opportunities is limited by personal networks and word of mouth.
Degreed Career Mobility changes that. We're helping connect people to all kinds of work (not just full-time jobs) by sharing them in the same place the workforce goes to build skills every day. And we're making it fast and simple for team managers to create and publish gigs, stretch assignments, longer-term projects, and more.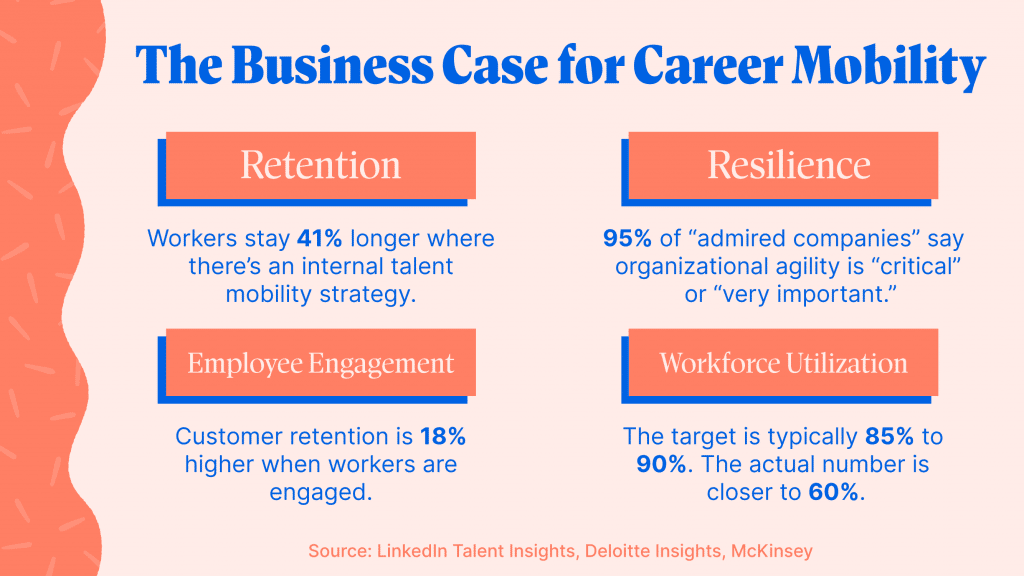 A Different Kind of Talent Marketplace
With Degreed Career Mobility, your company can build an internal talent marketplace that's directly tied to learning and upskilling. It can help everyone gain better visibility into the skills that are in demand right now, and it can help HR and talent executives, business leaders, and team managers discover the skills workers have. And that matters because more than half of business leaders (53%) say a lack of visibility into skills is their top barrier to workforce transformation.
In addition, talent development can become more relevant than ever, because employees can take on real-world experiences that can directly shape the next step in their careers. As this happens, companies can create new value as they're able to pivot, adapt, and thrive in the face of disruption.
With Degreed Career Mobility, your employees can:
Showcase their strengths, achievements, and aspirations in a personal profile that's kept up-to-date automatically, by tapping into their everyday skill-building activities
See opportunities they're a good match for — right in their Degreed feeds
Access people and on-the-job experiences to grow skills for opportunities they're interested in
People managers can:
Add opportunities directly in Degreed
Search, browse, and explore who's a good match
Share opportunities with candidates they think are a good fit
Track the performance of each opportunity posted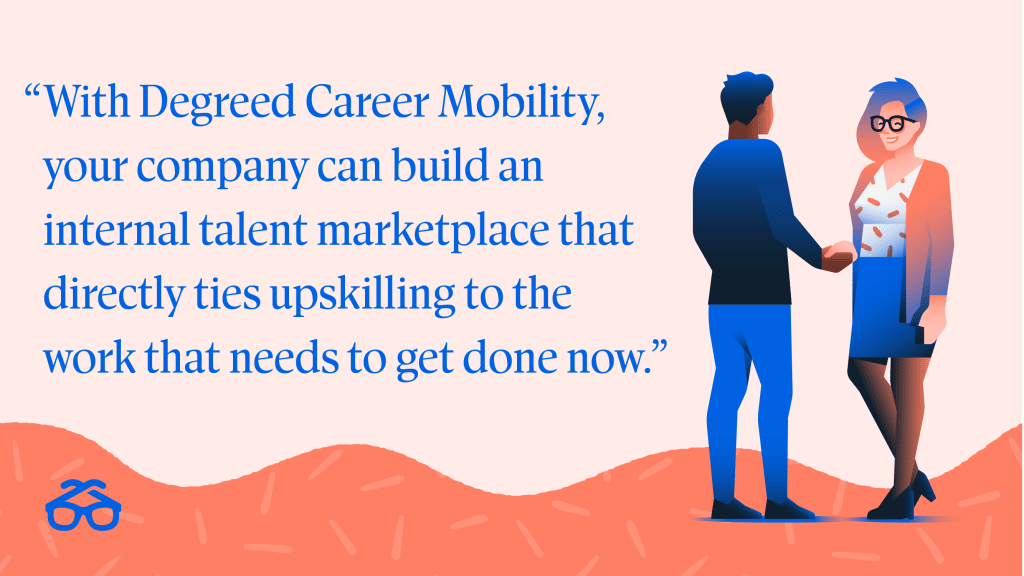 Making the Connection
Jennifer needs someone to speak to a customer insights team about search engine optimization (SEO). She searches for SEO skills and quickly identifies two qualified employees for the task. Rashad is an expert in sales, but he has an interest in becoming a Sales Manager. Degreed suggests not only relevant skills but also a mentor to help guide him. Whitney, an HR analyst, sees that the Finance team is looking for someone to write a blog post about emerging markets. She reads and listens to podcasts on the topic, and she's taking an online course on business writing to prepare herself for the challenge. So she connects with the Finance team to put her skills to work.
But you're hearing that pitch a lot lately. So what's different about Degreed Career Mobility? Degreed is built largely on skill data — in particular, our unique ability to measure and track skill development over time by weaving the whole process into the one thing people value most: their career growth. And we use that real-time data on people's skills to automatically match people to relevant opportunities. We do this in two key ways: matching for employees' existing skill expertise and for areas in which they want to grow new skills.
In addition, Degreed engages workers day in and out, constantly generating information that's used to influence opportunity matching. A talent management system simply doesn't see that kind of engagement. Talent management systems are designed to automate and standardize HR processes, like benefits enrollment, payroll, performance reviews, and service delivery. People only use them occasionally — when they have to.
So, what's the secret to unlocking career mobility at your organization? It's the same as the secret to upskilling your workforce, increasing employee engagement, and driving a rewarding employee experience. Put the worker at the center of your talent strategy. Prioritize the needs of your workforce. That's what Degreed does.
Interested in learning more about Degreed Career Mobility? Contact us for a demo today.