Originally published on the Learn In blog, a Degreed company.
Today, many businesses facing the twin crises of Generative AI and the skills gap turn to learning stipends. What are learning stipends? Think no-strings-attached debit cards for learning and development.
In this article, we break down everything you need to know about learning stipends: what they are, why companies use them, how to set them up, and more. Just think of this as your personal, all-you-need-to-know learning stipends resource. So whether you've just heard of learning stipends or need some tips to refine your stipends, this is the article for you.

What is a learning stipend?
A learning stipend is a sum of money companies give employees to spend on personal upskilling and learning initiatives. Employees can spend their funds in any way they see fit—as long as they fit within company guidelines.
Maybe you've heard of this idea with a different name, e.g., education stipend, learning and development stipend, continuing education stipend, etc. As long as employees receive money to spend on upskilling and learning, it's a learning stipend.
This idea isn't new. In fact, it's a reboot of traditional tuition reimbursement programs. But something needs to change when 47 percent of businesses offer tuition assistance and only 5-10 percent of employees use it. Learning stipends are a new and exciting change.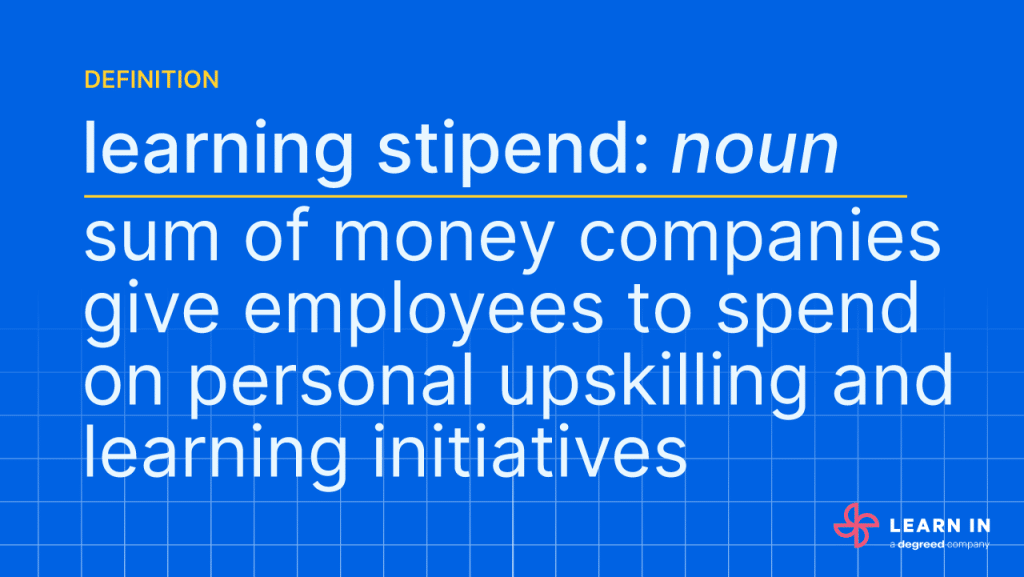 What is a prepaid learning stipend?
The new and exciting change is prepaid learning stipends. What's the difference between the two?
With a traditional learning stipend, the employees pay upfront for their boot camps, conferences, books, etc. and the company reimburses them. A prepaid learning stipend eliminates the reimbursement process. Today, companies can issue employees their own prepaid digital debit cards.
While this may seem like we're splitting hairs to point out this difference, it matters. It's the most significant decision you'll make to set up a learning stipends program. More on that later.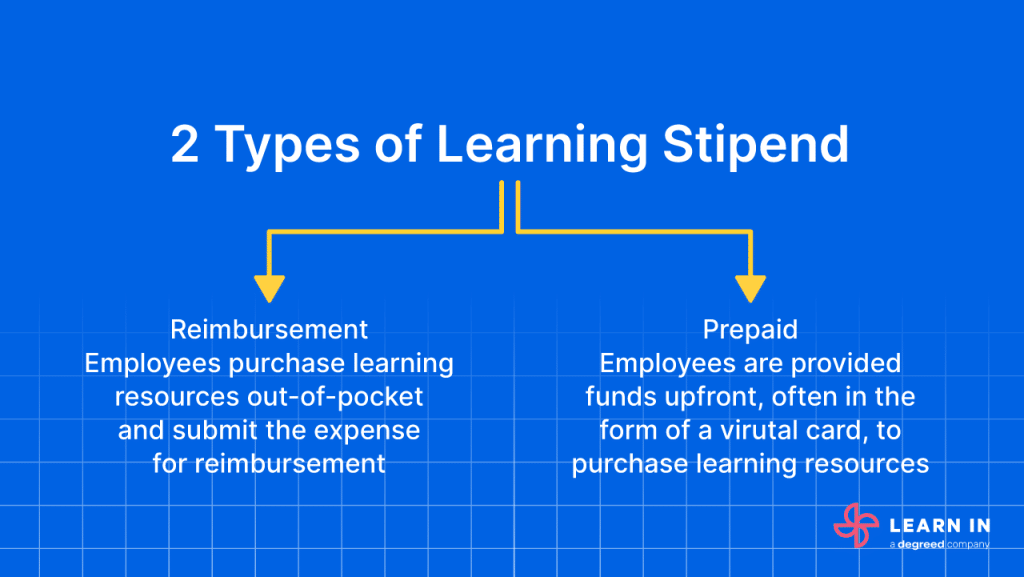 Why use learning stipends?
Today, when done well, learning stipends are the most equitable and efficient way to upskill and engage your workforce. This is especially true when you compare learning stipends with other upskilling solutions like content licenses or learning management systems (LMS).
Here are the ways learning stipends outstrip other solutions:
Flexibility
Personalization
Scalability
Flexibility
Learning and development requires a myriad of resources to upskill: coaching, classes, conferences, books, training, etc. It's a long journey to truly master a skill, and many LMS and content licenses don't offer all those diverse resources. With a learning stipend, employees can spend money on the resources they need, when they need it.
Personalization
Along with a myriad of resources, every employee's learning journey is unique. After all, an engineer in your company requires different upskilling than someone on your marketing team. (Even two engineers at your company may need to learn different skills.) With a learning stipend, employees find and purchase resources that align with their personal development goals.
Scalability
But getting access to specialized content, in a scalable way, is difficult. To get the most bang for their buck, many learning and development solutions provide trainings and content that serves the most employees. This creates generic content, and it doesn't give employees the specialized content they need for deep upskilling. With learning stipends, employees get access to the best-specialized resources available in a scalable way.
Who uses learning stipends?
Any company can use learning stipends. Company size, industry, or location? It doesn't matter. If you look at a list of companies currently offering learning stipends, it will include start-ups, tech juggernauts, and everything in between.
The Best Workplaces
Anyone can offer learning stipends, and the savviest companies out there do. When surveying the companies listed for Inc Best Workplaces 2022, 72% offered learning and development stipends. And more companies offer educational stipends than unlimited time off. It's a bit of a phenomenon: in the past six years, the rise of learning stipends as a benefit rose from 8% to 70%. So you're ahead of the curve and in good company offering employees learning stipends.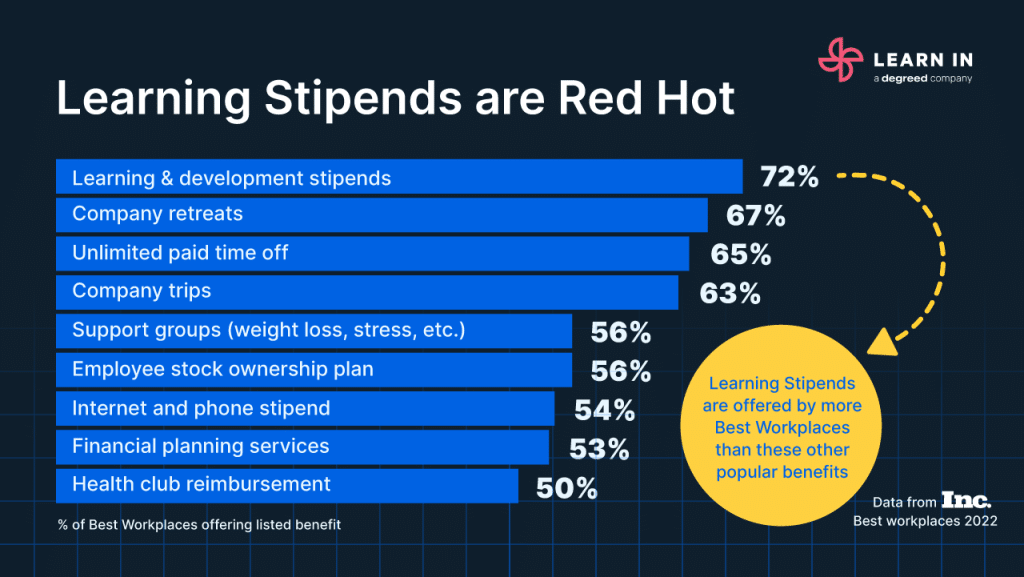 The Majority of Employees
Not only do companies love them, but workers love learning stipends too. Gen Z and millennial workers will make up 74.7% of the workforce population in 2030, and they're all about learning stipends.
Why?
First, Gen Z and millennial workers value learning and development. A LinkedIn survey found that 76% of Gen Z workers see learning and development as the key to their success, and a Gallup poll found that 87%of millennial workers rank development opportunities as important to them in a job. So by using learning stipends, companies give these young workers what they want.
Second, personalization is a buzzword for young employees, and learning stipends let employees choose the skills they want to develop. For a Learn In survey of millennial and Gen Z workers, young workers ranked "personal learning choices via a personal learning budget" as the second most important support an employer could provide.
Third, if you use prepaid learning stipends, learning and development opportunities become affordable. Half of young workers live paycheck to paycheck, so if you use a reimbursement model, you'll likely exclude many employees eager to take advantage of their learning stipend.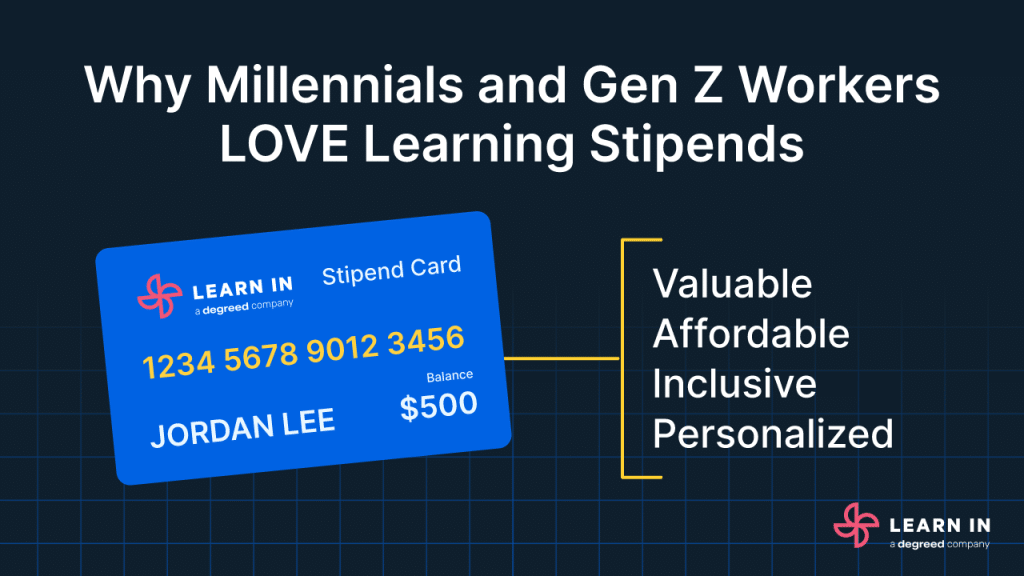 What major problems do learning stipends solve?
While there are lots of benefits to using stipends, which we'll discuss in another section, many companies use learning stipends to solve two significant problems:
The ever-widening skills gap
The rise of Generative AI
Problem #1: The Ever-Widening Skills Gap
Calling today's skill shortage a "gap" is a bit of a misnomer. Instead, it's more of a chasm: the World Economic Forum (WEF) and Organization for Economic Cooperation and Development (OECD) expect that a billion jobs will need new skills by 2030.
Automation alone will create 95 million jobs that don't yet exist. "The biggest issue isn't that robots are taking all the jobs," Korn Ferry said, "it's that there aren't enough humans to take them." Simply put, the rapid pace of technological change and automation make it impossible for companies to have the necessary skills.
In response to this skills chasm, Gartner reported that 60 percent of HR leaders said building critical skills and competencies would be their highest priority in 2022. True to their word, McKinsey found that 69 percent of businesses increased their skill-building investments since 2019. And many of these upskilling investments include learning stipends. Why?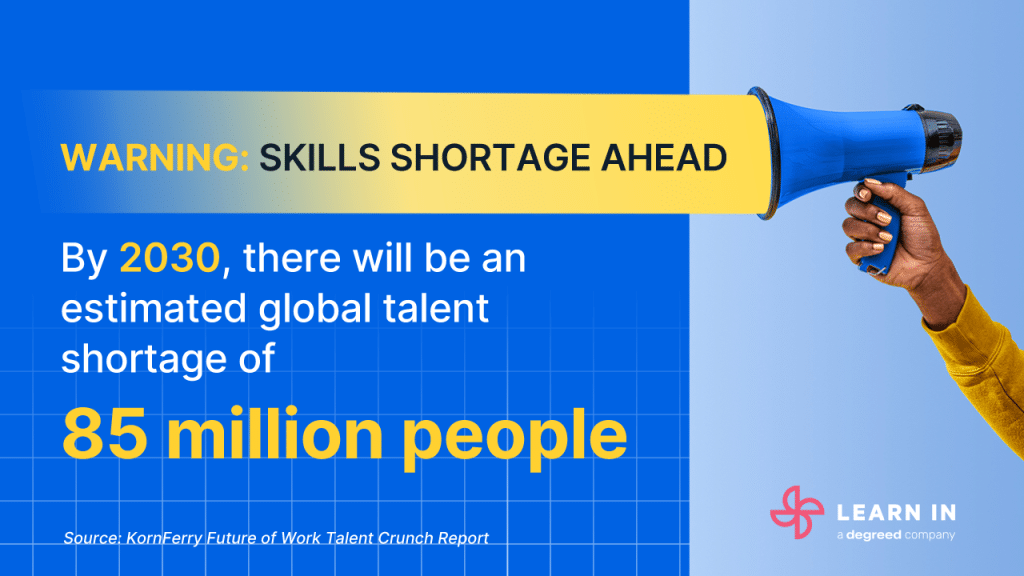 How Learning Stipends Drive Upskilling
Companies use earning stipends to solve their upskilling problem because they're quick, equitable, and effective. Not only do learning stipends offer a quick solution, but they also remove red tape and provide employees access to the right training at the right time.
One advantage of learning stipends is that it allows employees to build skills and work concurrently. This is a benefit, according to HR thought leader Josh Bersin. Bersin instructs companies to "make learning part of everyday work," which also refers to what he calls "learning in the flow of work." This method "recognizes that for learning to really happen, it must fit around and align itself to working days and working lives."
Companies like Salesforce have found that employees respond well to this on-the-job upskilling. In a Salesforce survey, 80 percent of employees said they retain information better with on-the-job training. "Teaching team members a few critical skills they need right now, then providing opportunities to practice as they go, makes learning feel more manageable and helps people retain information," said Heather Conklin, general manager of Trailhead at Salesforce.
Problem #2: The Rise of Generative AI
The unrelenting pace of technology widens the skills gap further. Before the arrival of Generative artificial intelligence (AI) on the scene, over half of the employees (52%) believed they were "easily replaceable in their jobs." And employee fears aren't too far off. Since the new advances in technology like Chat GTP, IBM announced that they could replace 7,800 jobs with AI, and they're pausing hiring to evaluate which jobs truly need a human.
Now, in a Generative AI world, a recent study by Checkr found that 74% of American workers "believe their jobs might eventually be replaced by AI tools." The fear is so real that up to 67% of workers "would spend their own money to learn about AI to keep their job."
How Learning Stipends Drive Retention
While 67% of employees are willing to dip into their own pockets for AI upskilling, just imagine the attraction, engagement, and loyalty for a company that provides upskilling. It goes a long way with this generation. Remember, these are the same workers that participated in the Great Reshuffling.
When a PEW poll asked workers why they quit in 2021, the second most popular reason was companies didn't provide enough opportunities for advancement. If upskilling and career development were key a year ago, imagine just how critical they are now in this moment with generative AI. Employees need to know their companies will invest in and support them in navigating and upskilling in this new AI work environment.
Even before the Great Reshuffling and Chat GTP, many studies supported the strategy of using learning and development to improve retention. A Capterra survey found that 87 percent of businesses say employee learning and development programs are critical to retaining talent. Employees agree. In Gallup's The American Upskilling Study, 71 percent of workers said learning increased their job satisfaction, and 61 percent said learning opportunities make them want to stay with a company.
What are some additional benefits of using learning stipends?
Retention and skill-building may be one of the most urgent needs your budget addresses, but employee education brings a host of benefits for employees and businesses. Learning stipends will:
Boost recruiting opportunities
Increase employee engagement
Support diversity, equity, and inclusion (DEI) initiatives
Promote career development
Boost Recruiting Opportunities
Learning stipends not only help with retention but attract recruits too. If today's employees are willing to quit jobs that don't offer enough growth opportunities, then it's at the top of their list when job hunting. In fact, a survey found that 80 percent of job seekers consider an employer's professional development crucial when accepting a new job. Reaffirming this statistic, Andrew Geant, cofounder of Wyzant, found that "in interviews, potential employees often cite the learning stipend as a top reason they applied."
Increase Employee Engagement
As you'd expect, a tool that improves recruiting and retention also drives employee engagement. Education platform Udemy found that more than half of high-engagement companies have employees who spend 31–50 hours learning per year. And this learning is positive engagement. A Glint survey found that employees consider opportunities to learn and grow as the number one driver of happiness at work.
Unfortunately, when it comes to learning and development programs, 2.5 – 5% is the average for employee engagement. But if you use prepaid learning stipends, your learning and development team can witness incredible engagement gains. A tech company, Checkr, recently revealed that by switching to prepaid learning stipends, employee engagement rose from 2.5% to 20% in just five months.
Improve Diversity, Equity, and Inclusion (DEI)
The engagement scores go up with prepaid learning stipends because more employees can use them. With the traditional reimbursement model, only employees with the extra money and time can take advantage of learning stipends. Since 6 in 10 Americans don't have $500 in savings, most employees can't pay upfront for a $2,000 coding boot camp.
A reimbursement stipend excludes a lot of your employees from growing and developing, and a Training Industry poll found that 65 percent of Americans believe that providing education benefits to all employees helps promote racial and gender equality in the workplace.
The solution is prepaid learning stipends. Prepaid learning stipends are how companies can give all employees equitable access to upskilling opportunities and career growth.
Open Up Career Development Opportunities
Speaking of career growth, with record resignations and skills gaps, LinkedIn said 62 percent of L&D leaders are prioritizing internal mobility. Along with retention, a successful learning stipend program can be a lever for leaders to help employees advance their careers.
The tutoring platform Wyzant gives employees unlimited access to its tutors for work-related skills and $2,000 per year to spend as they choose. "We consider learning stipends to be something of a secret weapon," admits cofounder Andrew Geant. "In addition to helping with recruitment, they can also make it easier to promote people from within, as current employees use the educational opportunities to uplevel their skills and capabilities."
How can you set up your employee learning stipends?
There are a few ways to structure and administer employee learning funds, depending on your company's budget, resources, and needs. Perhaps the most important decision you'll make setting up your learning stipends is deciding when employees receive their learning and development money. Pay attention: this decision heavily influences engagement and accessibility.
Reimbursement vs. Prepaid Learning Stipends
As mentioned earlier, a traditional reimbursement model requires employees to pay upfront for their learning and development opportunities. Depending on the process, the reimbursement can take days, weeks, or even months. This is where things get rough for your employees.
Say that an employee wants to enroll in a three-month-long coding boot camp. With the reimbursement model, the employee may need to pay $2,000 of their own money to enroll. And depending on the reimbursement process, they may have to wait until they complete the course, three months, to get reimbursed.
If you do want to use the reimbursement method, it works best for supporting light learning and development opportunities. Let's say an employee just purchases a book for $20 and a one-off course for $80. In this case, reimbursement could possibly work for some of your employees. But to truly be equitable, and to truly fund the boot camps and courses required for deep upskilling, prepaid learning stipends are best.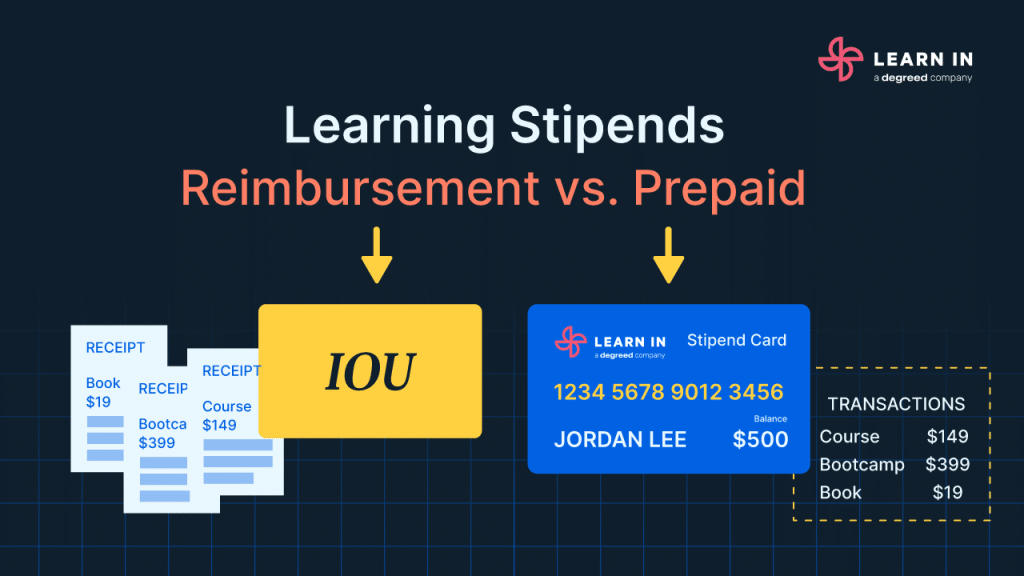 Manual vs. Platform Administration
Today, there is always an app or a platform out there to make any process easier, and learning stipends are no exception. Today, you can build a learning stipend system manually, using a spreadsheet or project management tool like Monday.com or Asana.
You can use your existing programs to:
Create sheets or boards that list learning opportunities
Enable employees to use email or tags to request courses and funds
Enter completion dates and skills learned
Pay for courses upfront through credit cards or have employees create purchase orders
A manual system can be a valuable option for small organizations or those that want to test adoption before investing in a dedicated platform. That said, a manual solution could be slow and create multiple steps for employees to go through to get a stipend, and low adoption could be a self-fulfilling prophecy.
Platform Administration
Along with DIY, there are platform administration systems that can help companies with their learning stipends. Depending on the platform, it can help companies administer, implement, support, and track their learning stipends:
Issue debit cards
Allocate time to learn at work
Set limits on individual employee budgets
See how much is spent
Add and remove funds
Approve program requests, and issue and refill cards
Track employee progress, and visualize ROI
A dedicated platform can be a valuable option for any organization—especially larger businesses. But no matter the size of the company, a learning stipend platform offers quite a few advantages as far as speed, ease of use, and tracking outcomes.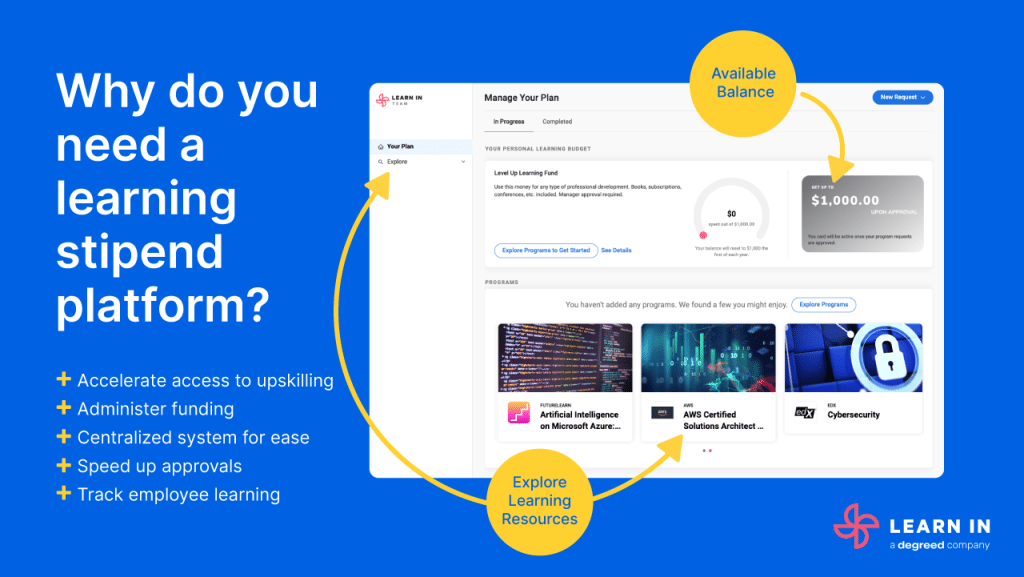 Covering Anything vs. Work-Related Skills
There are two schools of thought on whether employee education stipends should be limited to company-related skills. Amazon pays for any program, sharing a story of how a warehouse employee became a registered nurse. The argument here is that the benefit attracts more talent than it loses and that learning any new skill boosts overall learning capacity.
In contrast, Buffer gives employees $800 a year to spend on career-related learning. Employees also get a Kindle with unlimited access to books and audiobooks. Similarly, Slack doles out $500 annually for personal development and $2000 for professional courses. The argument here is that companies should guide employees to develop skills that align with their company's needs and goals.
Both of these setups have positives and negatives. If you see learning stipends as a fun benefit to fulfill curiosity and exploration, let your employees sign up for that skiing lesson. However, if your company foresees lots of upskilling and talent development needs in the next few years, you may want to align stipends with your company goals.
What are some basic tips to make the most of your employee learning stipends?
If you especially want stipends to align with company goals, use these six best practices below. These six tips will help you implement an education stipend program that fosters learning and aligns employee growth and business needs.
Make financing flexible: look at multiple benefit budgets to see where you could better use funds.
Start small: leverage existing training budgets to offer as little as $50 to $100 per employee per year.
Use prepaid learning stipends: tuition reimbursement is a barrier to learning and is rarely used.
Target job-ready skills: remember that a learning stipend is a means to an end—the end being upward mobility within the company.
Ensure completion and success: design programs to uplevel employees with skills that expand their scope or role, or result in a promotion, raise, or career shift.
Measure outcomes: stipends represent an opportunity to establish a "learning-first" mentality while ensuring that the workforce is choosing to build skills the business will need in the future.
To learn more tips, download a free copy of 10 Best Practices: Learning Stipends that Deliver Results. 
The Fast Track to Reskilling and Retention
Generative AI and the skills gap threaten to derail small and large businesses alike. Few can afford to fall behind the twin race for talent and skill-building at scale. Learning stipends offers a powerful first step to enable companies to compete and win on both fronts, giving employees the development opportunities they crave while providing businesses with a resilient skills pipeline.