The business climate will keep evolving. And so should your people. Continuously developing your workforce is a must to keep up with disruption and transformation. From responding to COVID-19 and the Great Resignation to urgently filling skill gaps, the role of L&D has shifted — to a problem-solving strategic partner across the business.
Today's complex world of work requires a proactive emphasis on resiliency. As a result, every company needs more sophisticated ways of looking at the skills and capabilities of workers to better plan and pivot.
Business intelligence tools that help solve problems have existed for years. Still, companies don't often use them to retrieve, report, and analyze data on people's skills, effectively deprioritizing intelligence and analytics that would otherwise optimize workforce development.
In fact, fewer than half of HR and talent leaders say they have a clear sense of what their people can do.
That's where Degreed Intelligence comes in, a first-to-market solution we've created to give learning and HR leaders a simple and quick way to access data, intelligence, and tools to visualize workforce skills. Fresh insights into your most valuable asset — your people — help you close skill gaps by deploying the right learning to the right individuals or teams at the right time. And you don't need a doctorate degree in data science to do it.
Degreed Intelligence provides a suite of tools designed to help workers, managers, and learning leaders understand and build skills they need across the organization. It's a cost-effective way to turn that learning and skill-building activity into insights you can use to understand skill supply and demand and make smarter decisions.
How? By using machine learning to turn signals of skills — like self, peer, and manager ratings, assessments, and project and role experiences — into real-time actionable intelligence.
When advanced skill analytics give you the bigger picture, you're ready to plan, respond, and be a better strategic business partner. Continuous upskilling? Check. Digital transformation? You've got it covered. New company initiatives like diversity and inclusion? You're ready to go.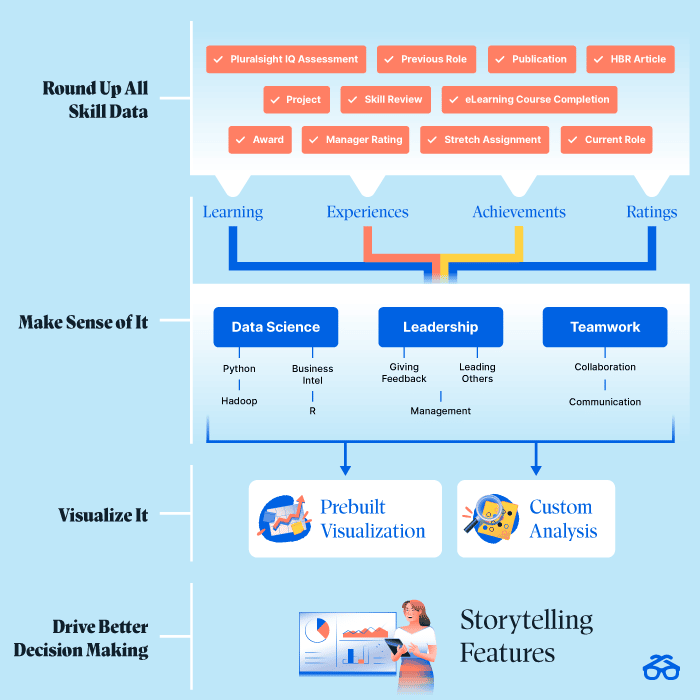 The Right Skills to the Right People at the Right Time
More than half of business leaders (53%, according to Gartner) say a lack of visibility into skills is their top barrier to workforce transformation.
With Degreed Intelligence as your new L&D superpower, you can prioritize your people's time and focus your learning budget on the most critical business objectives. And when you quickly mobilize talent to seize new opportunities, you've got a better chance of outperforming your competitors. According to McKinsey & Company, companies that mobilize talent efficiently are six times more likely to report higher shareholder returns.
When you track the supply and demand of skills with Degreed Intelligence, you can:
Efficiently invest in talent by understanding the skills your people have and need
Standardize data through integrations with talent and learning tools
Get critical insights without setup or maintenance from your tech teams
Automatically keep skill data up to date
And the benefits go beyond you and your learning team.
Your people managers can:
Use intuitive tools to match workers to learning resources and projects
Use skill ratings and assessments to give people better feedback
Your workers can:
Get more visibility from managers into valuable learning content, mentors, and experiences
Receive guidance from managers that helps personalize learning
Make development a part of everyday work life
Understand which skills are needed to achieve professional goals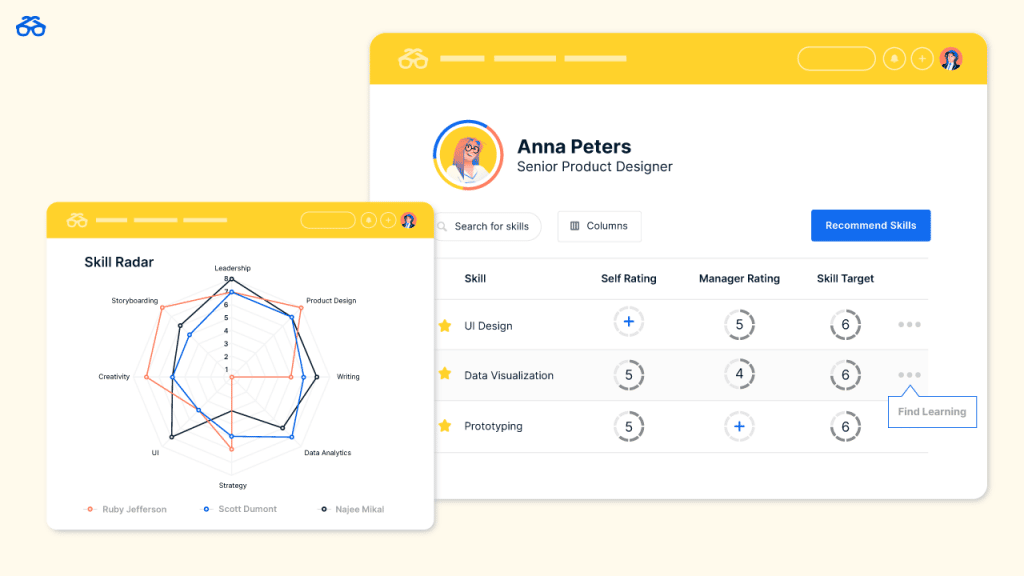 A New Way Forward With L&D Insights
It's true; numerous intelligence tools are already available. And it's no secret that other learning technology companies are trying to help organizations make sense of skills. By 2023, 40% of large organizations will have deployed learning analytics technologies, according to Gartner. So we're giving you the opportunity to get ahead.
What's different about Degreed Intelligence? Degreed is built largely on skill data — in particular, our unique ability to measure and track skill development over time by weaving the whole process into the one thing people do frequently: learn. And something else they value — career growth.
Two tools already in Degreed keep data continually updated with development activity. Skill Coach gives people managers an intuitive toolkit for discovering, building, and rating team skills — to set development goals and target learning where it matters most. Skill Review uses machine learning and skill insights to provide real-time skill intelligence on the skills your business needs as well as who has them, who needs them, and who wants them.

We generate our analytics from that data and then structure them as in-app dashboard reports, visualizations, and insights.
Through a unique partnership with Visier, a leader in people analytics, we've developed new algorithms that pull skill data from Degreed and package it into simple and intelligent dashboards. This is much more than an integration between Visier and Degreed. It's unique, purpose-built software to enhance the Degreed platform and take the complexity out of data science.
For organizations that want to build the skills of today and tomorrow, Degreed now has the only integrated platform that combines the best tools for monitoring and deploying skills with the best tools for driving strategic upskilling.
Ready to make smarter decisions about your people? Contact us for a demo today.