In today's world of work, learning means more than people consuming content. And a winning learning solution does a lot more than simply serve up relevant courses and videos.
Businesses today face critical learning needs that begin at employee onboarding and never let up. Effective learning enhances operations, cultivates belonging and builds technical, functional and leadership capabilities. It gets people ready for new roles or career paths. Perhaps most importantly, it aligns all these priorities with what's driving them in the first place: your company's key business objectives.
When it comes to closing the skills gap and continually upskilling the workforce, the role learning technology can play is huge.
Some solutions excel at unifying disparate learning systems. Others do well capturing useful skill data in real time or supporting collaborative experiences that drive deep skill building. Still others are providing education benefits in flexible, more equitable ways, so companies can do a better job managing budgets and optimizing spending.
At Degreed, we understand that all this functionality makes for a cluttered and sometimes confusing learning tech marketplace. It's why . . .
With Degreed, you can do all those things and more. We see it every day: Degreed customers meet traditional L&D challenges, implement specific or ad-hoc learning programs, and achieve company-wide learning transformations — all by giving their people an intuitive learning experience that works.
"As you look to the future, you will have to orchestrate not just the learning, not just in-the-flow-of-work learning, but increasingly the deep upskilling, the fundamental radical upskilling of employees," said David Blake, Degreed Co-founder and CEO. "What is the difference? I can go online and watch a Youtube video from the world's best marathon runners on how to become a marathon runner. Doesn't make me a marathon runner. Upskilling is the journey of becoming a marathon runner. You are increasingly going to be responsible for both learning and upskilling."
The Degreed Product Suite: A Business Imperative
As the skills gap widens, companies must invest in the continuous upskilling of the workforce to be productive, perform, transform, and grow their competitive advantages.
But upskilling requires investment and time, and most learning and business leaders don't know what skills to invest in without first identifying skill gaps. Once they do, they realize plugging those never-ending gaps is like playing a never-ending game of Whac-A-Mole. Add to that the pressure on L&D radiating from the C-Suite, IT and on down — pressure to cover more learning use cases with less budget, at scale, and quickly, all while delivering positive business impacts.
Yeah, it's a lot. Overcoming that juggling act is why organizations are looking for a solution that meets their learning programs — and their skill data — where they're at.
It's why Degreed offers a comprehensive suite of solutions — Degreed LXP, LXP+, Academies, Education Benefits, Professional Services, and Extended Enterprise (EXE) — designed to put people's experiences first. This priority drives our entire approach, helping more than nine million global employees use Degreed to gain the skills they need to grow in their careers. 
Degreed is the only learning platform that makes it easy for companies to deliver daily learning, deep skill-building, education benefits, real-time insights and expert services connected to a reliable network of partners and integrations.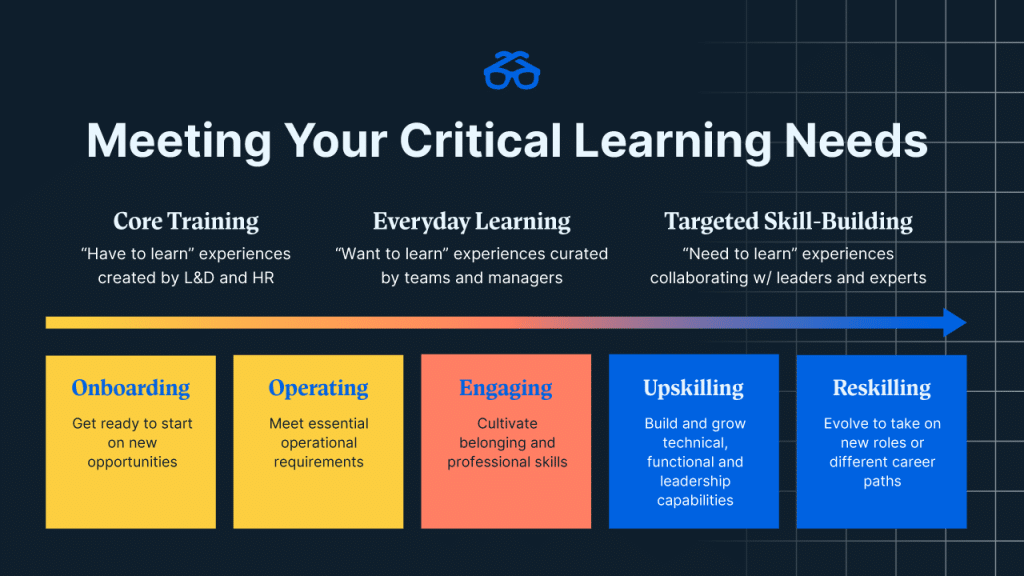 Degreed LXP: Unity and Engagement
When the world of content exploded a decade ago, Degreed responded by bringing content together — pioneering a new approach to L&D technology that became known as the learning experience platform, or LXP.
What's Degreed LXP? It's a system of engagement that unifies technology ecosystems and facilitates individualized development in the flow of work. It drives continuous employee engagement, so you can cultivate more learning and efficiently transform employee skill building into business growth. More than just a front door to learning, Degreed LXP is like a Swiss Army Knife that provides each of your people with a personalized hub for all their learning — promoting equitable access to content while motivating employees to improve their performance.
Degreed LXP features include:
A core platform that unifies your learning ecosystem and boosts interactions between employees and learning.
Skill Coach, which drives more collaboration between managers and their employees so managers can optimize the potential of their teams.
Core analytics that generate and visualize learning insights and manage the flow of data between Degreed and your learning ecosystem.
Workflow automation that creates business rules and processes allowing administrators to create personalized learning experiences and reduce administrative overhead.
We know Degreed LXP works because we commissioned Forrester Consulting to prove it. Our Total Economic Impact study interviewed chief learning officers and heads of L&D departments at multi-billion organizations that use Degreed. We found using Degreed can make a new employee's time-to-productivity 20% faster, resulting in $2 million in cost savings. Degreed paid for itself in six months and, overall, delivered a 312% return on investment, $4.96 million in net present value, $6.19 million in benefits present value, and more than $317,000 in content cost savings.
Using Degreed LXP, an industrial manufacturer that participated in the study cut the time to deploy new learning by 93% — from days to hours. A consumer brands group delivered seven times more learning time for 86% less cost per hour. A digital networks operator exceeded its annual target for technology certifications by 176%. A financial advisory firm increased adoption of a new business process by 10 times in six months. And an IT services firm upskilled software teams in new secure coding practices in only 10 days.
Degreed LXP+: More Data, More Motivation
Building on Degreed LXP, our LXP+ product puts the LXP Swiss Army knife into a superhero's utility belt, adding comprehensive manager dashboards and data tools that provide deeper skill insights. You can use it to make even smarter decisions and efficiently mobilize your workforce to meet unforeseen business challenges. You can use it to embrace fast-pace, short-term initiatives.
Degreed LXP+ adds:
Skill Review, which gives managers comprehensive team dashboards and data tools to help team leaders be better coaches and improve team performance.
Advanced analytics that generate and visualize deeper insights to help learning leaders understand program efficiencies and identify indicators of business growth.
Experiential Learning, which facilitates "learning by doing" through on-the-job opportunities like mentorships, stretch assignments and projects.
With these added features, we've found a business can be 35% more efficient upskilling employees. LXP+ drives better retention in key roles, with turnover decreasing from 10% to 2% for some employee groups. Moreover, companies that enable Experiential Learning opportunities see higher employee engagement, including on average: 3.6 times more content sharing, 3.1 times more skill signals, 1.3 times more return users, and 2.6 times more content completions.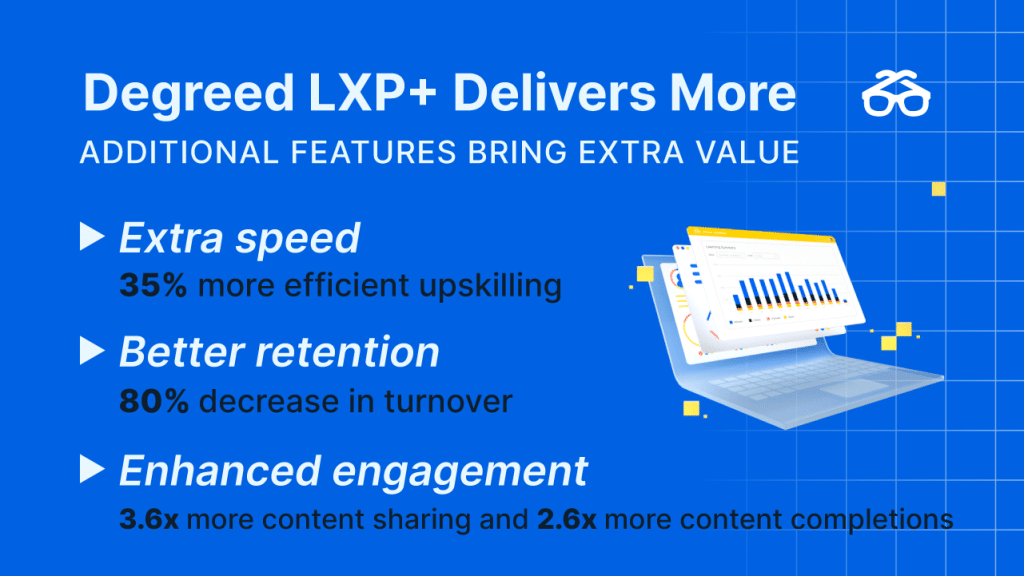 Degreed Academies: Intensive & Deep Skill Building
Degreed Academies helps companies quickly and easily deliver collaborative learning experiences that drive deep skill development — through targeted programs that build the precise capabilities your people and your organization need to succeed. Like a bootcamp, and by facilitating customized collaborative learning at scale, Degreed Academies helps organizations optimize the delivery, deployment, management, and tracking of cohort learning initiatives.
With Degreed Academies, you can deliver the critical, deep skill development you need to targeted groups, through a blended learning approach of asynchronous and live, online learning programs that support collaboration and practice. You can offer group learning opportunities that elevate onboarding and upskill specialized cohorts of tech workers, emerging leaders, sales representatives, or frontline employees — all while impacting the business and enhancing your company culture.
Degreed Academies features include:
Academies, which facilitates targeted programs that build precise capabilities your people and your organization need to succeed.
Marketplace, which aggregates programs into one location where your people can easily find them — and includes thousands of learning content providers covering a range of topics, configurations, and durations.
In today's disruptive world, the right types of capability academies bring people together in positive ways, according to industry analyst and author Josh Bersin, Founder and CEO of the Josh Bersin Company. "They give your employees inspiration and drive; they bring subject matter experts out of their offices to share and invent; and they give you a way to drive deep enduring skills you need to stay ahead, innovate, and grow."
Research further makes the case for academies: 54% of workers will stay with a company if they see that employer commit to upskilling employees. Hiring can cost north of $30,000, and reskilling an internal employee can save a company as much as $116,000 over three years, per person. An impressive 24% higher profit margins are up for grabs for employers who develop L&D programs for their employees. And 63% of companies that adopt a skills-based approach are more likely to achieve results.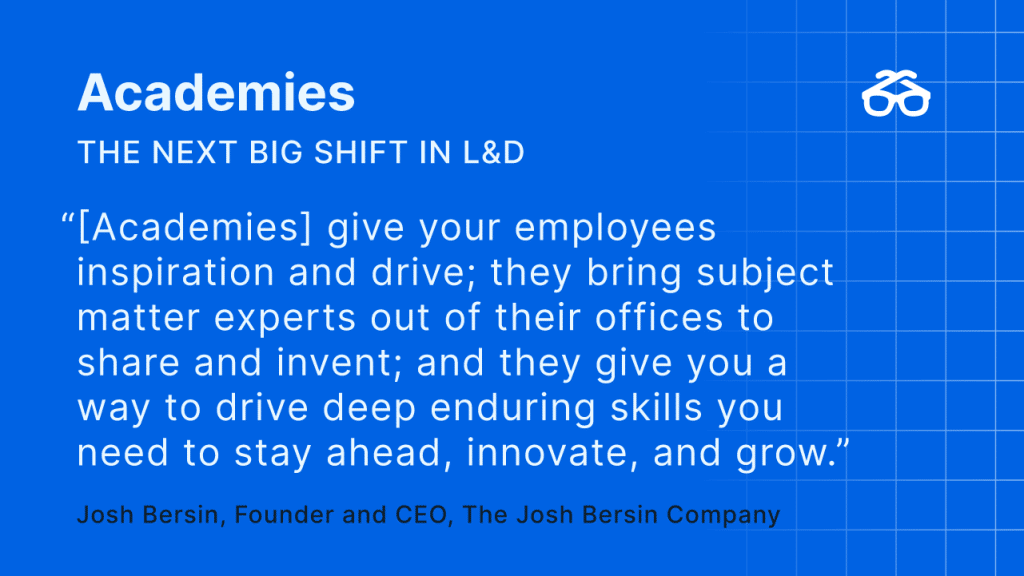 Degreed Education Benefits: Equitable & Optimized Employee Support
Degreed Education Benefits helps companies change the way they support employee upskilling, providing a flexible, inclusive, trackable and personalized approach to funding learning experiences from any program or provider. So you can attract, engage and retain the best talent and invest in skill sets that align with your future business needs.
Degreed Education Benefits provides a better way to optimize the management, promotion, and impact of education program engagement spend. It reduces the friction and mystery around pursuing professional development — through a system that can suggest learning opportunities based on employee interests, manager recommendations or other considerations. 
Degreed Education Benefits features include: 
Platform, featuring tools for optimizing and managing education programs like stipends and tuition reimbursements.
A prepaid virtual card that gives employees the freedom and flexibility to choose experiences that contribute to their professional development–from books to boot camps to certification programs.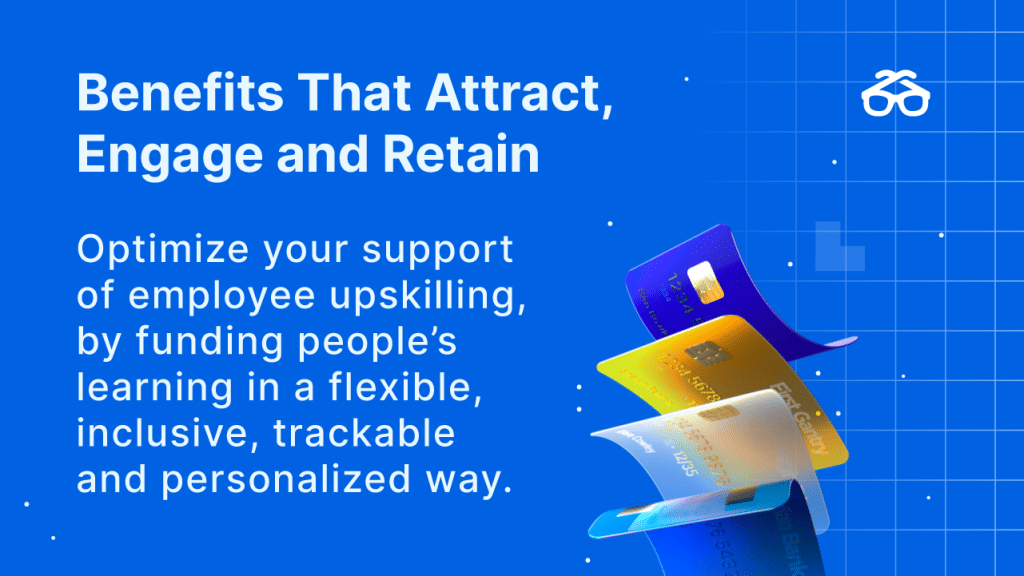 Degreed Professional Services: Expert, Tailored Guidance
We understand you might not think you're ready for a skills-based approach to doing business. That's why we're more than just a platform provider. We've built an in-house team of industry experts and ex-CLOs who delight in providing peer-to-peer consulting to prospective clients.
Our experts can help you translate learning metrics into business impact metrics,verify skill assessments, and quantify how much money is lost when talent joins or leaves your company — all so you can build a business case and champion a new vision for your organization.
In addition, Degreed Professional Services guides client organizations on enhancing usage and maximizing the value of Degreed.
With Degreed Professional Services, you can activate skills and accelerate learning, empower people at all levels of your organization by inspiring and compelling them to take deliberate action, and optimize how you integrate and use Degreed to drive desired business outcomes.
Degreed Professional Services provides guidance on:
Implementation
Skills activation
Change management, engagement, and adoption
Learning experience design
Technical questions
Our Strategic Advisory & Solutions team helps prospective clients translate learning metrics into business impact metrics, supporting those prospects as they build business cases, verifying skill assessments and quantifying how much money is lost when talent joins or leaves a company.
Degreed Professional Services provides precisely the kind of guidance many companies need. Consider that, in one recent study, only 40% of employees said their company is upskilling, and only 26% said their employer is automating or enhancing work through technology. "Both numbers are low enough to imply considerable room for improvement."
As eLearning Industry recently noted, "Delivering updated learning content. . . is not easy. But for achieving lasting behavior change, it is a must."
Degreed Extended Enterprise: Learning Beyond Your Walls
Degreed Extended Enterprise (EXE) helps companies maintain a global catalog of learning content assets, Plans, and Pathways and administer them to external audiences beyond full-time employees, including non-employees, customers, partners, resellers, or suppliers.
With Degreed EXE, you can selectively distribute the right content to the right people and tenant organizations without having to include irrelevant or sensitive information. For example, you can jumpstart onboarding among new hires, giving them a head start by providing orientation or "pre-boarding" materials before their official start dates. You can also create goodwill with alumni, offering resume, interview, and networking resources to help them stay sharp as they plan their next move.
Degreed EXE features include:
Tenants, which lets you connect a network of companies or businesses under one umbrella.
Manage Catalog, which pulls all your different sites into one dashboard.
Branded portals, which extend your brand experience to external employees.
Degreed: Meeting Your L&D Where It's at
Every company has its own maturity levels — for learning programs, data and analytics, and more — and we realize your business is no different.
As the gap between the skills your employees have and those your company needs widens, it's smart to continuously invest in upskilling, so your workforce can stay productive and competitive. It's why Degreed offers a comprehensive portfolio of products — so you can easily know which skills to prioritize, manage budgets, optimize spending, and align learning resources with organizational goals.
It's why Degreed is the ideal solution for accelerating workforce capabilities.To learn more about building an ecosystem that meets all your critical learning needs, download our free ebook Building Your Learning Tech Ecosystem: Open, Diverse, Flexible, and Interconnected.