Who doesn't love a good music playlist? It's your favorite tunes delivered on demand.
But what makes working out to your favorite playlist so inspiring and endorphin-inducing? It's that you likely have songs and music styles matched to your workout of the day (or WOD for all you crossfit junkies). Unless it's your thing, Norah Jones isn't going to be featured in the middle of your Body Pump playlist. No, you'd rather have high energy, pulse-pounding beats.
But there's high probability that there will be a difference in your playlist and mine, and that's called the ability to personalize. Learning playlists follow the same mentality.
Playlists are popular because they are personalized and yours, and that is the core of good curation. Curation for learners is about access to the right information in the right moment of time. The word "right" in relationship to both information and time are a key statement. It means everything about the content has been assessed for quality and context.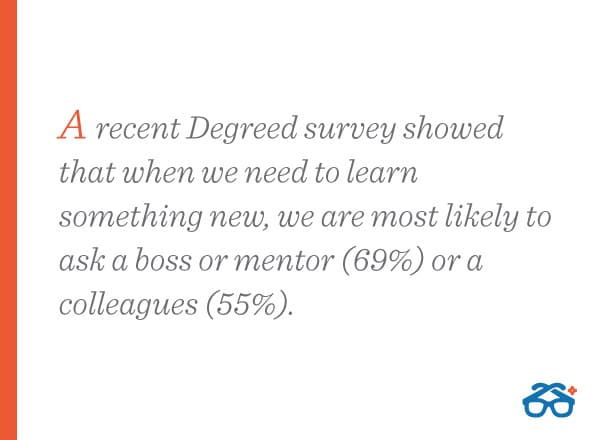 Just think about your own habits – when exploring a new concept, you've probably asked a peer and then done a google search. At the beginning, you want the basics, the how to's, the 101's. But as you get more educated on the subject, you'll need more in-depth information; perhaps a detailed white paper or a full course.
And taking it a step further, maybe you've come to know you're a visual learner so you would prefer to consume the information in video format. That is a key difference between curation and playlists. With curation, you can customize and personalize based on your individual needs and style, versus a long list of content (sometimes aggregated for you by an outsider based on keywords) about a topic – aka the concept behind the simple playlist.
According to Degreed resident curation expert Caroline Soares, "Great curators are the librarians of our time – they filter for criteria, audiences, learning goals, objectives, structure, utility and know what to curate and what not to curate for their end users. Ultimately the goal is to focus the learner's attention on what's most relevant, timely – guiding learners with a spotlight to 'read this first.' "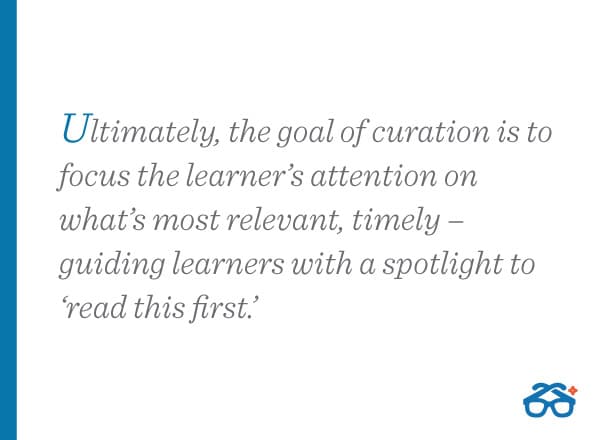 Degreed does this through pathways which are organized learning experiences in any modality you choose around any topic or theme. Unlike playlists, with pathways, you can reach the learner on numerous levels through the creation of multiple lessons and sections within one pathway.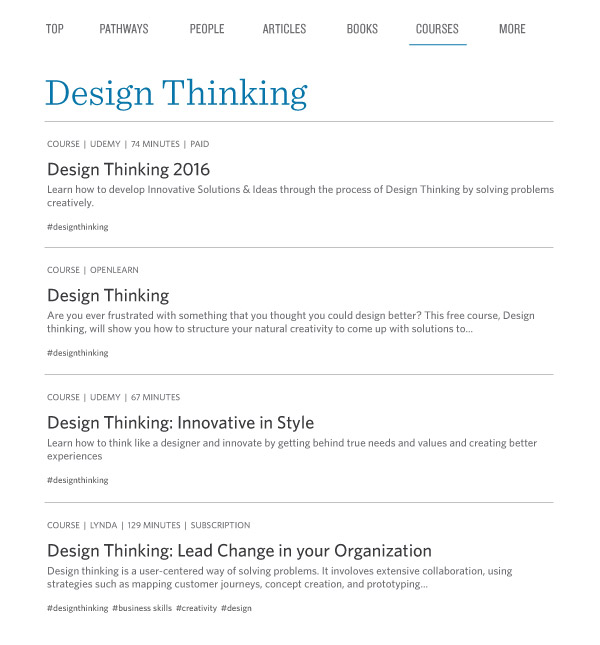 Degreed empowers every user to curate their own, unique learning experience by allowing them to build personal pathways. Instead of waiting for a defined training offering or learning agenda from employers, curation empowers learners to quickly find relevant, contextual answers on their own. Much more than a consolidated list of resources or content, curation simplifies the experience, giving learners the ability to search, find, assemble and filter the best quality resources into a relevant learning experience.