Technology is transforming almost every aspect of our lives, from how we get groceries, to how we get around our cities, to how we get answers to everyday questions. People who are in the business of providing information — like L&D training organizations — probably feel this disruption more than others.
Learners are now empowered to find answers on their own, without the help of L&D. According to 2016 Degreed research, almost 85% of workers said they learn weekly by searching online, and nearly 70% learn from peers or by reading articles and blogs. Think about much things have changes, how far we have come, even in just the last 10 years!
It might surprise you that 45 percent of companies report that digital disruption is not being taken seriously by senior management and only 38% of learning and development professionals think they're ready to meet the needs of tomorrow's learners. What's holding everyone up?
It's important to begin by understanding digital disruption. When talking about the changes in technology, the term is commonly interpreted to mean the impact technology has on the way we conduct ourselves and our businesses everyday.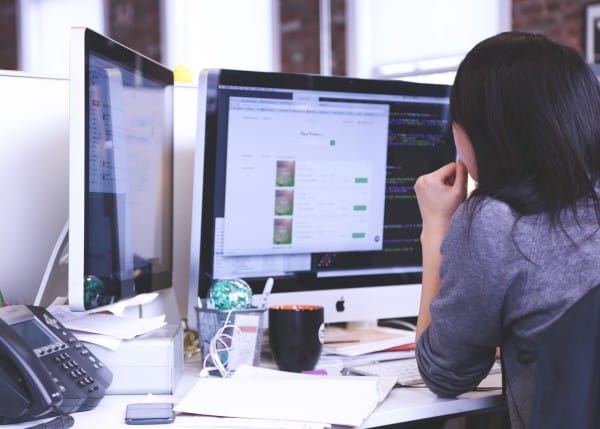 iScoop takes it a step further, defining digital transformation as,"the profound transformation of business activities, processes, competencies and models to fully leverage the changes and opportunities of digital technologies and their impact across society in a strategic and prioritized way."
The key here is the word "opportunity" and the ability for organizations to fully leverage the possibilities that new technology brings: quicker delivery, more personalized information, more content. To learn more about the current state of digital disruption and how it might affect  businesses  the Global Center for Digital Business Transformation surveyed 941 business leaders around the world in 12 industries.
The study showed 43 percent of leaders fail to see the risks associated with not taking a more modern digital approach, and don't have strategies in place to address the issue. When this mindset is applied to the learning functions in our companies, it stunts the growth of both employees and the organization . As mentioned above, learners rely heavily on themselves and easy sources of information; and without guidance or facilitation on the systems and sources from which they are getting the content, they are choosing sources outside the purview of L&D systems, such as Google or YouTube.
Author and business leader Daniel Newman is well known for his take on digital transformation. He offers this analysis: "Digital disruptors and tech innovators are emerging in different industry sectors, threatening to overthrow conventional business models faster than ever. The implications are clear—you either embrace digital transformation or stagnate and perish."
Bersin by Deloitte quantifies digital tools for the learning space, adding, "HR leaders and learning must adapt to a world where employees demand continuous learning opportunities through innovative platforms tailored to their individual schedules."
The most successful CLOs know embracing digital disruption in today's always-on economy takes more than just investing in the newest technology. "What separates the disruptors from the disrupted is how you put those new tools to work," adds Todd Tauber, VP of Product Marketing at Degreed.
For CLOs and learning leaders, overcoming digital disruption includes a strategy that shares responsibility with L&D, managers and employees. This new strategy also includes an investment in tools and systems that empower: continuous growth, informal and self-driven learning, curation, collaboration, and behavioral data.
Embracing digital learning solutions that mirror the way the workforce already gets their information is no longer a luxury, it's a marker of success. Our diverse talent market and competitive business landscape makes "learning an essential tool for engaging employees, attracting and retaining top talent, and developing long-term leadership for the company."
It's time to embrace digital with a learning solution that curates and tracks all learning experiences. Find out more about what this could look like at your organization at get.degreed.com