Ten years from now, traditional job roles will have likely gone the way of the flip phone.

"You won't get paid based on your job title or geography. You will get paid based on each and every skill at every skill level," David Blake, Degreed CEO, told a room of 350 learning professionals at Degreed LENS, our annual flagship conference.
What Blake described are characteristics of a skills-based organization. In its ideal execution, a skills-focused company values people's skills and their proficiency in those skills over job titles and static role descriptions. A skills-based organization puts skills at the heart of work for increased agility, more efficiency and better employee retention.
This idea might sound daunting. Shifting your organization to a skills-based strategy would likely uproot many traditional job structures. But for many forward-thinking companies, the shift has already begun out of necessity.
The rate at which technology is changing has become so rapid that many job roles and skillsets are becoming obsolete before people can gain more relevant skills to replace those lost.
"Technology can now scale faster than humanity can learn," Blake said. "What that means is we've entered a new era in humanity, in which the skills gap gets bigger every day, week, month, year."
Embracing skills is a new, innovative way to work — one you can use to keep up with technology, improve efficiency, respond quickly to change and innovation, and attract and retain top talent.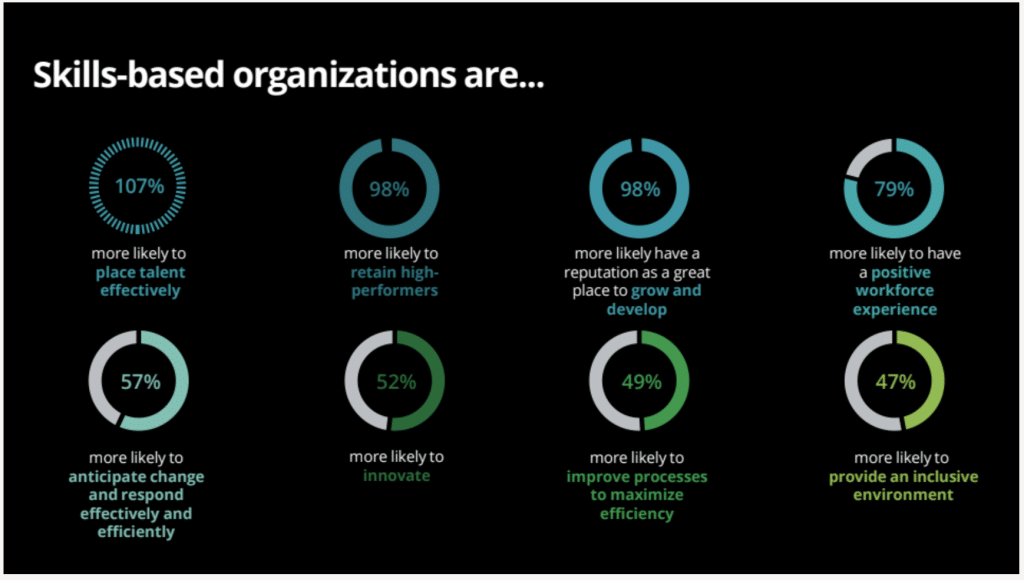 How can you and your organization get started? Let's take a look at what the experts at LENS had to say:
1. Create purpose-driven upskilling and gain buy-in.
Any large-scale change needs to be driven by something — a goal, a dream, a result perhaps — and employees and leaders alike need to understand and stand behind that reason so you have the engagement you need to push forward.
Creating meaning behind learning can also be done at a company level when driven by a powerful mission. Brian Ciccotelli, Learning Experience Designer, told LENS his company HP created a company-wide goal "to be the most sustainable and just technology company in the world by 2030." As such, all HP training ties into this core idea.
"You need to have a why — a really good why… more than 'It's going to make us more profitable or reduce costs.' Have something that's really going to motivate and inspire," Ciccotelli said.
Another way to demonstrate meaning is to outline how skills can connect different corners of your organization. Michael Griffiths, Principal at the management consulting firm Deloitte, suggested, for example, that learning leaders "map learning and development to talent marketplaces as a way to start, especially from a workforce perspective. It shows the most value and the 'What's in it for me?' is very clear and productive."
By showing how you can help the business meet its goals and objectives, you can also gain internal champions, from individual contributors to stakeholders, to further your cause. Annee Bayeux, Chief Learning Strategist at Degreed, likened these champions to positive social media influencers. They should have a following, act as role models, and spread the benefits of learning in ways that get other employees motivated to follow along.
"They don't need to be the highest ranking in your organization, but they do need to have influence," Bayeux said.
Employees aren't the only ones wondering what they can get from learning. Stakeholders often ask 'What's in it for me?' and L&D pros should be prepared to answer.
Rooted in that answer is an understanding that learning benefits your people and your company at the same time."Learning is driving talent, and talent is driving the business," said Jen Grubich, CLO from Cigna. That's simple and true.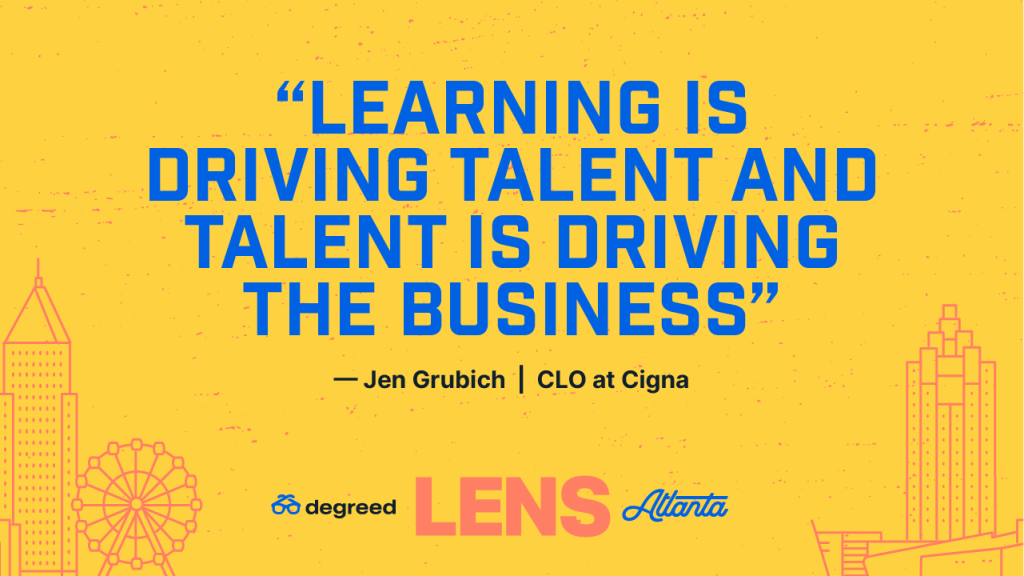 2. Start challenging traditional L&D approaches.
Ask yourself, "Am I seeing the results I want with what I'm doing now?" If the answer is yes, ask, "Could they be better?" Relying solely on what you already know could lead to missed opportunities in learning and upskilling efficiency. Moreover, it's not lifelong-learner behavior. Think bigger, and find a way to achieve moonshot goals. That's what Checkr, an employee background check company, did.
"We wanted to be the best place to work," said Jamal Smith, Senior Learning and Development Specialist. "We wanted to reach for the stars.".
To make its employee experience stellar, Checkr took a hard look at its education reimbursement program. Traditionally, reimbursement is perceived as a great education benefit for employees. But at Checkr, as with many organizations, it actually wasn't helpful; only 3.5% of education reimbursement funds were used.

The company's L&D professionals decided to innovate, and they provided learning stipends and academies using Learn In, a Degreed company. Using Learn In, Checkr provided employees with funds on a prepaid credit card instead of asking them to be reimbursed after paying for courses and learning materials out of pocket.
In turn, Checkr saw its utilization of learning benefit dollars jump from that 3.5% to more than 22% in one year, with 99% of its workforce logging in to the academy platform.
"We're quickly upskilling people," Smith said. "And we're making sure people are in the right seats to really drive business results."
3. Get creative, keep it simple and experiment with skills-based strategies.
Embracing a skills-based learning strategy doesn't have to be daunting.
Griffiths reminded L&D pros that it can be exciting to restructure work in ways that do a better job meeting your needs, and to just "Have fun with it."
Remember to consider employee experience as you innovate. Your people are at the center of your shift to a skills-based organization and what works—or doesn't work—for them can make or break your transformation.
When working in the White House as Chief Information Officer, Theresa Payton discovered cybersecurity policies, procedures and briefings weren't getting great feedback. Employees said they left training sessions bored and intimidated by long, complex policies. These briefings and policies were becoming blockers for better cybersecurity hygiene, like reporting when devices went missing.
Payton improved engagement and, in turn, cybersecurity — by simplifying processes and making the briefings fun.
Instead of holding a long security meeting when an employee received an assigned work phone, Payton piloted a program to instead hold a five-minute security briefing, and she issued what she called a "Smartphone Happy Meal." It included a phone, candy, branded pens and pencils, and a card with a phone number on it — all thoughtfully placed into a sealable plastic baggie. If employees lost their device, they could call the number any time.
The Smartphone Happy Meal was inexpensive. It was creative. It was simple. And most importantly, it was effective. Thanks to this new method, people reported missing technology 100% of the time (compared to 50% prior), and usually within an hour of an incident (compared to a full business day).
Sometimes the biggest innovations are simple, not large-scale or complex, ideas. The lesson for L&D? Don't be intimidated by the task to make every policy and procedure skills-centric. Ask for feedback, find out where the opportunities for improvement are, then experiment with new ways to integrate skills-based practices into your organization in unique ways that work best for your team.
4. Prioritize data to activate skills.
You can't make the shift to a skills-based organization, or even to a skills-based mindset, without learning and skills data. You need to know which skills are already in your organization and which you still need. This is your organization's skills gap. When you understand it, you can grow and better leverage the talent in your workforce. And you can spend L&D dollars in more targeted ways.
"If you don't get the data on all of your skills across all your systems, you're going to be flying blind," Blake said, noting Degreed is focusing more than ever on the collection and organization of experience data in our learning technology suite. (Right now, an excess of disorganized data is one of the biggest challenges for learning professionals. It's also the biggest opportunity.)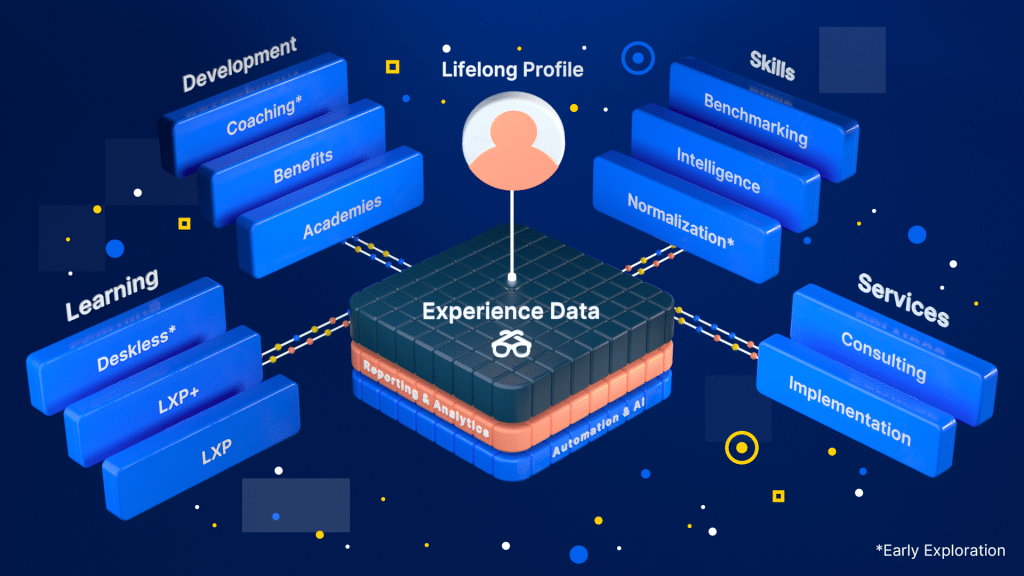 Where can you start?
Decide what data to focus on. And do so with a future-centric mindset. Sonia Mooney, Consultant at Sonia Mooney Signature Solutions, reminded LENS attendees that by the time data-driven decisions need to be made, they can't retroactively go back and collect the data needed.
"Don't only think about the data you need now. Think about what you want in the future, because you've got to get those data sources in place," Mooney said.
Gathering and understanding data is one piece of the puzzle, but Derek Mitchell, Analytics Lead at Novo Nordisk, said unlocking the power of data comes from what L&D professionals do with it.
"It's one thing [to be] looking at data, but it needs to be actionable. We have to not just look at charts and say, 'Oh, that's interesting.' We have to do something with it in order to help our learners," Mitchell said.
Skills-based organizations are the future because skills are a better gauge of true workforce potential and capabilities than university degrees or high-caliber job titles ever will be.
You have plenty of time to make the shift to a skills-based approach. And you have plenty of time to do it well. Take a breath, review the steps above, pick somewhere to start, and get excited about the bright future ahead. It'll be worth it.
Ready to find out more?
Let's talk about how upskilling can help your company thrive. Got questions? Contact a Degreed representative today.